Battle of Slots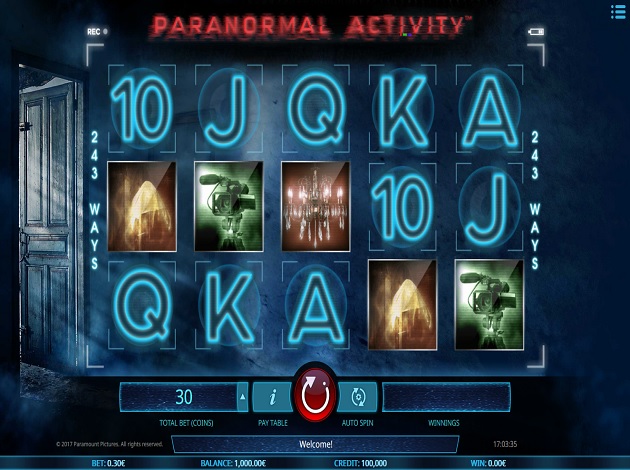 Play Paranormal Activity online: Check out our slot review below
One of the biggest blockbuster movies of the horror-genre has made its way into a video slot. Finally, you say – but take it with caution. This just might be the spookiest, creepiest game seen so far with chilling sound effects and screaming kids – are you ready to enter the world of Paranormal Activity? This is a grand video slot brought to you by iSoftbet – in cooperation with Paramount Studios!
The London based online and mobile casino supplier iSoftbet was founded in 2010 so it hasn't been in the industry for that long. Despite of that, it has already gathered respect and good reputation from pleased clients so it would be safe to say that the company is in a good place right now and will be even bigger in the near future. If you are frequent video slot player you might have played at least one of iSoftbet's creations during these years. In Videoslots.com we have had the opportunity to enjoy this developer's extremely entertaining and beautiful online slots since the end of 2015.
iSoftbet has hundreds of different titles in its game suite. The majority of the iSoftbet slot games are feature packed, modern 5-reel video slots but players who prefer more classical slot games with 3 reels can find some treats from amongst the games too. In addition to original slots, iSoftbet has plenty of branded slots based on hugely popular TV shows or movies in its game selection. It is simply a fantastic and thrilling game provider with lots of surprises for the players. Some of the games provided by iSoftbet are Cloud Tales, Bewitched, Skulls of Legends, 24, and Platoon Wild.
This surprise might just be a bigger one than any previous ones though – at least a lot spookier.
Paranormal Activity main game
The blockbuster movies are clearly the main inspiration behind this video slot – with the artefacts and symbols that are connected to the movies. Haunted houses, demons, ghosts – everything you might fear will eventually appear out of nowhere in Paranormal Activity slot. Are you ready to enter the house of horror?
The symbols are all artefacts from the show, symbolizing what you see in the movies in various ways. You can see the Ouija board, the movable pointer, the filming camera, the ghost captions on tape, the chandelier. These represents the higher valued symbols. The card deck symbols ranging from 10 to Ace are the lower valued ones.
Apart from these, you also have a few extremely rewarding and scary special symbols. These can grant you with both heart attacks and grand features and bonuses. The ghost girl with long straight hair, is the Wild symbol, the hand gripping for you is the Scatter, and the Bonus symbol is the one combining the girl with the devil in front of a burning pentagram. We will get more into what these can give you shortly!
Paranormal Activity theme, graphics, and music
Everyone has heard of Paranormal Activity before – right? A box office movie that was first released in 2009. A big hysteria surrounded it and its setting, people believed they were true events, people seeing it the cinema fainted, and it was immediately a success – bringing in multiple million dollars over its original budget. The movie followed a family, taping their everyday life as paranormal activities started happening in their home – from beginning to end, it was a thrilling, scary, and horrific sight – simply a brilliant movie. They later decided to not let it end there. Today there are 6 Paranormal Activity movies, all chillingly creepy. Demons, slayings, possessions, Ouijas, they are all part of the movies – and of this marvellous video slot.
The design and graphics are, as always from iSoftbet, incredibly vibrant and alive. Paranormal Activity takes it to a whole new level with shifting backgrounds and chilling sound effects. Starting off fairly normal, with the backdrop of a room with an open door, fading into another room where you can see pentagram carvings on the floors, and in the feature game, where the room catches fire. This and hands clinging to the screen, demon-flashes, and the sound effects of heavy breathing, screaming, and the sound of a heart monitoring – all contributes to an even scarier gaming experience. One that you have never seen, or heard, before.
Paranormal Activity payout
This is a 243 ways-to-win video slot, offering you some great possibilities of winning on its 5x3 reel set.
Paranormal Activity bonus game
The bonus is Paranormal Activity is a bonus wheel of horror – but with amazing prizes. When triggering this wheel, you simply spin to win.
The prizes are either coin wins of 300, 450, 600, 750, or 900 coins. Mixed with these prizes are the two symbols of the Wild girl, the two Devil in flames symbols, and the two green X´s. These all grant various awards, all incredibly entertaining and rewarding. Your total prize is calculated, and before leaving the wheel, a surprise is waiting for you in the middle of the reel, one shaped like a pentagram.. Look very, very carefully at the screen until it shows itself – one does not want to miss it.
Paranormal Activity free spins
In Paranormal Activity you have a total of three free spins modes that can be won in three ways.
Landing on three bonus symbols in the base game or in the wheel bonus, by landing on the green X, awards you 5 Paranormal Free Spins, 10 Possessed Free Spins with expanding Wilds, and finally the 15 Demon Free Spins with the devil Wild. So there are three possibilities of three different free spins features – and these can all lead you to both Big and Mega Wins!
Paranormal Activity special features
Wild symbol
The spooky little ghost-girl is the Wild symbol, and she steps in to replace other symbols to create winning combinations. In the Free Spins mode, she also expands to cover the reels in Wilds.
The demon symbol takes on the Wild symbol abilities in the Demon Free spins feature, spitting fire on other symbols to replace them with the girl Wild. This grants you even higher wins!
Scatter symbol
The Scatter symbol are of the bloody and ghost-white hands on a glass, and these can step in to multiply your wins.
Now, are you absolutely sure that you are ready to enter this house of horror? Once you go in, there is no way out!
It is strongly suggested to put the headphones on, turn all the lights off, and lean as close to the screen as possible – the gaming experience of Paranormal Activity will take on a whole new meaning of scary when you do. We wish you the best of luck in this breath-taking video slot!