Battle of Slots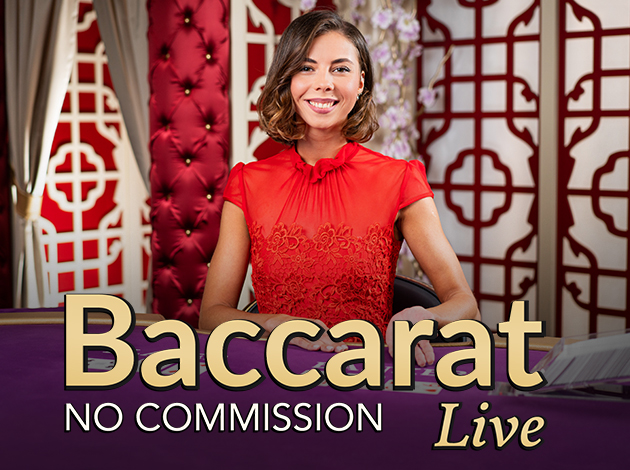 Play No Commission Baccarat online: Check out our review below
No Commission Baccarat Introduction
For centuries Baccarat was an exclusive game, open only to the rich and famous. The game's stakes were so high that no commoner could afford to play. As a result, the game was ignored by most players. Even as land-based casinos became more popular, operators chose to keep minimum bets high.
With the revolution of online casinos, things changed. Virtual games required no human dealer and the overall operating costs became negligible. As a result, online Baccarat became available to all players, with low starting wagers and easy accessibility.
Like any card game, however, the digital game lacked character. Players felt that the human element was missing from the game. Understanding the need for a combination of a human dealer in a virtual game, developers such as Evolution Gaming developed Live Baccarat.
Even before online Baccarat was created, several variants of the original existed. Today, Evolution Gaming provides several of these variants live, including No Commission Baccarat. These variants offer seasoned players of the original game an opportunity to try something new without having to learn the rules from scratch.
No Commission Baccarat Game Features
This Evolution Gaming creation features everything you could ever ask for, including a professional and friendly dealer, a user-friendly game interface and an entertaining online experience.
In No Commission Baccarat you join you get to sit on a real table no matter where you are playing from. You are joined by other players from around the world with whom you can easily chat to. Should you wish you can also chat with the dealer who will gladly reply based on the available time.
As with all their other live games, Evolution Gaming designed No Commission Baccarat to function across digital devices. No matter if you like playing on a desktop computer or your mobile phone, you will enjoy the same fun and immersive experiences. With the convenience of being able to play the game wherever you are, you could play a few rounds during your lunch break, on your commute or even as you are waiting to catch a plane.
Viewing Roads
To help you predict potential game trends, No Commission Baccarat features several roads which you can zoom into in order to devise your strategy. You can use the Big Road and the Bead Road to see the results from the past round. Meanwhile, the Cockroach Road, the Small Road and the Big Eye Road show you patterns which evolve from the Big Road. All this information is readily available at the bottom of your game screen.
Side Bets
For players who enjoy a bet on the side, No Commission Baccarat features several options, including Pair Side Bets. These bets revolve around either the player or the banker getting a pair in the first two cards dealt to them. Odds of 11 to 1 give players the opportunity to boost their potential wins with very little effort.
No Commission Baccarat Rules
No Commission Baccarat follows the standard rules of the game with one major exception. As its name suggests, in this variation, players who win when betting on the banker do not need to forgo the usual 5% commission. This puts the value of the reward of the banker on par as that of the player.
Since No Commission Baccarat is a live game, there are certain time restrictions in which to place a bet. A notice bar in your game's control panel shows you when it's time to place a wager and when it's time to watch the results of the game. Naturally, this is done so as not to keep yourself or other players waiting for very long.
No Commission Baccarat Graphics and Sound
In No Commission Baccarat you are welcomed into an elegant studio which has been made to look as authentic as possible. You will find the smart-dressed dealer is probably already leading the game and, if time permits, he or she will personally welcome you to the table.
The table and cards in the game are real, and so are the room's lighting and carpeting. Evolution Gaming has created a truly realistic setting for you to enjoy. Your side of the game is virtual, with the wager and other options only available on your screen. To the left you can see ongoing chats by other players, whilst to the right-hand side you can view the game's roads.
No Commission Baccarat Conclusion
No Commission Baccarat is a fun variant of the once-exclusive card game. Those players that generally prefer wagering more on the banker than the player would appreciate the equal rewards. The charismatic dealer and the realistic studio designed by Evolution Gaming make No Commission Baccarat a must-try for any Baccarat player. Experience it today on Videoslots.com!
About the Provider
Evolution Gaming was founded in 2006 and since then, they've managed to revolutionise the European live dealer platform around the world. Their headquarters are in Riga, Latvia, but a majority of the employees are based in Malta as well. Since its conception, Evolution Gaming has become a leading B2B provider of Live Casino systems within Europe today.
Their Live Casino consists of real-life dealers that run the game in real-time on a casino gaming table just like you would find in a real-life casino. Players can engage with the dealer via a live streaming video link. Essentially, they've given players the option to go to the casino from the comforts of their home!
The vision at Evolution Gaming is to be the leading Live Casino provider in the world whilst ensuring that they create an unforgettable user experience as well as make operators successful. They accomplish this is by offering a localised Live Casino experience into regulated markets available on all digital platforms for online and land-based game operators, and players too.
Evolution Gaming is working towards maintaining and strengthening its position as a top Live Casino provider, while keeping up-to-date of developments within the global gaming market.
You can check out a wide variety of live Evolution games like Blackjack, Roulette, Baccarat and much more at Videoslots!
Play in our Battle Of Slots
Don't miss out on the opportunity to play a thrilling Battle with our special, unique and very first social online casino experience – Battle of Slots. Videoslots gives you the chance to play first time Battles against your friends and other players on videoslots.com with games from NetEnt, Thunderkick and Play'n GO. There is only one Battle of Slots – and you'll only find it on videoslots.com!