Battle of Slots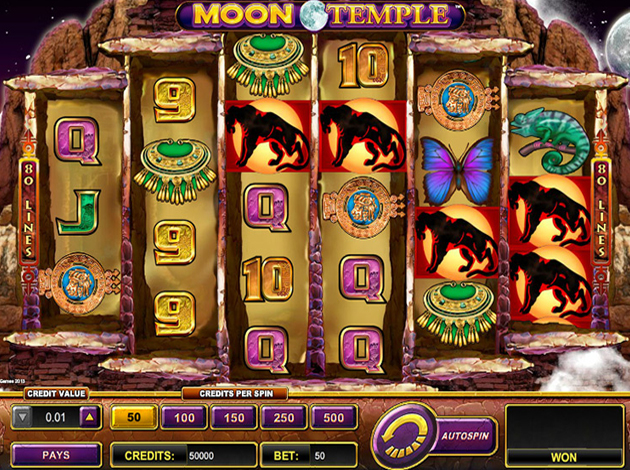 Play Moon Temple online: Check out our slot review below
Come with us on this big and exiting adventure to Egypt, lean back and close your eyes and imagine Pharaoh, pyramids, the river Nile or maybe you are sitting on one of a thousands of the camels found in Egypt. Pretty cool and exiting right? Who has not dreamed of seeing the pyramids, mummies and everything Egypt has to offer. In addition to all of their history, Egypt is actually on of Africa's most populous countries in Africa and probably one of the countries in Africa with the most talked about story's.
Stories about the great Sahara Desert, the river Nile, the Pyramids, the famous city of Cairo and of course the beautiful monuments. We here at Videoslots.com are like always incredibly proud and excited to announce the game Moon temples, from the always reliable and incredible gaming supplier Lightning Box. Game developer Lightning Box started in 2004 and since then their main goal has been to entertain its players. And what better way is there than to always offer extremely good graphics and gameplay. As always, they have succeeded with their perfect graphics and sound experience and it's very easy to dream away into the past when the pharaohs ruled. The game itself is very easy to play and understand with a lot of colors and symbols, Panthers, Butterflies, letters, numbers, chameleons, bonus pyramids and jewelry. On the bottom of the screen you can find the Menu button, the rules, laid bets, money credit and your potential winnings. The symbol of the blue pyramid on gives you free spins, which increases the chances for you to win big money with just one bet. In Moon temple you can also decide if you want to turn on the auto spin, this feature allows you to set a bet and number of spins that rolls by itself, which really allows you to just sit back and just enjoy the game itself and the music to it.
Perhaps you have been to Egypt before and seen the pyramids, the Nile, the beautiful monuments and the Sahara Desert or it has always been a big dream to experience, either ways you will diffidently feel like home and just love to play this amazing game Moon temple. One of the great things with Videoslots.com is that you can always tryout and test our games and play with what we call play money.
But do not forget that you then have to log out of your account here at Videoslots.com and then click on the Moon temple again. But please keep in mind that any winnings in the game also will be playing money and not added as real money to your Videoslots.com account.
We here at Videoslots.com already have our flight tickets and suitcases packed for Egypt, the big question is if you will come with us on this adventure or you will flinch to stay home with the polar bears and those cold winds. Whatever you choose, we wish you good luck and we will cross our fingers may encounter Pharaoh and his friends in those dark and exciting pyramids.