Battle of Slots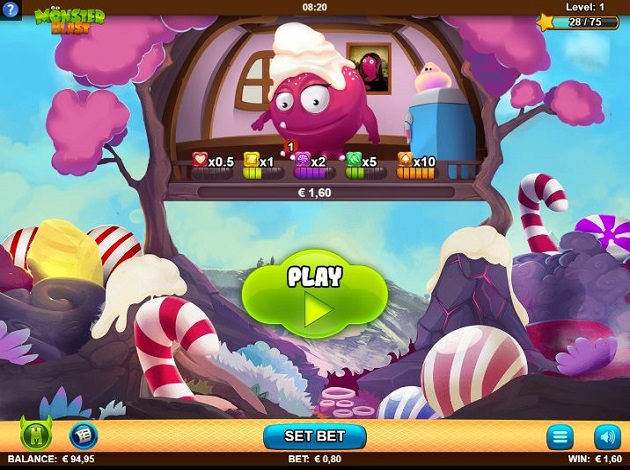 Play Monster Blast online: Check out our review below
Monster Blast Introduction
Do you like candy? Because contrary to what the name might suggest, Skillzzgaming's Monster Blast is far less about blasting monsters and more about the sweet stuff. You see, the monsters in the title really like sweets, and it is up to you to collect their sugary treats! This unusual, brightly coloured title is not so much of a slot as it is a match-3 game, where you collect clusters of 3 or more identical candy tiles across a 5x5 grid in order to fill multiplier bars. Filling these bars earns you both winnings and stars, which in turn are used to level up and unlock more monsters. There are 9 monsters in total, each with their own personality and special ability. In addition, look out of achievements - a videogame-style addition where you can earn even more stars by performing certain tasks. Will you play 100 games of Monster Blast? Because that can earn you no less than 100 stars!
Monster Blast Game Features
Filling the 5x5 Monster Blast grid are 5 basic candy tiles together with a number of special tiles. The basic tiles are the red, yellow, purple, green and brown. Click on a cluster of 3 or more identical tiles to "blast" it away, causing tiles to cascade from above to fill in the gaps. You can continue blasting clusters until no more are available; in which case the grid is refreshed with new tiles. The aim here is to fill the bars on top of the grid (or below the monster character). Filling a bar requires blasting 7 tiles of that specific colour and doing so brings you winnings according to the the multiplier on top of the bar. Managing to fill a bar also earns you stars, the amount of which corresponds to the number of tiles you managed to blast during the round.
As well as the basic tiles, Monster Blast includes 3 special tiles. The first is the Bonus tile. Blast a cluster of these to trigger the bonus round associated with the monster currently in play. For example, Noodle brings a special jackpot, while Sheldon gives you 10 free games. The second is the Mega Win tile. This earns you a spin of the Prize Wheel, which can either win you prizes or a chance at spinning a Mega version of the wheel with even bigger prizes. The final tile is the Gumball tile. This appears only when the monster Miss Eye is in play and can earn you 5 free games with bonus multipliers.
Monster Blast Free Spins and bonuses
Not being based around traditional spins, Monster Blast lacks a typical scatter to provide free spins. In fact, just 2 of the 9 monsters can bring you free games through blasting a cluster of Bonus tiles. These are Sheldon, who gives you 10 free games, and final monster Fudge who gives you 1 free game with the candy bars multiplied by 10x. In addition, Miss Eye brings her special Gumball tile that earns you 5 free games with bonus multipliers.
That said all the other monsters - with exception of Cream, the first monster you encounter in Monster Blast - can get you a unique prize through the Bonus tiles. Some, such as Noodle and Vanilla, bring a bonus prize while others, namely Timmy, Toes and Aharon, trigger a minigame with the chance to win cash prizes and multipliers. Unlocking these monsters requires levelling up, which is done through stars earned either by filling candy bars or unlocking achievements.
Monster Blast Payouts
Monster Blast's payouts are based on the filling of candy bars. A full brown candy bar earns you the most, being worth 10x your initial bet. The green candy bars follow at 5x, while the purple, yellow and red candy bars earn you 2x, 1x and 0.5x respectively. You can fill candy bars multiple times, each time by blasting 7 tiles, and some monsters can earn you more prizes through their Bonus tiles.
Monster Blast Graphics and Sound
The world of Monster Blast is one of candy colours, be it on the tiles or the backgrounds surrounding them. The stars of the show here are, of course, the monsters themselves. Each one is uniquely designed and features distinct animations that manage to convey a lot of personality and charm. The monsters reside in a homely little chamber set on top of the play grid, and in turn the grid is set in a sweet-themed world replete with gigantic treats. It all makes a rather lovely place to visit!
Monster Blast Conclusion
Monster Blast is a different take on the slot, being more of a match-3 cluster game. This is no bad thing, since there's a lot going on in the unique mechanics and cluster-based payouts, not to mention the videogame-style levelling and achievement systems. The lovable monsters are also well deserving of a mention, and like us you will surely want to get to know them all. To do so, play Monster Blast at Videoslots Casino today!
Gambling is a form of adult entertainment only. You must be over 18 to play. Play responsibly.