Battle of Slots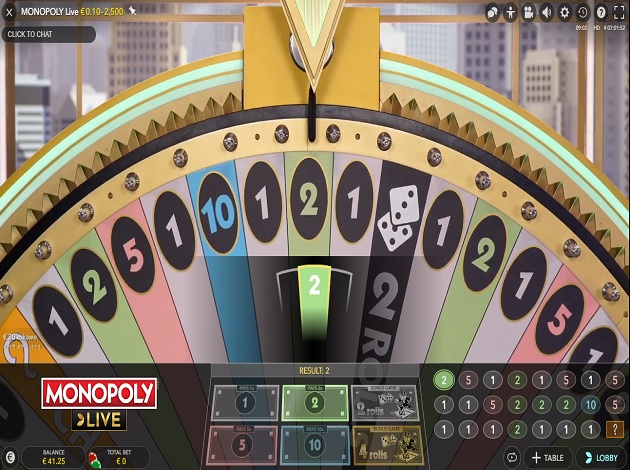 Play Monopoly Live online: Check out our review below
MONOPOLY Live Introduction
MONOPOLY Live from Evolution Gaming was created in partnership with Hasbro. Just like most other Evolution games, MONOPOLY Live is part of the live online game experience that they offer and this time it's inspired by one of the world's well-known and loved board games, Monopoly. This game brings the board game to life with its animations and live dealer to the side of the money wheel creating an engaging and entertaining atmosphere.
The gameplay is straightforward and doesn't require any special game tactics as you play. You simply make a bet and the live game presenter will spin the large money wheel and then depending on your bet and what the wheel lands on, you may qualify for the 3D bonus game. However, you still get to join in on the experience of the 3D bonus game even if you don't qualify for it, by watching as Mr. Monopoly as he brings you to an animated world.
MONOPOLY Live Game Features
MONOPOLY Live is set up just like the traditional, classic board game with familiar symbols, buildings, homes and more.
When getting started with this live game, you just need to place a bet on the number that you think the money wheel will stop on. Either 1, 2, 5, 10, 2 ROLLS or 4 ROLLS and if you make your bet on the correct number then you will win the corresponding payout! In the case that the wheel stops on 'chance', you will be presented with a chance card by Mr. Monopoly himself. The card will show either a random cash prize or a random multiplier bonus.
If the Chance card shows a multiplier bonus, all player bets remain in place. The live game presenter then spins the wheel again, and the multiplier won will multiply the winnings for this next spin. If the player gets a multiplier once more, their multiplier will be multiplied!
MONOPOLY Live Free Spins and bonuses
In order to activate the 3D bonus game in MONOPOLY Live, you need to place your bets on 2 ROLLS and 4 ROLLS in the money wheel game! However, in case you didn't place your bets on either of these, you will still be able to watch and enjoy the bonus game round without winning any prizes though.
In case you were one of the qualifying players for the 3D bonus game, then you will follow Mr. Monopoly as he enters the animated reality 3D Monopoly world and walks around on the monopoly board collecting various prizes, multipliers and more.
MONOPOLY Live Payouts
In MONOPOLY Live it's all about investing in the number that you think the money wheel will land on. If the wheel stops on the bet that you made your bet on, then you are awarded with a win! During the bonus feature, you can increase you payout by winning bonus multipliers which can then be multiplied by the win amount generating bigger and better returns.
MONOPOLY Live Graphics and Sound
MONOPOLY Live has a big wheel in the middle of the screen and next to the wheel there will be a live presenter which makes the entire experience more entertaining as well as realistic. In the background there is an animated city with buses, blimps and hot air balloons moving about. Mr. Monopoly himself is featured in this live experience and he will even come to life sometimes when the 3D bonus game is activated. During this time, he will start speaking to you and will walk you to the animated game board. Once you follow him to the game board, you will be brought the centre of a large city and then you will need to roll the dice which will appear on a blimp. Mr. Monopoly will run to the spot that you rolled and then depending on what you landed on, you roll again, and you will follow him once again in a real-life experience of Monopoly. Keep in mind that if you weren't a qualifying player, then you will still get to watch this play but not partake in it.
After the round is finished on the board game, a table will pop up which says 'bonus wins' on it which will show how much a number of players have won and then on the left side of the screen you will also be able to see the amount each player actually received. Once this is finished, you will eb brought back to the live screen with the live presenter!
MONOPOLY Live Conclusion
MONOPOLY Live from Evolution Gaming is certainly something new, exciting and entertaining bringing the classic board game, Monopoly, to life! The animations and live dealer make this game extremely engaging creating a noteworthy gaming experience for fans and nonfans of the classic board game.
Check out MONOPOLY Live here at Videoslots now!
Gambling is a form of adult entertainment only. You must be over 18 to play. Play responsibly.
About the Provider
Evolution Gaming was founded in 2006 and since then, they've managed to revolutionise the European live dealer platform around the world. Their headquarters are in Riga, Latvia, but a majority of the employees are based in Malta as well. Since its conception, Evolution Gaming has become a leading B2B provider of Live Casino systems within Europe today.
Their Live Casino consists of real-life dealers that run the game in real-time on a casino gaming table just like you would find in a real-life casino. Players can engage with the dealer via a live streaming video link. Essentially, they've given players the option to go to the casino from the comforts of their home!
The vision at Evolution Gaming is to be the leading Live Casino provider in the world whilst ensuring that they create an unforgettable user experience as well as make operators successful. They accomplish this is by offering a localised Live Casino experience into regulated markets available on all digital platforms for online and land-based game operators, and players too.
Evolution Gaming is working towards maintaining and strengthening its position as a top Live Casino provider, while keeping up-to-date of developments within the global gaming market.
You can check out a wide variety of live Evolution games like Blackjack, Roulette, Baccarat and much more at Videoslots!
Play in our Battle Of Slots
Don't miss out on the opportunity to play a thrilling Battle with our special, unique and very first social online casino experience – Battle of Slots. Videoslots gives you the chance to play first time Battles against your friends and other players on Videoslots.com with games from NetEnt, Thunderkick, Play'n GO and Pragmatic Play. There is only one Battle of Slots – and you'll only find it on Videoslots.com!