Battle of Slots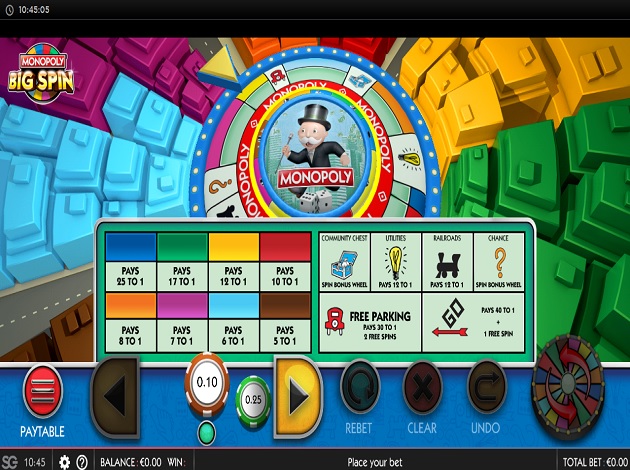 Play Monopoly Big Spin online: Check out our review below
Monopoly Big Spin Introduction
First created by one Lizzie Magie as The Landlord's Game in 1903 before being published in its current form by Parker Brothers in 1935, Monopoly has appeared in plenty of different shapes and forms over the years including, of course, online games. Scientific Games has launched a number of popular Monopoly-themed slots, and now it is the turn of Shuffle Master to bring a different take on the classic board game. The result is Monopoly Big Spin, a title that brings both the familiar and the new as it turns the famous game into a roulette-style affair. Roulette players will feel right at home here, as Monopoly Big Spin brings multiple betting options on the table. Monopoly players, on the other hand, will immediately recognise the board game's distinctive iconography. Whichever type of player you might be, let us now take a closer look at what Monopoly Big Spin is all about!
Monopoly Big Spin Game Features
Monopoly Big Spin is a roulette-style game played by rotating a segmented wheel. each segment features either a colour or an icon, all coming straight from the properties found in the board games. The colours are dark blue, green, yellow, red, orange, pink, light blue or brown, while the icons are the Community Chest, Utilities, Railroads, Chance, Free Parking, and Go. To start off the game you need to select your chips and place them on the appropriate bet in a fashion much like, well, roulette. You need to place at least one bet in order to play. Once done, simply press the "Spin" button and you are ready to go!
Monopoly Big Spin Free Spins and Bonuses
Successfully betting on Go and Free Parking earns you 1 or 2 free spins respectively. In addition, winning on the Community Chest and Chance brings you a spin of the Bonus Wheel. This brings a new wheel divided in 10 named segments, each featuring Mr. Monopoly running, waving or flying out of a cage. The wheel spins automatically and pays out a guaranteed prize ranging from 5x your bet for St. Charles to 200x for Get Out of Jail Free.
In addition, Monopoly Big Spin includes three Mega Drop progressive jackpots. Dubbed Minor, Major and Epic, these are based on all stakes played by other players of the game. Each prize is awarded to a player on a random spin before it reaches a certain maximum value before it reverts back to around 25% of the amount paid out. All players are notified when a progressive jackpot is won.
Monopoly Big Spin Payouts
During regular spins, brown pays 5 to 1, light blue 6 to 1, pink 7 to 1, orange 8 to 1, red 10 to 1, yellow 12 to 1, green 17 to 1 and dark blue 25 to 1. The Utilities and Railroads pay 12 to 1, Free Parking 30 to 1 and Go 40 to 1. Community Chest and Chance bring a spin of the Bonus Wheel, which has its own payouts based on the winning bet. In this case, St. Charles pays 5x the bet, Beauty Contest 8x, Stock Sale 9x, Inherit Money 10x, Ride on the Reading 10x, Advance to Go 20x, Elected Chairman 20x, Advance to Boardwalk 30x, Bank Error 50x and Get Out of Jail Free 200x.
Monopoly Big Spin Graphics and Sound
Monopoly Big Spin features a clean and colourful mix of two familiar images, the Monopoly board and a roulette table. Thus, you have a big wheel featuring the image of Mr. Monopoly in the middle right in the centre, while in the bottom you can easily check out the betting table. Beneath this are the controls, with arrows allowing you to select your current bet amount, as well as Rebet, Clear and Undo controls. The red button on the lower left-hand side of the screen lets you check the pay table, while the on the right-hand side is Spin. On the left you can also check the current amounts of the three progressive jackpots.
Monopoly Big Spin Conclusion
Monopoly and roulette are an admittedly odd combination, but Shuffle Master makes it work in Monopoly Big Spin. The result is a game that is both fun and easy to understand. It also offers solid win potential, especially with the progressive jackpots! Check out Monopoly Big Spin here at Videoslots Casino today!
Gambling is a form of adult entertainment only. You must be over 18 to play. Play responsibly.