Battle of Slots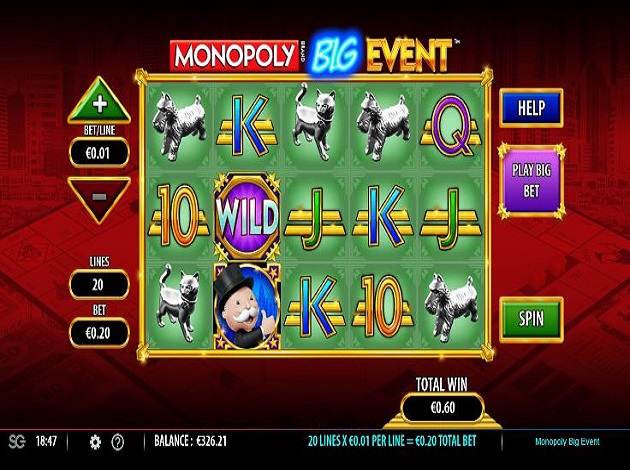 Play Monopoly Big Event online: Check out our slot review below
The time is here! This is a brand new way to play the classical game of Monopoly! Now you can play it whenever and wherever you wish to! And the best thing is that you now have the chance to turn all of the colourful monopoly money into real money on your account! That is at least what we at Videoslots.com have been waiting for during all of the years when we have been spending our time playing the traditional board game of Monopoly!
Here you will meet Rich Uncle Pennybags and also all of the traditional figures as the famous old fashion car, the shiny shoe, the high top hat, the small thimble and much, much more. All of these symbols will give you the fantastic feeling of that you are playing the original game of monopoly, but with the important difference of that you actually can do huge profits with real money here in Monopoly Big Event. You will also discover some of the traditional symbols from the classical deck of cards as jack, queen and king.
Monopoly Big Event is a video slot that has 5 wheels, 3 rows and not less than 20 available paylines! What you always should think about when you are playing a video slot is that the more paylines that you have activated for each bet, the bigger is the chance that you are going to make huge winnings during your game. The brain behind this genial game is the one and only Barcreist. They have made a fabulous job creating this super cool, new way to play the traditional monopoly game. There are several things that all games from Barcreist has common, they all has amazing graphics, imaginative themes, music and sound effects that helps to increase the feeling of the game. As soon as you have entered Monopoly Big Event, you will realise that this video slot is not an exception!
So what do you expect from a super great video slot? We here at Videoslots.com love when a game includes more than one bonus round, fantastic Free Spins and of course winnings that something beyond what you are used to! You can find all of this in the same game here in Monopoly Big Event! Fantastic right? While playing, we can assure you that you are going to experience 3 different bonus features.
All that you have to do now is to turn on your money winning mode and click on the image above to start your journey.