Battle of Slots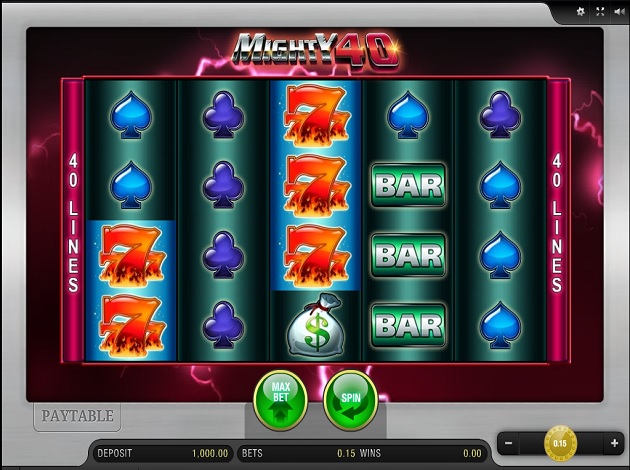 Play Mighty 40 online: Check out our slot review below
Thunder, lightning, and striking wins are what you can anticipate from this Video Slot. It is a game filled with classic symbols, mixed with more modern ones, in shiny and clear colours. You can find anything one might crave from a game of this type, and you are surely in for a treat – especially as the game offers you a staggering 40 paylines!
We proudly present; Mighty 40 Video Slot, a game brought to you by Bally Wulff!
Bally Wulff dates back all the way to the 1950's when the company first established itself as a small-scale manufacturer of gaming and entertainment machines. Then in 1972 the original Günter Wulff company was bought out by an American registered company, that at the time had very big worldwide network ambitions by the name of Bally Manufacturing Company. The company sold around 10,000 Rototron game machine units and went on to collect many awesome recognitions.
This company was primarily a maker of land-based games. The company has developed a vast range of game systems to fit every possible specification requirement for casinos and players alike.
When it comes to the software part of it, each physical game has the option to be programmed to feature a variety of different gaming options, with special gameplay capabilities such as auto start and quick spin features and different game catalogues.
Some of the games brought to you by Bally Wulff are Horsemen, 40 Thieves, and Persian Dreams.
Now, we will find out everything there is to know about Mighty 40 Video Slot!
Mighty 40 main game
What strikes you first when entering the game are the lightnings – no pun intended. The game is fierce in its way of striking you with power and electrifying, pink lightnings and thunders. This gives off a nice feel to the entity of the game, with symbols and animations that can all grant you the feeling of both classic games, as well as the slightly more modern ones. We are just about to tell you why!
The symbols you can come across while spinning the reels of this game are all made to stand out and to suit the theme of the game well. The lower valued symbols are the standard card suit symbols which are the clubs, hearts, spades, and diamonds. These four are all worth 0.25 when landing five of a kind. The higher valued symbols are then the green BAR-symbol, the sack of dollars, the golden bell, and the flaming lucky seven. These are then worth between 0.50 and 2.50 when landing five of a kind. The values of the symbols all depend on your bet made and they will increase with the increased bet.
Above the standard symbols, there are also a few extra special symbols to keep a lookout for on the reels. The blazing and shiny diamond is the Wild Symbol of the game, while the golden star with a banner with "Scatter" written on it, is the Scatter, of course. These can both grant you high wins and rewarding features.
Mighty 40 theme, graphics, and music
The theme of Mighty 40 is a bit tricky to figure out to be franc, offering you lightnings, thunder, with classic symbols, as well as the more modern ones. There is no clear read thread throughout the gameplay – apart from the very key fact of the name of the game and its offered extras.
Mighty 40 most likely got its name inspired by the fact that it offers you a staggering and rewarding 40 paylines – which is where it all gets a bit more interesting!
The graphics and designs of the game are all very well-made, offering you a clean and flair style to it. The backdrop shows you the pink lightning strikes in a black sky with the reel set placed right in front of this. The reels are then made in bright pink, and the back of the reels are in soft and flair green colours – which also makes the symbols pop out even more.
The game is very easily enjoyable, and as a player you will surely be able to find yourself greatly entertained.
Mighty 40 payout
Mighty 40 is played with 5 reels on 3 rows, and additional 40 mighty paylines to grant you higher wins that before.
Mighty 40 bonus game
Mighty 40 offers you both some Free Spins and a Wild Symbol – but a Bonus Game is not offered – or needed. We will, however, tell you all about the features that you do get to play right under here, and you are surely in for a treat.
Mighty 40 free spins
The Scatter Symbol is, as mentioned, the star with a banner going across it. This has the ability to step in to award you at least 10 Free Spins – and in these spins, the lucky seven steps in as well. When it does, it starts to act as a Wild Symbol for even higher and better wins.
The Scatter is also quite rewarding on its own to, as landing five of a kind can award you a staggering 50.00! Not bad for a Scatter, isn't it?
Mighty 40 wild symbol
The Wild Symbol, which is the shiny diamond, is a symbol that can step in to substitute for all symbols apart from the Scatter. This to then grant you winning combinations and extra high wins. This can be your way to the real wins, and you should really keep an extra eye open for these ones.
We hope that you are ready to enjoy this mighty gam with its mighty offerings.
We wish you the very best of luck in your gameplay!