Battle of Slots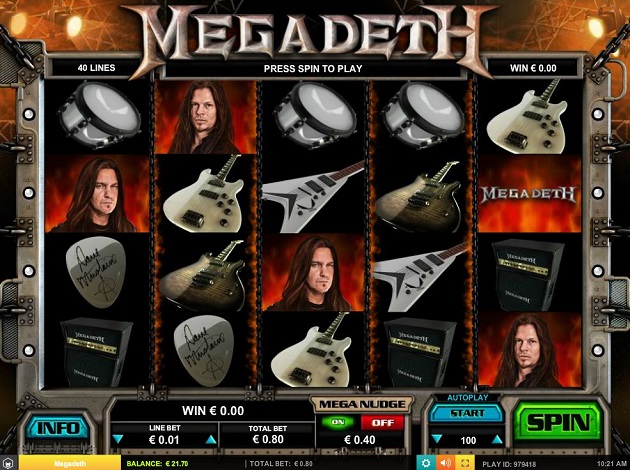 Play Megadeth online: Check out our slot review below
Turn up the volume and get ready for some moshing and head banging! It is time to introduce you one of the most famous trash metal bands in the world – Megadeth. Front man of the band – Dave Mustaine – has brought the whole group on the reels of Megadeth Video Slot and will bring you exciting gaming experience. The Video Slot world need a hero and here we have it!
Game provider behind this metallic Video Slot is Leander Games. This South American game provider has created several creative Video Slots for online casinos but also for social gaming market. They have also cooperated with several big names in the industry to create even more intriguing and captivating games. Leander Games is known to targeting the Latino markets, but they have also created many games that have been successful all over the world.
By using their own mathematics to prompt the slot sequences Leander Games have created something truly unique that works in sequences with the advanced graphics to offer a dynamic user experience and an ease of implementation for online casinos.
Beautiful graphics, intriguing features and exciting game play are some of the best qualities of Leander's games. Megadeth Video Slot a great example of all this, and now you will learn more about what it has to offer.
Megadeth Main Game
As soon as you open Megadeth Video Slot, you will notice that this game is all about metal. Reels are framed with heavy metallic frames and thick chains. Behind the reels, you will see a glimpse of stage and bright spotlights. Don't get the stage fright get you!
In the middle of the screen you will see 5 reels filled with theme-fitting symbols. Picks, amps, and drums will bring the lowest payout and different kinds of guitars will bring the medium payouts. You will also meet members of the brand on the reels of Megadeth. Chris Broderick, Shawn Drover, and David Ellefson, together with logo of the game, will bring you the biggest wins on these reels.
As you might have noticed, we still haven't mentioned Dave Mustaine, the iconic band leader. Obviously, he is in the game too, acting as Wild Symbol. Megadeth's creepy skeleton mascot Vic Rattlehead is the Bonus Symbol of the game.
Megadeth Theme, Graphics, and Sound
Megadeth was founded in 80's by guitarist Dave Mustaine, who was dismissed from another well-known metal band Metallica and bassist David Ellefson. Later years this trash metal pioneer became one of the most legendary bands in trash metal scene, but it hasn't been a smooth ride. Just like all the long living bands, has Megadeth too have some difficulties during the way. The worst part of the band's history was probably in early 2000's, when Mustaine suffered from severe arm injury and had to re-teach himself to play again. Eventually, the rows of Megadeth were gathered again, and the band continues providing the fans with music to mosh on. In addition, all the metal heads can now enjoy the Megadeth Video Slot too!
While playing, you will keep the spirit high with the metal soundtrack of the game. Megadeth is game to turn the volume up to the roof! You might want to mosh while playing, but don't miss the beautiful graphics and realistic symbols on the reels. You don't need to be a hardcore fan to recognise members of the band from symbols.
Megadeth Payout
Megadeth Video Slot is played with 5 reels and 4 rows. There are 40 fixed paylines on these reels and you can set the bets from the control panel. In addition to the basic bet, you can also set an additional bet to activate Mega Nudge Feature. If you activate the Mega Nudge Feature, your bet will be doubled, but you will also get 2 reels framed with flames. These reels will be nudged up or down after the spin, if this nudge can bring you winning combination.
Megadeth Bonus Game
When Vic Rattlehead lands on reels 1, 3 and 5, the Bonus Game is triggered. Bonus starts with a spin on Mega Wheel. This wheel brings you Hangar 18 Free Spins, Head Crusher Bonus Game, or instant win prize.
Head Crusher Bonus is pick and click game, in which you will see a group of hooded prisoners. Click to reveal male or female under the hood and you will either get your prize increased or decreased. Female prisoner increases the win, while male prisoner decreases it.
Megadeth Free Spins
As mentioned above, Megadeth Video Slot has a Free Spin feature. This is triggered, when Mega Wheel stops in Hangar 18 Free Spins section. When this happens, you will trigger 5 to 15 Free Spins. And this is not all! During Free Spins, all Wild Symbols landing on the reels will remain sticky until the end of the feature.
Megadeth Special Features
Megadeth offers a great Bonus Game and exciting Free Spins, both of which you can trigger by spinning the Mega Wheel. Mega Wheel appears, when you get 3 Vic Rattlehead symbols on the reels. Besides Rattlehead Bonus Symbol, the game has also another special symbol. This is Wild Symbol represented by Dave Mustaine himself. Wild Symbol can substitute all the other symbols on the reels – excluding Bonus Symbol – but also expand to cover the whole reel.
And if you are hungry for some extra action on the reels of Megadeth Video Slot, you can double your bet and activate Mega Nudge feature, which will help you on your win hunt.
Are you ready to mosh and bang your head in the beat of Megadeth? Comb your mullet and get ready, because this Video Slot is filled with smashing action and metal music. The stage is ready, so go and spin the reels!
We wish you the best of luck!