Battle of Slots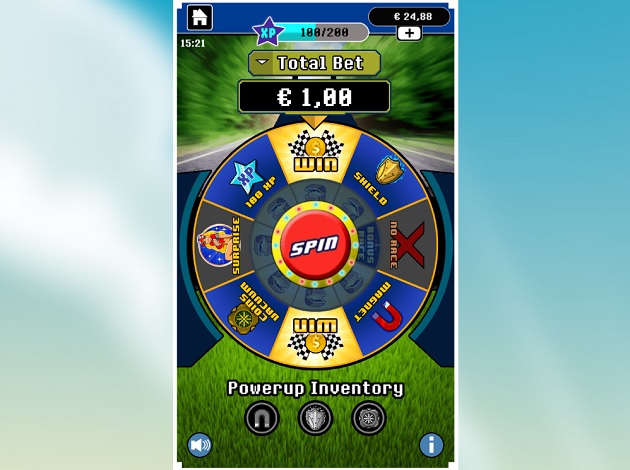 Play Mega Money Rush online: Check out our slot review below
Mega Money Rush Introduction
Everyone who has lived through the golden era of game consoles can probably remember the excitement of opening new levels or vanquishing the last nemesis of their favourite games. The beginning of the new game was always the beginning of a completely new adventure and when the game was finally played through you started to wait for the sequel. Now this same excitement is offered in the form of a bit unconventional video slot named Mega Money Rush.
Mega Money Rush is Skillzgaming's creation, and it offers a lot of fun action, excitement and opportunities to win money. Skillzgaming is a company known for creating skill based betting games. Like the name indicates, Skillz's games are all about the skills, not only about the luck. You can always get better in these games by practising, so experienced players have better chances to get the wins.
With Microgaming's Quickfire platform Skillz Gaming has managed to fit Mega Money Rush seamlessly into the game selections of online casinos. So this arcade-like gaming experience is available for video slot players. The game combines nostalgic elements with intriguing betting opportunities and so creates fun and bit different game.
Mega Money Rush Features
Mega Money Rush video slot is all about races. The player first gets to spin the reel, which can award one of the powerups, experience points or race. By collecting experience points and by finishing races you can open new tracks to enjoy. First race is like a car game, taking place in track rally kind of environment and after that, there are different races competed with different vehicles. This makes the game interesting for the player so Mega Money Rush can keep you entertained for hours.
There are several tracks offered through the Mega Money Rush game. You can open these tracks one by one and eventually you might be able to jump into Jungle Safari and hit the road with the Jeep, take your plane to the Canyon in Canyon Flight or conquer the waves with a muscle boat in Water Thrill. From all of these tracks, you can find coins and treasures you should collect as much as possible and also obstacles which you should avoid as much as you can. This is where the skills are needed.
If you want to get all possible out of Mega Money Rush, you should practice your hand-eye coordination. This will bring you more coins and more winnings. There are some nice features, namely experience points and powerups, in the game but there is also bonus round named Frenzy Bonus that takes place in the psychedelic race track.
Mega Money Rush Bonuses and Free Spins
As we have already mentioned, there is psychedelic Frenzy Bonus in Mega Money Rush game. This bonus is triggered when the reel stops at the right section. This bonus includes rainbow colours, 70's feeling and car with horns attached to its bumper. The goal is still the same than in normal rounds; you should collect as many coins and treasures as possible.
As you might have already noticed, Mega Money Rush is everything else but traditional video slot. So unlike those games, it doesn't have free spins. However, there is the similar game named Max Damage and The Alien Attack in which there are something that can be compared to basic slot game's free spins feature. This something is a selection of free gifts that the player can get to kill the aliens for free.
Besides the Frenzy Bonus, there are also two different features in the Mega Money Rush game. These are powerups that can help you in your quest of collecting coins and treasures and experience points that can open new levels and bring you even more fun and excitement.
Mega Money Rush Payout
As mentioned, Mega Money Rush is a skill based game so you will get the best out of it by practicing.
During the races, you might forget that Mega Money Rush is somewhat similar to traditional video slots, at least what it comes to betting. In this game you can place the bet between €0.20 and €100 so, even high rollers can enjoy the races of Mega Money Rush. The biggest possible win is x8000.
Mega Money Rush Graphics and Music
Mega Money Rush has a strong retro feeling throughout the game. It takes you to collect the coins in the world that look a bit like good old arcade games like Nitro or Road Fighter. You might be familiar with these games if you have paid race games around 80's or 90's. Mega Money Rush brings the same world back to your screen. Graphics looks pretty similar in this game too, of course with a modern twist and smoother gameplay. And if you miss the sound effects from Super Mario or other similar games, Mega Money Rush doesn't let you down!
Mega Money Rush combines the best parts of arcade games with the best parts of video slots and creates an intriguing theme and exciting gameplay for you to enjoy for hours. Graphics and sounds of the game honour the long tradition of old school race games.
About Skillzzgaming
SkillzzGaming is a Tel-Aviv based start-up, founded in 2014 and packed with experience. They have a lot of knowledge about entrepreneurship and gaming industry in general in their 3-person core team. These 3 are the founders of Skillzzgaming, all gaming enthusiasts from Israel. All of the founders have different skills, which combined form an amazing skill set.
If you want to know what sets Skillz Gaming's games apart, you only need to read the company name. Yes, skillzz – or skills with a proper spelling – is something that players need while playing SkillzzGamings' games. SkillzzGaming is creating something for a new generation of gamers, something where you need to know what you are doing, but you still have the excitement of luck-based gambling.
Skillzzgaming combines skills and gambling and creates entertaining, intriguing and captivating games for all kinds of players. Fans of online gaming will get the wagering fun and fans of good old video game action will get their gaming fun out of Skillzzgaming's creations. This is definitely a provider to keep an eye out for the future, and we believe, that we will get to know some more of their skill-based casino games soon!
Battle of Slots
If you love traditional video slots and wish to play them over Mega Money Rush, you might still want something to spice your gaming up a bit. And Videoslots has just the right tool for this! It is called Battle of Slots – social gambling experience in which you can battle through one slot game with the limited amount of spins and time. The winner will be rewarded with the prize determined by the slot type and buy-ins.
Now it is time to old school race game players to come and show how this is done! Mega Money Rush is here waiting for you to master it and collect the biggest amount of coins and treasures you can!