Battle of Slots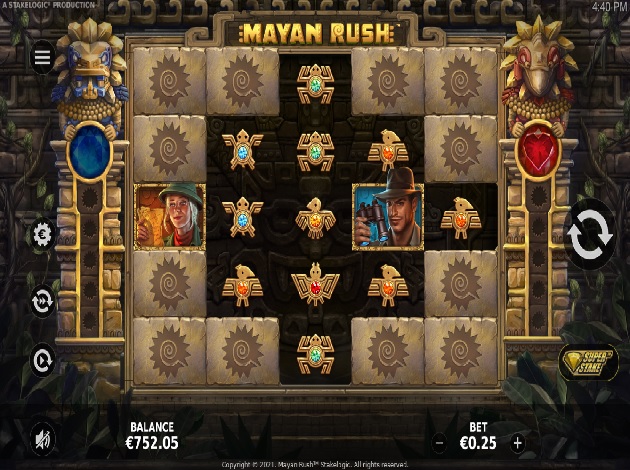 Play Mayan Rush online: Check out our slot review below
Mayan Rush Introduction
The Mesoamerican civilisation known as the Maya is actually one composed of multiple peoples living in the area that is now covers parts of Mexico, all of Guatemala and Belize, and the western portions of Honduras and El Salvador. The Maya are best known for developing a logosyllabic script that was the most sophisticated writing system in pre-Columbian America, as well as complex interlocking ritual calendars and a religious system that, yes, included human sacrifice. They also built striking temples in the form of step-pyramids, such as the famous Temple of Kukulcán that dominates the Chichen Itza in the Mexican state of Yucatán. Such a temple makes the inspiration of Stakelogic's Mayan Rush. This 5-reel slot starts off with rows set in a 1-3-5-3-1 configuration, but forming paylines eliminates the 12 blocker tiles set in the corners. Remove all blockers to trigger Rush Mode, where a life system determines how many spins you will ultimately get. But now let us carefully make our way into this temple, and learn what the deal with Mayan Rush is!
Mayan Rush Game Features
Mayan Rush is a slot featuring 5 reels that, at least initially, feature rows in a 1-3-5-3-1 setup. This starting configuration allows for a total of 45 paylines, formed by landing 3 or more matching symbols on adjacent reels. Paylines always start from reel 1, moving from left to right. Forming these paylines are 10 paying symbols, divided between 4 high and 6 low pays. The high pays include male and female explorers together with two Mayan reliefs, while the low pays consist of 6 animal designs bearing a red teal, orange, purple, yellow or blue gem. You will surely notice the tiles set in the corners of the slot, 3 in each corner. These are the blockers, some of which are eliminated whenever you get a payline. Consecutive wins can eventually remove all blockers, triggering Rush Mode.
Mayan Rush Free Spins and Bonuses
Mayan Rush lacks a scatter and the typical free spins mode is replaced with Rush Mode, which is triggered whenever you get enough consecutive wins to remove all blockers from the reels. Removing blockers adds to the number of paylines available, which can reach a maximum of 3,125 during Rush Mode. This activates the totems on each side of the slot. On the right you will find the Life Totem, which shows how many losing spins you can have until Rush Mode is over. Getting a win during Rush Mode adds to value of the Multiplier Totem found on the left-hand side. The mode starts with 1 life and a 2x multiplier, and you can get more lives by collecting 5 symbols with the associated colour. As such, the round continues until you run out of lives.
Being a Stakelogic slot Mayan Rush also includes a Super Stake feature. This allows you to double the stake to increase your chances to get "insanely valuable" winning combinations. In the case of Mayan Rush Super Stake can be during any random losing spin, and gives you 3 respins with a coin symbol landing in the middle of reel 3 on the first respin. Landing coin symbols removes blockers above and below it locks into place and doubles the values of all other coins on the reels. In addition, landing a coin resets the respin counter back to 3. This round continues until you either run out of respins or fill the reels with coins.
Mayan Rush Payouts
The two explorers are the highest paying symbols on the reels, both being worth up to 20x the stake. The reliefs follow with up to 10x the bet each. The red and teal low pays can earn you up to 1.6x the bet, the orange and purple up to 1.2x and the yellow and blue 1x.
Mayan Rush Graphics and Sound
The Mayan Rush slots are set in a mysterious temple, one whose walls are nearly covered by overgrown vegetation. On each side you will note a striking totem, while the reels tehmselves are designed to look like part of the temple structure. These hold detailed symbols that, with exception of the two explorers, are based on designs left by the Mayan civilisation. Get a win and blocker tiles start to glow before they disappear from the grid, making for an even more exciting gameplay experience!
Mayan Rush Conclusion
Stakelogic brings a different take on the Mesoamerican-inspired historical slot with Mayan Rush. The main draw here is to, of course, open all rows on the reels in order to bring about Rush Mode and its winning potential. Super Stake is also a potential draw, as doubling your stake can bring about a second bonus feature! So check out Mayan Rush here at Videoslots Casino today!
Gambling is a form of adult entertainment only. You must be over 18 to play. Play responsibly.