Battle of Slots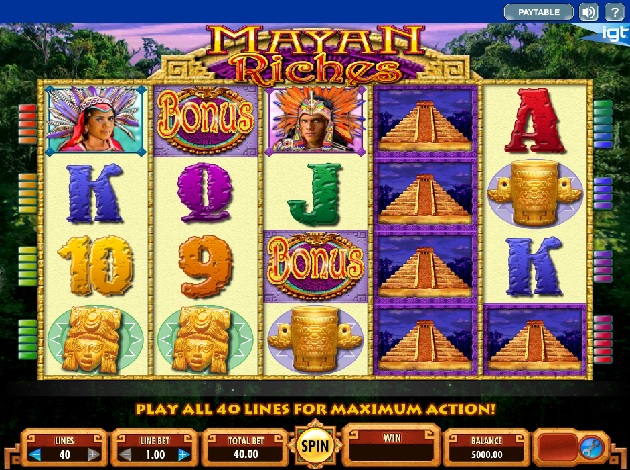 Play Mayan Riches online: Check out our slot review below
In this fantastic, colourful Mayan Riches video slot we are unearthing Mayan treasures long forgotten. You will be travelling all the way to Mesoamerican rainforests to hunt down the riches of ancient Mayan tribe, and if you are lucky, some of those riches might just be added to your balance! All this excitement and fun are brought to you and all the other video slot lovers by IGT.
IGT (International game technology) is one of the world's oldest and biggest suppliers of casino equipment. They started as providers of land based casino games but as the years went past they adapted their business to today's demands. Acquiring of WagerWorks in early 2000's took their video slot production into the whole new level and these days it boasts huge video slot catalogue, which has titles to meet every slot player's taste.
Mayan Riches main game
Mayan Riches video slot is a 5-reel, 4-row and 40-payline game. The game is quite nice looking with lively colours and great over-all mood. The graphics of the game are as clear as the air in the rainforest and the background theme of course consists of a real Mayan rainforest to remind us of the times long gone.
The interface of the game is easy to use and makes playing even funnier; you always see easily where to raise the bet or what button to use to spin the reels. Rich and detailed symbols of Mayan Riches video slot raises your mood even more. Even the lowest paying symbols – deck card symbols 9-A – are executed in the very theme-fitting way. It looks like these colourful symbols were carved out from the ancient temple's wall. Bigger wins you can get by landing one of the two Mayan artefacts or Mayan people on the payline. The biggest wins are obviously reserved for the high rising Mayan temple.
In Mayan Riches video slot, the wild symbol is a golden Mayan pyramid, and it will substitute for every symbol except the scatter symbol. This is the same temple that brings the biggest wins of the game. Scatter symbol of the game is a symbol with simply "bonus" written on it. Three bonus symbols on centre reels pay two times the total bet, and will also award you with five free spins! But these features you get to know more about later.
Mayan Riches theme, graphics and sound
One of the most advanced indigenous societies of Mesoamerica, the great Mayan civilisation, lasted for a good three thousand years, until it mysteriously disappeared around the year 900. Mayans were known, among other things, in excelling on creating impressive artwork and other treasures. In Mayan Riches video slot, you can dig in what amazing secrets they left for future generations to discover. And these secrets might bring you the wins you might have been hunting for ages.
The graphics of Mayan Riches video slot are very colourful and sharp as a razor. Glowing green backdrop describes the rainforest beautifully, and it really shows that IGT has an excellent talent what it comes to graphics too, not only gameplay.
The soundtrack of Mayan Riches video slot takes you instantly into the greenest green rainforest from where you might find the long lost Mayan treasures. These sounds will make your gaming experience even more enjoyable.
Mayan Riches payout
In Mayan Riches video slot, you can choose between 1, 5, 10, 20, 30 and 40 active paylines. For maximum profit and excitement, we recommend activating all 40 paylines. And for all of those paylines you can choose the bet, that is multiplied by the active paylines, this creates the total bet.
Mayan Riches bonus Game
Mayan Riches video slot is full of action; you can find free spins and some special features. However, bonus game you can't see in this game. But there are more Mayan themed video slots with bonus games for you to choose from if you are looking for bonus features. One of them is Mayan Wheel of Luck in which you are introduced to Wheel of Luck that can bring you some luck.
Mayan Riches free spins
In Mayan Riches video slot, the free spins bonus feature is launched when the player has three bonus scatter symbols on three centre reels. The only reels that will receive these symbols are 2, 3 and 4. On Free Spins bonus you will enjoy more rich stacked wild feature and also the possibility of retriggering the bonus.
Mayan Riches features
In Mayan Riches video slot, the stacked wilds feature will have every reel of the game stacked with groups of continuous wild symbols. And as mentioned, in the free spins bonus, the stacked wilds feature is even more present and awarding.
Battle of Slots
For players looking for some extra entertainment, Videoslots has one interesting option to offer. This is called Battle of Slots, and it gives all the players possibility of battling against each other and trying to win the prizes set for the battle. Just choose your battle, pay the buy in and start hunting down the biggest wins. But remember, you only have a set amount of spins to do that!
You can also first try Mayan Riches video slot with play money, in case you don't want straight away play with real money. If you are a new player, or if you have not yet tried the video slot in question, you might want to try the game for free. For video slot veterans and other experienced players, we recommend real money. If you win – you win real, hard cash.
Take the first step on the path of finding Mayan riches and you might be the lucky one finding them first. Free spins and stacked wilds are all there for you to find, don't miss your chance to find these awesome features.
Hidden treasures are just waiting to be found; we wish you the best of luck on the reels of Mayan Riches video slot!