Battle of Slots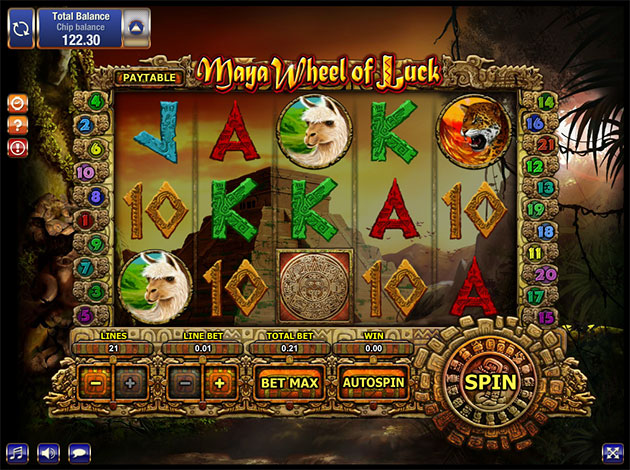 Play Maya Wheel of Luck online: Check out our slot review below
Mayan people have made this mysterious device that has granted many people the luck they have needed in order to achieve whatever they have desired. This device has been long forgotten, since it was buried deep under one of the ancient Mayan temples. Now the wheel has however been located and it was dug out from its chamber. Now we have gotten our hands into this device that will surely change lives. If you seek to get the luck on your side to receive the big winnings that you have always desired, then this is your lucky day. Come closer and lay your hands on the Mayan Wheel of Luck. By spinning this wheel, you will certainly be blessed with the luck you need with you while playing this innovative video slot. We got our hands on this wheel because of the fantastic game provider called Games OS. They are well known for their fantastic themes and very profitable games.
Mayan Wheel of Luck is a video slot that contains 5 reels, 3 rows and you can have up to 21 active paylines on your every spin. It is highly suggested that you would have as many paylines active as possible on your every spin, unless you want to leave the riches to Mayans. Besides the fact that this game has a really well made graphics and brilliant theme, the sound quality on this game is also top notch and you will feel like you are back in the golden era of Mayans.
The wild symbol of this game represents a beautiful Mayan statue. Wild symbol substitutes for any other symbol in order to form as many winning combinations as possible, except for scatter symbols. You can also come across the mega wild symbol in this came, which can be triggered to reel 3 with a wild symbol. You can also multiply your winnings to a whopping 10000x winnings with a right combination of wild symbols. That is amazing and will surely make you some nice profits!
The scatter symbol on Maya Wheel of Luck is a symbol that represents a Mayan pyramid. If you land three or more of these scatter symbols anywhere on the reels, you will trigger a fantastic bonus round. In this bonus round, you will be faced with the real deal, which is of course the Mayan Wheel of Luck. You actually get to spin the wheel of luck and see what kind of fortune it will bring towards you. I can assure that you will not regret spinning this wheel. It was buried back in the day because the wheel is so powerful!
So come with us to try your luck on this wheel. You can only win by spinning this wheel, it is just a matter of how much you win. You can get to this wheel by clicking on the picture that is located right above this text. You can of course try this game free on our demo mode if you are not ready to start with real money. If you however are ready to start playing with real money, then login to your Videoslots account and start making money! We at Videoslots.com wish you all the best and good luck with this fantastic video slot!