Battle of Slots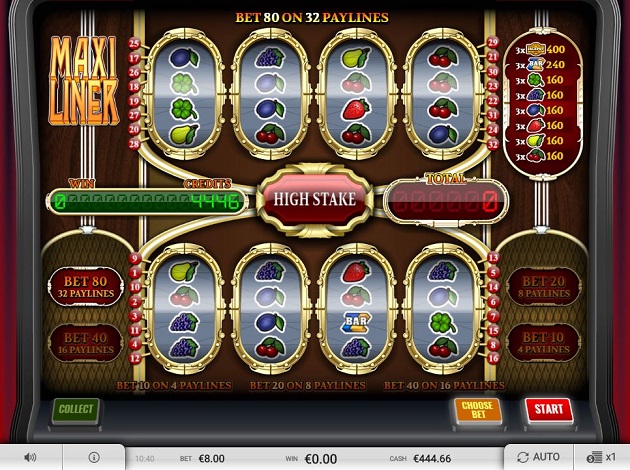 Play Maxiliner online: Check out our slot review below
Maxiliner Introduction
Unlike your typical slot machine, Imagina Gaming is upping the ante with two different reel sets, each one containing four reels and four rows. There is no typical base game in Maxiliner either, instead, you can play with bets ranging from 10 to 80 credits which affects the number of paylines you get. There is also a High Stake Mode which gives you the chance to win much bigger prizes!
Maxiliner Game Features
Maxiliner works a bit differently than most slots; to place your bet, you'll first have to select a multiplier between 1x and 10x from the game panel. Then, you can press the Choose Bet button which will light up the four buttons around the bottom reel set one by one. Now you can choose to play with four, eight, 16, or 32 paylines. The more lines you play on, the higher your bet will go.
The main symbols in Maxiliner are inspired by classic fruit machines and include grapes, plums, strawberries, lemons, and cherries. There is also the BAR symbols and the lucky four-leaf clover as well.
High Stake
You can activate the High Stake feature by pressing the corresponding button in between the two reel sets. This feature gives you more bets to choose from as well as new payouts. It will now be possible to bet 25, 50, 100, and 200 credits per spin.
Maxiliner Free Spins and bonuses
Maxiliner doesn't come with any free spins or bonus features, except for the High Stake feature which gives you the chance to play on more paylines with bigger payouts.
Maxiliner Payouts
In Maxiliner, you need to match three symbols on one of the paylines to win a prize. You can play with a minimum of four paylines and with a maximum of 32 lines in both bet modes. The payouts vary when playing on the bottom reel and when playing on the top reel with the High Stake feature activated.
In normal mode, the lucky clover, grapes, plums, strawberries, lemons, and cherries, will each pay out 160 coins for three matching symbols. The BAR symbol will pay 240 coins and the Jackpot symbol will earn you a big prize of 400 coins.
When playing in High Stake mode with bets ranging from 25 to 200 credits, the payouts will be considerably higher. For the clover and all the fruits, you'll win a big prize of 400 coins. The BAR symbol pays 600 coins and the Jackpot symbols pays a massive prize of 1,000 coins.
Maxiliner Graphics and Sound
Maxiliner has an awesome nostalgic feel to it with its flashiness, cartoon symbols, and a realistic look that's meant to make you feel like you're playing on a real game machine. Imagina Gaming achieved this effect very well and the 3D buttons really look like a real gaming terminal. When they're flashing, it means that they can be pressed, activating a specific feature or control in the game. Next to the top reel, the full payouts are conveniently listed in credits, and will change according to what mode you're playing in.
When certain parts of the machine are dark, it means they are inactive. In between spins, the reels are quiet, but as soon as you hit the Start button, you'll hear the sounds of the reels falling into place and any winning combinations will start flashing along with exciting sound effects that are very arcade in style.
Maxiliner Conclusion
Maxiliner is definitely not your average slot and Imagina Gaming have really set themselves apart here by showing what can be done with one of the oldest themes in slot history: fruits. They've taken this tried-and-tested idea and turned it into something creative and rewarding for all types of players, keeping those retro vibes there for players who love a traditional fruit slot. Maxiliner certainly offers something a bit different and it's worth checking out here at Videoslots!
About the Provider
Imagina Gaming was established in 2016 by a group of technology professionals and industry experts. They joined the iGaming industry because they believed that even though the market is highly competitive and saturated, there is still loads of room for innovation. After a long-term collaboration, the team was convinced that a lot more can be done in the industry and they would do just that.
Imagina Gaming works with all kinds of businesses from land-based casinos, media partners, to online casinos, service aggregators and more, offering all kinds of solutions and services, ranging from a unique game portfolio, to mobile casino support, jurisdiction compliance and responsible gaming, to customisable jackpots and much more.
When it comes to their slots, Imagina Gaming describes their games as driven by "industry-tested experience", fun to play, unpredictable, and of course, totally unique. Their games are based on the Imagina development toolkit and APIs, which together with their expertise, have enabled them to create a special portfolio of unique gaming experiences. They focus on great design, rewarding mechanics, and immersive sound effects to entertain all types of players, whether they're seasoned experts or beginners.
Check out Club Spinner by Imagina Gaming here at Videoslots.com.
Play in our Battle Of Slots
Don't miss out on the opportunity to play a thrilling Battle with our special, unique and very first social online casino experience – Battle of Slots. Videoslots gives you the chance to play first time Battles against your friends and other players on videoslots.com with games from NetEnt, Thunderkick and Play'n GO. There is only one Battle of Slots – and you'll only find it on videoslots.com!