Battle of Slots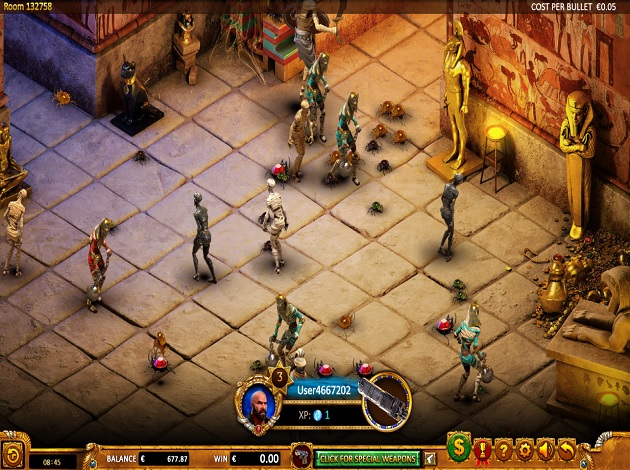 Play Max Quest online: Check out our slot review below
Max Quest Introduction
Are you ready for the ultimate adventure? Max Quest places you in a battle room with other players, where together, you'll battle against the wrath of Ancient Egypt – against the gods of Ancient Egypt who are tired of being made into online slots every day! Or rather, we should say, against the wrath of Ra, whose curse has been awakened, along with his undead army who protect his burial site and its undiscovered riches fiercely.
This is Ancient Egypt like you've never seen it before: mystery awaits inside the temple, riches lie undiscovered, and danger lurks everywhere. Get ready for the ultimate action adventure game that's unlike any slot you've encountered so far.
Read on to find out how to this unusual game works and how to wager battle against your mummified opponents to earn the treasure. There are no reels or rows to play on and no paylines.
Max Quest Game Features
Before you start shooting to kill, you can customise your game by choosing your avatar with an Egyptian-style border and colour of your choice as well, which makes the game all the more enjoyable and interesting.
Placing your bet in Max Quest involves choosing your bullet cost and bullet buy-in, which result in a total buy-in, meaning a total bet. The minimum total buy-in is € 0.05 while the maximum total buy-in is € 1. Next, choose your room and the battle begins! Your job is to shoot at undead scarab beetles, wrapped minions, shadowguards, and spiritguards, mummified warriors, and Bataanas as well.
Every shot will count like one spin, so each shot with a normal weapon is a bet. The best thing about Max Quest is that even if your shooting-skills are terrible, each shot is guaranteed to hit an enemy! When an enemy is hit, there is a random chance that it will be killed.
Each enemy is worth a different prize but may also drop a special weapon when destroyed. You can also choose to purchase special Weapon Chests which will contain random special weapons. The special weapons are as follows:
Shotgun
Contains powerful shells that target a single enemy.
Grenade
A blast from a grenade can damage up to five enemies.
Machine Gun
Shoots rapid fire which targets a single enemy, with the chance of a ricochet.
Laser
Intense beam which targets a single enemy, also with the chance of a ricochet.
Plasma Rifle
A massive strength plasma which targets a single enemy.
Max Quest Free Spins and bonuses
There are no free spins in Max Quest, as there are no reels to spin anyways! However, you will find amazing bonus features which intensify the game and can reward you generously.
Risen Fire Enemies
You're battling against an army of undead creatures, so there's a possibility that a destroyed enemy will rise from the ashes and become a Risen enemy, making it harder to kill. The more bullets you shoot at it, the higher the chances of killing them. Since they're harder to kill, the rewards are huge if you manage to destroy them.
The Gods have Risen
At the end of the game round, there's a chance that a God will rise. When this happens, one of the three Wrathful Gods of Egypt will rise – Anubis, Osiris, or Ra – vanquishing all current enemies on the game area and summoning their own minions. You must now work together with other players to kill the risen god in the room. Each shot fired at the god works the same as when you're fighting a regular enemy.
Damaging the god (which you can see in his health bar) will increase the value of the cash prize rewarded at the end. Cash prizes, XP points and treasure winnings will be awarded to the players who defeated the god, the prize amount depending on the contribution of each player.
Max Quest Payouts
Each enemy of the ground carries seven potential cash rewards, along with randomly awarded XP, collectable treasures, and special weapons. There are four scarab beetles which comes with the lowest payouts, ranging from a minimum of 2x to 3x your bet, up to 50x and 60x your bet as maximum prizes. The Tahawy Warrior can earn you up to 150x your bet.
The Wrapped Minion, Wrapped Shadowguard, and Wrapped Spiritguard will all earn you between 5x and 100x your bet. The Crimson and Emerald Bataanas are the highest paying standard enemies, each worth between 10x to 200x your bet.
The best prizes come in the Risen Fire Enemies feature and the Gods have Risen feature, though, as you can get some seriously big payouts if the feature is triggered!
In the Gods have Risen feature, the special weapons award larger prizes. The pistol prizes come with the lowest prizes, going up to a maximum of 50x your bet. The Plasma Riffle shots can earn you a huge maximum prize of 1,000x your bet!
A Risen Fire Mummy can award you up to 5,000x your bet if you kill it for good, while the Risen Fire Scarab is worth up to 2,000x your bet!
Max Quest Graphics and Sound
Max Quest takes place inside the sun god Ra's burial temple, with scatter coins, tombs, and hieroglyphics on the walls. Mummies, gods, and scarab beetles scurry across the floor, and whenever you shoot, plenty of explosions and fire animate the screen. The screen might even be nudged when you hit a big enemy of earn a special weapon.
The soundtrack is very heroic and exciting, perfectly for an epic battle! If you want to change your bet, alter your avatar, or view the game information, you can access all of this in the game panel at the bottom of the battle screen.
Max Quest Conclusion
Max Quest is actually one of the most original Ancient Egypt themed slots out there, combining the Egyptian theme with a zombie theme. The gameplay and the features are what sets this slot apart though, as it's got to be one of the most exciting games ever!
Max Quest is fast-paced and action-packed, and you will have a blast shooting at zombie gods whilst collecting special weapons, XP points, and battling together with other players as well!
About the Provider
Betsoft was founded in 2006 and since its establishment, the company has earned a reputation as one of the world's top producers of quality, creative igaming products. Betsoft set out to provide not only innovative games but reliable, software products for their operators. Their talented team is made up of people from all sectors: 3D animators, graphic artists, software developers, engineers, and marketing specialists amongst others.
Starting in 2011, Betsoft began moving into the mobile iGaming market with their specialised ToGo™ line of mobile video slots. Optimised for iOS devices, these portable games include an ever-expanding list of some of their most popular Slots3™ titles, such as The Slothfather, Safari Sam, and Three Wishes. This was a big launch for Betsoft and proved to be a huge success.
In 2014, they acquired their license with the Malta Gaming Authority and in 2016, they reached their next milestone when they made the move from flash to HTML5 games. In the same year, they continued to grow and entered the Italian market, with approval and certification from the AAMS. Now, their portfolio consists of over 150 amazing games, all boasting 3D graphics, great soundtracks, and immersive themes.
Check out a few editions by Betsoft like Rook's Revenge and FruitZen.
Play in our Battle Of Slots
Don't miss out on the opportunity to play a thrilling Battle with our special, unique and very first social online casino experience – Battle of Slots. Videoslots gives you the chance to play first time Battles against your friends and other players on videoslots.com with games from NetEnt, Thunderkick and Play'n GO. There is only one Battle of Slots – and you'll only find it on videoslots.com!