Battle of Slots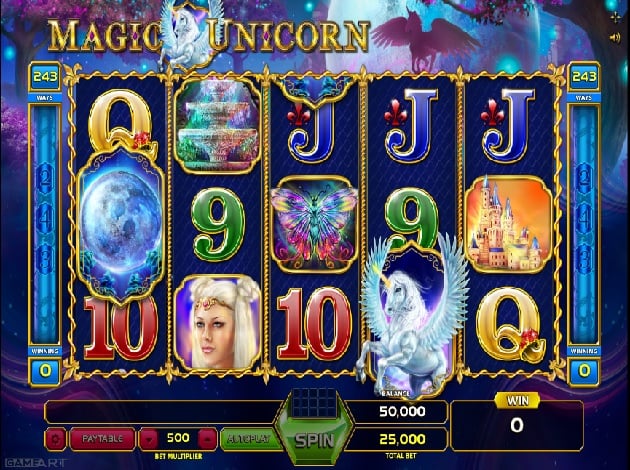 Play Magic Unicorn online: Check out our slot review below
Welcome to the video slot that introduces you to a fantasy world with mythical creatures, magical happenings, and fascinating appearance. We are gladly presenting Magic Unicron brought to you by no other than GameArt.
GameArt is an independent online casino software provider and developer of cutting-edge games which they in its turn deliver to the biggest operators in the markets. GameArt was founded in 2013 by a group of entrepreneurs with over 20 years experience in both the online and land-based industry. They created GameArt and turned it into a B2B provider with offices across Europe. Their employees work tirelessly to provide high-quality slot games with innovative and creative themes based on the client's request and desires.
Let GameArt prove to you why they should be one of your top favourites, this is Magic Unicorn, and it will surely put you in awe.
Magic Unicron main game
The moment you enter Magic Unicorn, you will be struck by its beautiful layout and the creatures like no others. You will feel the mythical science and the magic world you can see will immediately draw you in and keep you there for hour after hour. The colours, the animations, and the graphics are simply incredible, and we are just about to start this journey!
The symbols of Magic Unicorn are all made to fit the theme of the game, all suiting this fantasy world of mythical creatures. You can come across symbols such as the bright coloured and sparkling butterfly, the majestic castle, the glittering fountain, and the beautiful fairly girl with white hair and blue eyes. Apart from these ordinary symbols, you also have the standard card deck symbols ranging from 9 to Ace. These are the low paying symbols, and the ordinary ones are the higher paying ones. The fairy girl is the highest paying out of these, giving you a win of 25.00 for a 5 symbol combination.
Then you have some special symbols, one of them is the full moon, which is the bonus symbol of the game. The magical unicorn symbols are the games´ Wild symbol. These can both grant you some incredible wins and features, so you should definitely keep an extra eye out for these!
Magic Unicorn theme, graphics, and music
Unicorns and the magic that surrounds this mythical creature are clearly the inspiration behind this video slot. But are unicorns only fiction and magical? Well, an extinct look-alike animal did exist around 250.000 years ago, but to be honest, it was fat, furry, and more alike a big rhino than the unicorns portrayed in so many fairy tales and stories these days. Unicorns are beautiful, white horse looking creatures, with a prominent horn on their heads. Some believe in this mythical creature; some don´t. But who doesn´t wish to think they do exist in some place around us?
The unicorn´s horn is said to be able to heal a wound if placed on it, and a group of unicorns is called a blessing. There is also a British royal treasure, where they believed to have found the horn of a unicorn – which was worth between 10.000 and 40.000 pounds. Still, don´t believe in them?
Well, Magic Unicorn is here to show you the real stories about these creatures. And no matter what your belief is, you will be able to enjoy the game and get right into the feeling of it the moment you enter.
Making this magical world even more attractive for players, is the design and the graphics. Every part of this game is filled with well-crafted details and animations. You can see all symbols in sparkling and bright colours, and the backdrop is just amazing. You can see the magic forest set behind the reels with the unicorns flying high, and the purple trees filling the backdrop.
In the background, you can see the majestic castle standing above the clouds, with shimmering lights covering it. Behind is the detailed full moon with the purple trees giving it more definition. The stunning white unicorn at the edge of the screen makes the vibe of the game shine even brighter.
Magic Unicorn payout
You will play Magic Unicorn on 5 reels, and you have 243 ways to win.
You have the possibility to choose coin values of between 0.01 and 0.50, making the total bet of every spin €25.
Magic Unicorn bonus game
Magic Unicron does offer a so-called bonus symbol. However, it does not contain a specific bonus game. It does offer some great features, though.
But if you are into the kind of mythical theme with the extraterestial world of enchanted forests, with unicorns and trolls, then you should check out Silver Unicorn by Rival Gaming. It offers a similar theme, some different graphics, and a Memory Match Bonus round. It reminds a bit of the game "Pairs", where the goal i to manage to match all symbols to get the prizes.
Magic Unicorn free spins
But then what is this Bonus symbol of the full moon? It has two abilities, both to get you some cash prizes, as well as free spins. You can win the different amount of free spins depending on how many symbols you manage to land, three gives you 10 free spins, 4 symbol gives you 15 free spins, and 5 symbols grants you with 20 free spins. During the free spin feature, you also have Wild symbols and multipliers.
Magic Unicorn features
Wild symbol
The unicorn, of course, has a substantial part in this game. It is the Wild symbol and can step in to replace all symbols apart from the Bonus, to create winning combinations for you.
During the free spin feature, the Wild can appear on reel 2 and the win is then multiplied by 3. If a unicorn replaced a symbol or a win on reel 3, you get a multiplier of 5. If it goes on both reels to replace symbols, then it multiplies by 15. Pretty rewarding!
Magic Unicorn certainly brings out the magic of this world, but it is now time to step into a new one. An enchanted and beautiful world, which you never will want to get out of. We wish you the best pf luck in Magic Unicorn!