Battle of Slots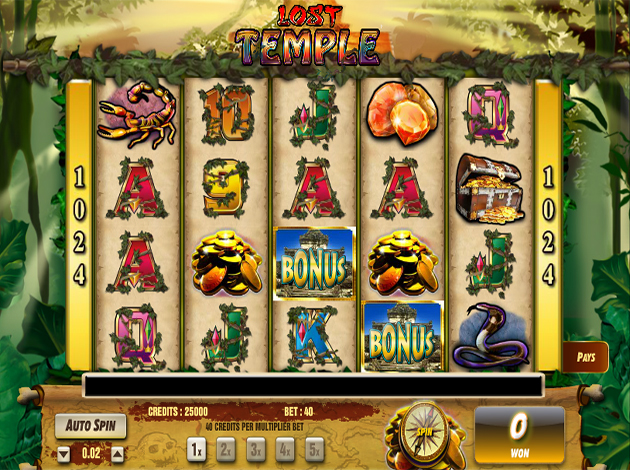 Play Lost Temple online: Check out our slot review below
Put on your boots, helmet and bring your machete because we are now going on an adventure to find the Lost temple in the south American jungle! Maybe you are familiar with adventure movies as Indiana Jones, The jungle book, Tarzan and Rambo. They may be recorded in different parts of the world but they have one thing in common, the thick and green jungle. Here in our new video slot Lost Temple, you get the chance to be the great adventurer and lead the way on the hunt for all the hidden treasures!
We here at Videoslots.com are truly blessed to get the chance to introduce Lost Temple as our newest member in our frequently growing game family. We was happily surprised when we first tried the game out. This is a video slot that has graphics as sharp as a thousand machete knives, realistic sound effects and these two facts together gives you an extra ordinary game experience. You can almost feel the smell of the new fallen rain drops, feel the muddy ground under your feet and hear a mixed sound of exotic birds and buzzing mosquitos. The only thing more that you can ask for is high winnings, and surprise! Of course they are included here in Lost Temple as well! The creator behind this fantastic game is the one and only Lightning Box! All games that are provided by this brilliant game provider comes with amazing graphics and well developed functions. Like you probably already have figured out, Lost temple is not an exception from this!
The way to the old mythical temple is long. On the reels you will have to step over some large and aggressive cobra snakes, poisoned scorpions and there are not less than 1024 different way to winnings! If you spin the wheels right, you might see the mystical blond girl that are protecting the forest and the life in here. But since she has spent a long, long time here, she knows exactly where to go to receive all of the best winnings. The symbol with this jungle beauty on works as the Wild symbol in this game. A wild symbol is a brilliant symbol that substitutes for all of the other symbol in the game, except for the bonus symbol. This means that you can make winnings when you thought it was not even possible!
This is not all that this game has to offer you! You will also be able to lay your eyes on a symbol with an old temple and the word BONUS written on it. This is a symbol that will rewards you generously and if you land on 5 of it, a unique bonus round will be triggered. In this bonus round, you get to climb the golden pyramid and pick up all of the winnings that are hidden on the different steps.
We here at Videoslots.com are looking forward to get out on this adventure together with you. We are convinced that you have what it takes to find this Lost Temple and we will need your help! We wish you all the best in the new game Lost Temple from Lightning Box!