Battle of Slots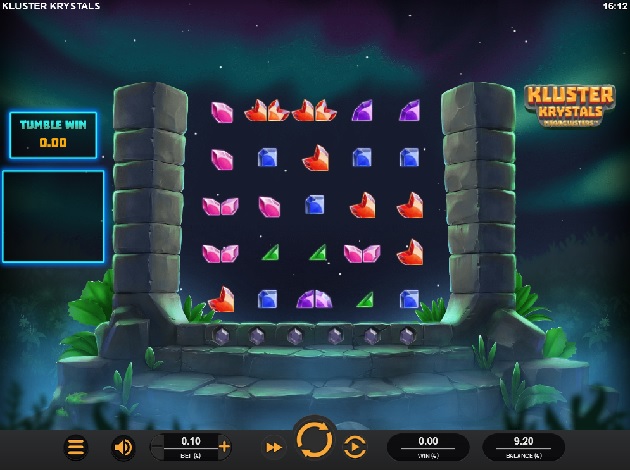 Play Kluster Krystals Megaclusters online: Check out our slot review below
Kluster Krystals Megaclusters Introduction
Relax Gaming is the first game provider to license Big Time Gaming's Megaclusters mechanic, bringing about Kluster Krystals Megaclusters in the process. A system designed for cluster slots, Megaclusters brings symbols able to split up into smaller symbols. In the case of Kluster Krystals Megaclusters, the crystals on the grid can appear in single, double, triple and even quad form. And just as well, since it makes formation of the clusters necessary to bring the wins much easier. After all, this cluster slot might initially appear as a rather small affair at just 5x5, especially when one considers the clusters required for a payout need to consist of at least 8 symbols that are touching either vertically or horizontally. Form a winning cluster, and the symbols next to it are upgraded in size! The same goes for any multiplier symbols, which start at 1x, 2x, 3x, 4x, 5x and 10x and can be upgraded for up to 3 times. Then there is the cascade-style avalanche mechanic, which can lead to one of 3 randomly selected features if you manage to get a sequence of 6 cascades. And that's not all that is to be discovered in Krystal Klusters Megaclusters, so it's best to read on in order to find out more!
Kluster Krystals Megaclusters Game Features
Kluster Krystals Megaclusters is a cluster slot set on 5x5 grid. The aim of the game is to form clusters of a minimum of 8 matching symbols that are adjacent either vertically or horizontally to each other. Making this task easier are the titular Megaclusters. The crystal symbols on the grid come in 5 colours, green, blue, purple, pink and orange, and in 4 sizes, single, double, triple and quad. Double crystals count as 2 symbols, triple as 3 and quad as 4. Form a cluster, and the symbols next to it get upgraded, from single to double and so on. Also found on the grid are multipliers of the same colours as the crystals. These land in 1x, 2x, 3x, 4x, 5x and 10x form, and are upgraded whenever next to a winning cluster. This can happen up to 3 times, and for each upgrade the multiplier value increases with an amount equal to the corresponding base multiplier. Any multipliers are applied to the payout once the spin is over.
Kluster Krystals Megaclusters Free Spins and Bonuses
Forming a cluster in Kluster Krystals Megaclusters triggers an avalanche, which has the winning symbols disappear from the grid before new ones fall in their place. This can lead to the formation of more clusters through both new and upgraded symbols, and this process continues until there are no more wins on the grid. An avalanche also lights one of the 6 lights set beneath the grid. Light all 6 to trigger one of 3 random features, which are as follows:
Krystal Vanish - Picks one symbol group (colour) and removes them from the grid.
Krystal Boost - Upgrades all normal symbols on the grid by one stage.
Krystal Kut - Removes all single symbols from the grid.
In addition, the Kluster Krystals Megaclusters grid houses a golden bonus symbol. Upgrade it fully into a quad by having it next to winning clusters to earn 7 free spins. Free spins can be retriggered by, once again, upgrading the bonus symbol into a quad, which will add +4 free spins.
Kluster Krystals Megaclusters Payouts
The red crystals are the highest paying, with the maximum 20 symbol cluster being worth 50x the bet. Maximum pink and purple clusters follow with up to 20x the bet, while the largest 20 symbol blue and green clusters can earn you up to 20x the bet.
Kluster Krystals Megaclusters Graphics and Sound
Kluster Kystals Megaclusters brings a mix of the ancient and futuristic in its visuals. The grid makes part of a massive stone cluster set in a mysterious jungle. You can spot the night sky through the transparent grid, which holds the shining multi-colour crystals. As you spin the reels you can listen to sounds of the creatures living in the jungle, as well as to an ambient electronic soundtrack that gives a mysterious science fiction vibe to the on-screen action.
Kluster Krystals Megaclusters Conclusion
It makes sense that a Big Time Gaming mechanic such as Megaclusters would find its way into another game, as Kluster Krystals Megaclusters is a success! This cluster slot might be simpler compared to other Megaclusters-based titles, but that make for an easier to understand game with some solid win potential and a satisfying mix of visuals and sound. Check it out here at Videoslots Casino today!
Gambling is a form of adult entertainment only. You must be over 18 to play. Play responsibly.