Battle of Slots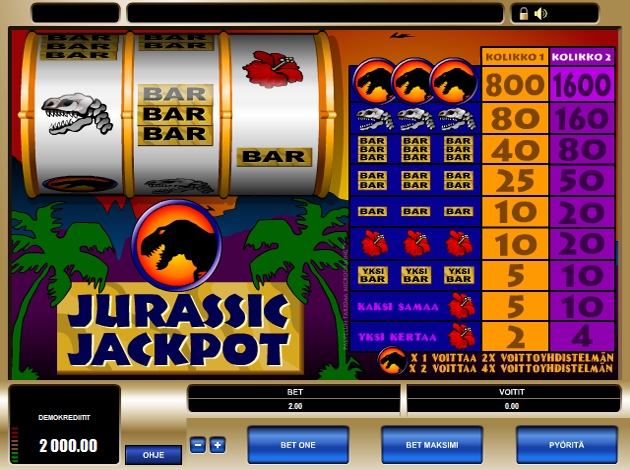 Play Jurassic Jackpot online: Check out our slot review below
Jurassic Jackpot Big Reel is a three reel slot machine with 1 payline, so it's really easy to decide how to play it. However, as every slot machine at videoslots.com, you will also decide the size of the wager to match your preferences. The coin sizes ranges from €0,25 to €5 and you will choose to play one or two coins at the same time.

Jurassic Jackpot Big Reel has a wild, multiplier symbol which is the Jurassic Jackpot symbol. A wild is a symbol replacing other symbols to create winning combinations. For instance, Wild - single Bar - single Bar equals three single Bar symbols. In addition if you create a winning combination with one wild symbol the payout doubles. If you have two wild symbols creating a winning combination, the payout quadruples. The maximum payout is for 3 Jurassic Jackpot symbols, and the amount is 1,600 coins. So, if you set the coin size and hit 3 Jurassic Jackpot symbol and bet the maximum €5 coin size, you will receive a really nice payout.

There have been a few questions to the videoslots.com support, why you as a player can choose both to set a coin size and the amount of coins to play. Why not either coins size or number of coins? First of all, in many slot machines the payout schedule is different based on the number of coins you play, not the coins size. Thus you can sort of choose paytable. But foremost, the reason to offer both coin size and number of coins to play, is to give you as a player the option to set the bet size to correspond as much as possible to your preferences of bet size.

Jurassic Jackpot Big Reel was created to suit the preferences of players who enjoys straight forward slot machines.