Battle of Slots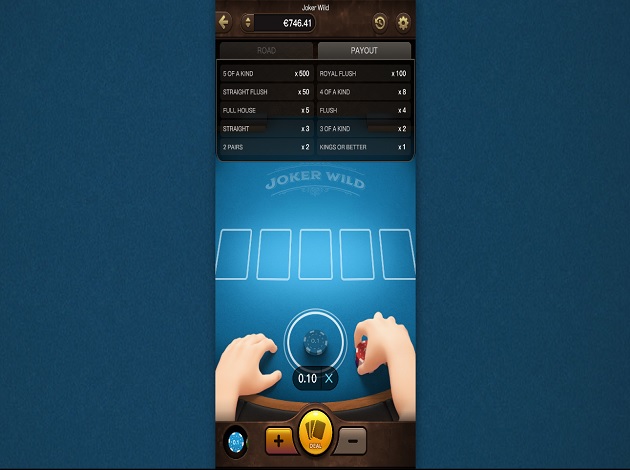 Play Joker Wild online: Check out our slot review below
Joker Wild Introduction
Get ready to spice up a good old game of poker with PG Soft's Joker Wild. Joker Wild comes with different elements that promise a unique user experience to all those who check it out. Along with the fantastic visual effects such as the ROAD feature and the hand gestures animation, this game has huge cash prizes to be won. In a few words, this is a poker journey like no other.
Joker Wild is played with a 53-card deck: the regular 52 card deck, along with the Joker. You can play from just € 0.1 or go up to the maximum bet of € 500.
Read on to learn more about Joker Wild, along with its main features and payouts.
How to play Joker Wild
The game follows standard poker rules. The hands are formed in the same way, with one exception: a joker card is the wild card, meaning that it is regarded as the most favourable one when used to complete a winning hand. Since this is a single deck game, cards are reshuffled for each hand.
To start the game, place your bet and five cards will be dealt. Select one or more cards to be held and hit the DRAW button to replace non-held cards with new cards. To win, you have to match the final five-card hand with the qualifying hand listed in the PAYOUT.
The Cash Wallet displays the cash available for the bets you have made and payouts are made according to the Payout.
All winnings are shown in cash. These are equal to the value shown in the Payout and are multiplied by your current bet.
Online casino games operate in different ways, but generally providers incorporate the same or similar controls in their games. Here are a few steps on how you can place your bets in Joker Wild:
DEAL: Tap to deal the first hand with the current bet.
CHIP: Tap to select bet size.
PLUS: Tap to increase bet size amount to the current bet.
MINUS: Tap to decrease bet size amount from the current bet.
DRAW: Tap to select the second hand after you have selected the cards you would like to hold or discard.
PAYOUT: Tap to display the winning hands.
ROAD: Tap to display the history of previous games.
HISTORY: Shows details of the previous games played. Scroll down to the end to load more records. Tap the button to select the dates of games to be shown in History.
SETTINGS:
Sound: Tap to turn sound ON or OFF.
Vibration: Tap to turn vibration ON or OFF. (Only supported on Android mobile web)
Bet Limits: Tap to change bet limits.
Game Info: Tap to show game rules and button functions.
Joker Wild Game Features
Joker Wild is an extremely interactive video poker game that all players will enjoy. Compared to other video poker games you'll find online, the features that have been added to this one are fantastic. These include the ROAD feature and the Hand Gestures Animation.
Here's a closer look at what you can expect:
ROAD feature
The ROAD feature is a great addition to this video poker game. It records the history and trends of the current dealing shoe. You can observe these trends by using this feature to increase your chances of winning.
Hand Gestures Animation
Expect high-fiving, table-thumping, palms striking and more. This is one of the main features that make Joker Wild stand out. It definitely adds more thrills and excitement, as you watch the hands express the player's thoughts and emotions during the game.
Joker Wild Payouts
The Joker has some fantastic prizes for you if you play your cards right. To win, your final five-card hand must match any of the payouts that are listed below.
The paytable of Joker Wild is as follows:
Find of a kind – x500
Wild royal flush – x100
Straight flush – x50
Four of a kind – x8
Full house – x5
Flush – x4
Straight – x3
Three of a kind – x3
Two pairs – x2
Pair (kings or better) – x1
Joker Wild Graphics and Sound
Pocket Games Soft have done a terrific job with the visual effects of Joker Wild. Along with the overall graphics that have been designed in this game, it must be said that the hand gestures animation and the ROAD feature are truly impressive.
There isn't any music playing but you'll get to hear the sounds of the deck being reshuffled, chips being flicked, as well as the sounds the hand gestures are making.
Joker Wild Conclusion
All in all, Joker Wild is a fantastic video poker game. It's a poker game like no other, that both casual players and high-rollers will enjoy.
Compared to what you can find on other platforms, we think that Joker Wild has all the elements needed to make it stand out. Along with the huge cash prizes you can win, Pocket Games Soft have done an impressive job with the visual effects to succeed in making it so interactive. Don't miss out! Play Joker Wild today.
About the Provider
"Difference makes the difference" – that's the clever motto of this young provider, PG SOFT. They are a mobile game development company based in Valletta, Malta. For a company that joined the iGaming industry in 2015, they've grown to an impressive size of 200 employees, expanding beyond the island of Malta as well. Now, they have offices in Europe, North America, and Asia. Albeit being a new name on the iGaming scene, PG SOFT is quickly making a name for themselves with their impressive mobile slots.
With a motto like, "difference makes the difference", they really take the element of 'difference' seriously. PG SOFT's games are truly different not just in themes and gameplay, but in every other aspect of the game as well, with ideas that are completely out-of-the-box!
Hotpot is the best example that proves this big claim. Hotpot takes place literally inside a hotpot, a boiling soup full of spices and ingredients which are also the 'reels'. Other crazy themes include adorable plushies, legends and myths, anime, and much more.
Besides awesome ideas that will stun you with their originality, the graphics will also blow you away. Above the reels, most slots will have a video screen showing animations related to the game. They'll take any idea and turn into a brilliantly executed game that any player will love.
Check out games by PG SOFT like Hood VS Wolf, Summon and Conquer and Win Win Won.
Play in our Battle Of Slots
Don't miss out on the opportunity to play a thrilling Battle with our special, unique and very first social online casino experience – Battle of Slots. Videoslots gives you the chance to play first time Battles against your friends and other players on videoslots.com with games from NetEnt, Thunderkick and Play'n GO. There is only one Battle of Slots – and you'll only find it on videoslots.com!