Battle of Slots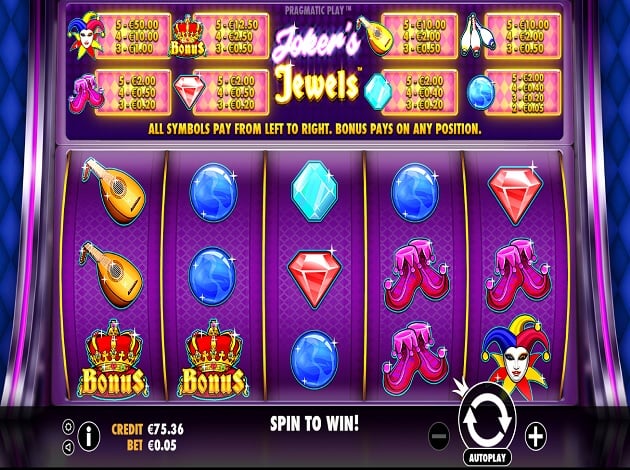 Play Jokers Jewels online: Check out our slot review below
Jokers Jewels Introduction
From developer Pragmatic Play comes a nifty little game called Joker's Jewels. Spin the reels on this old-school video slot for a chance to win some nice cash-prizes!
The first thing you notice when opening Jokers Jewels is the beautiful look of this game. There are a host of video slots available online masquerading as video games, taking you on grand adventures to the Amazon – and there is nothing wrong with that – but this is an honest video slot not pretending to be anything else and that is refreshing.
Jokers Jewels Game Features
You cannot help but be wowed by the slightly hyperactive light show unfolding in front of your eyes the first time you play Joker's Jewels. The flashing and blinking lights might seem a bit much at first, but as soon as you start spinning, you will realise that it fits very well with the mood and quickness of the game.
The blinking lights are there to highlight the area right above our game-board, an area which – surprisingly enough – is filled with our paytable. This is highly unusual as the paytable tends to be found in the general information tab, but it turns out that having this information right above the game-board is quite useful.
Joker's Jewels is in many ways the very definition of a classic video slot. The game comes with 5 reels and a total of 5 fixed paylines, meaning that you cannot choose to play on more or less than 5 lines. This game is all about the base-game and luckily for us, this is very well developed and plays flawlessly.
Jokers Jewels Free Spins & Bonuses
Free Spins and Bonuses has not been a point of emphasis for the guys at Pragmatic Play when making Joker's Jewels. This game is about one thing and one thing only: the main-game. It is always a risk to launch a game without Scatter- and Wild-symbol, no bonus-game and no free spins feature, and it is a risk that can only pay off if the main-game is more-or-less perfect. Joker's Jewels' main-game is downright perfect.
Jokers Jewels Payouts
We would usually start this section by recommending a look in the paytable, but seeing as the paytable is to be found right above the game-board, this might be slightly redundant. But a look through this still gives us a clue about which symbols we should hope to combine for maximum payout.
The table reveals that our low-value symbols in this game come in the shape of a bowling ball, a glittering red diamond, and Joker-shoes. This is quite unusual as most games tend to use classical card-symbols and maybe give them a little upgrade in order to fit into the theme of the game. The fact that this has not been done by Pragmatic Play in Joker's Jewels is quite refreshing and makes us realize that this is indeed a game that the developer has taken seriously.
The high-value symbols are represented by a set of bowling pins, a lute, a Bonus-symbol, and a Joker.
Jokers Jewels Graphics & Sound
Joker's Jewels come with very nice graphics, minimalistic animations and a highly addictive soundtrack. Our background is beautiful, the blinking light show is unusual and fun whilst the spinning is straightforward and uncomplicated. This game manages to combine many elements and the result is a very good gaming experience.
In addition to all of this, Pragmatic Play has also managed to make the layout of the game very nice, something that makes interacting with features such as auto-play very easy and intuitive. The auto-play button can be found right below the spin-button and this not only allows you to choose the number of times you want to auto-spin, but you can also set a limit for how much you are willing to win or lose before the feature stops.
Jokers Jewels Conclusion
This is all-in-all a very solid effort by Pragmatic Play. There is no doubt that this is not the most inventive and ground-breaking game in the world, but it is an incredibly solid video slot, and we cannot ask for much more than that.
About the Provider
Pragmatic Play er en av de største og ikke minst raskest voksende leverandørene av både online og mobilspill. Selskapet har gjort seg fortjent til et svært anerkjent rykte i industrien. Med sine fantastiske spill for å støtte påstanden, er de absolutt en av de stigende stjernene man burde holde en ekstra utkikk etter.
Hovedfokuset og målet til Pragmatic er å holde spillerne underholdt, fornøyd og selvfølgelig stadig på jakt etter mer. De har en særegen måte å nå frem til spillere ved å skape og utvikle produkter som passer alle typer spillere og alle behov. Dette er slik de har steget - blant annet. Spillere søker hele tiden spenning, med action og høye innsatser. Pragmatic er klar over dette, og tilpasser sine kreasjoner etter det for å skape så tilfredsstillende produkter som overhode mulig.
Alt levert av Pragmatic er utviklet og gjort internt, med innhold for over 150 verifiserte, flotte spill for både mobil og datamaskin. Målet med disse spillene er at de ønsker å være mantraet av innovasjon og engasjement for å forme den online spillindustrien.