Battle of Slots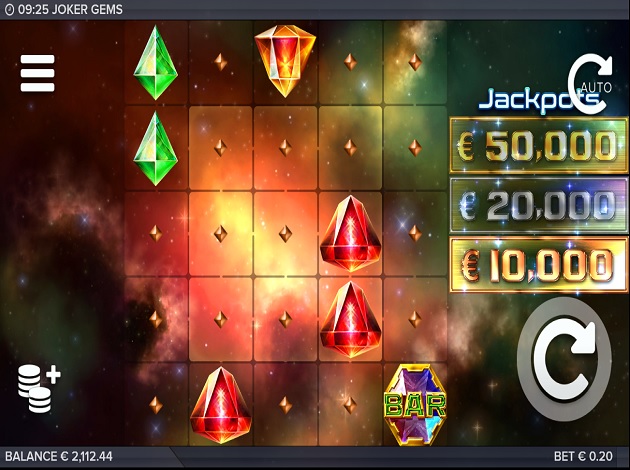 Play Joker Gems online: Check out our slot review below
Joker Gems Introduction
Joker Gems is a unique experience into the vast interstellar cloud of dust found in the depths of outer space, known as a Nebula. ELK Studios have come up with an exciting combination of jokers and outer space. It's certainly a new mix, but makes for a very unique, mesmerising experience.
This is a 5-reel, 5-row slot that works with cluster combinations rather than paylines. This outer space experience is a highly volatile one.
The game takes place on a dazzling trip in deep space, with sequential payouts leading towards 3 possible jackpots. A few features you'll be looking forward to in Joker Gems include cluster re-spins, the Light Chaser Feature, as well as 3 achievable jackpots. So, immerse yourself in the vastness of space and find the valuable gems of the universe!
Joker Gems Game Features
Bets for Joker Gems start at a minimum of € 0.2 and can go up to a maximum amount of € 100. All ELK games typically come with different betting strategies. These are the 4 different strategies you can choose from:
Optimizer
In this strategy, the bet level will be changed automatically to a percentage of your balance. When the balance increases, your bet level goes up automatically as well. The same happens if you balance goes down. This is a great option that players worldwide will appreciate!
Leveller
The leveller will increase your bet level by 2 steps after 5 concurrent losing rounds. The bet level will be reset to the base level after a winning round.
Booster
The bet level will increase 1 step after every losing round in this strategy and will keep increasing until 4 levels above base level are reached. The bet level is reset back to base level after a winning round.
Jumper
The bet level will increase after every winning round until 4 levels above the base level are reached. This works in the opposite way to the booster strategy, and the bet level will be reset to the base level after a losing round.
Once you've got your bets and strategies sorted, there are 7 different symbols you'll see on the reels. The 3 high value symbols include a female Joker, a blue 7, and the bar symbol in the form of a gem. There are also red, blue, orange and green glowing gems, which make up the lower value symbols. Besides the 3 different jackpots, you can win a maximum of 700x your stake directly from the reels.
The Light Chaser Feature
This feature can be randomly triggered on any spin. The light chaser will travel over the reels and stop in a random position, awarding a cluster win of up to 5 matching symbols and a re-spin as well.
Joker Gems Free Spins and bonuses
Joker Gems doesn't come with any free spins, but you do get plenty of re-spins instead. Whenever you get a cluster of at least 3 identical symbols, a re-spin is triggered, giving you more chances for the cluster to grow. You can keep triggered re-spins as long as new, identical symbols are added to the first cluster or until a new cluster is awarded.
There are 3 out-of-this-world jackpots to be won in the depths of the nebula, with fixed values of € 10, € 20 and € 50. All 3 jackpots are awarded regardless of the active bet level you're playing on, but playing at a higher stake will increase your chances of winning one of the jackpots available. You should also know that there is no limit to how many times you can win the jackpots!
Joker Gems Payouts
The way the game works is simple: the bigger the clusters, the bigger the wins. You need a cluster of 3 matching symbols anywhere on the reels, as there are no paylines in this game. The most valuable symbol is, as expected, the female joker, who is the star of the game. Next, the 7 and the bar symbols are also high paying symbols, while the 4 different-coloured gems are the lowest value symbols.
Joker Gems Graphics and Sound
The game has a gorgeous, mesmerising look, with shining stars animating all the falling gems and symbols. Joker Gems is simply dazzling to look at, with crystal-clear graphics and a smooth design.
Soft, relaxing music plays in the background with the occasional rings of bells and soft chimes. It's the perfect soundtrack for a Nebula-themed game.
On the left side of the reels, you can access the paytable as well as adjust your total bet and choose a betting strategy. On the right, you'll see the 3 grand jackpots in shiny gold. Above it is the autoplay button, which you can also access by holding down the spin button at the bottom.
Joker Gems Conclusion
Joker Gems is a really beautiful and relaxing slot to play and you'll easily find yourself immersed into this hypnotic space setting. The 4 unique betting strategies are also a huge plus for the game and gives the player a welcome degree of control over the game.
About the Provider
ELK is a software company founded in 2012, based in Stockholm, Sweden. They focus their attention on developing mobile casino games and they're all about quality over quantity. They aim to release perfectly-designed quality games rather than a massive portfolio of average slots.
Besides a passion for mobile games, they focus a lot on beautiful artwork for their games as well, boasting crisp graphics and amazing artwork. Being a "mobile first" developer, they require strong communication between the artists and developers on the team in order to get the best out of their assets.
Their maths model is what really defines their games. They work with statistical modelling, cloud-based computing and databases to develop, adjust, and verify their game models. While their games are available at a large variety of online casinos, all casinos using ELK software must undergo a random fairness and performance testing by RNG as part of the company's security policy.
In 2017, their hard work paid off when Wild Toro was awarded "Game of the Year" at the EGR Operators Award, a very prestigious award to win!
You have to play some of their games yourself to really experience the amazing results from this developer. Check out a wide range from their portfolio here at Videoslots.com, including Ho Ho Towers, Wild Toro and Poltava Flames of War.