Battle of Slots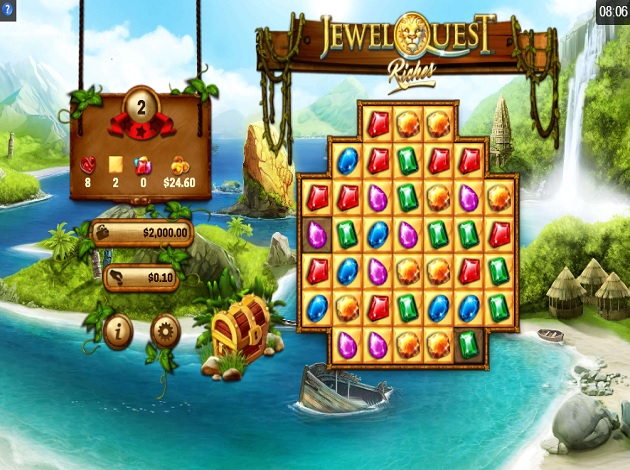 Play Jewel Quest Riches online: Check out our slot review below
Jewel Quest Riches Introduction
You are surely in for a gaming experience unlike any you have seen before – with an award-winning Match 3 game feature. It is an adventure where you get to play to reach new levels and explore up to 8 new worlds, all in impressive graphics, designs, and gameplay.
It is a highly anticipated game, as it was already before its actual release – and players have been craving it since the first glimpse of it – it is an original game from Old Skool Studios.
We proudly present; Jewel Quest Riches Video Slot! The time has come to put your skills, way of strategy, and luck to the ultimate test!
Jewel Quest Riches Features
Jewel Quest Riches is a Video Slot of its very own kind, offering players a unique grid of 5x5, making space for 25 symbols simultaneously. It looks like a classic puzzle game, as mentioned, a Match 3 game. This means that you have to swap symbols to create winning combinations – only here, you simply spin the reels and let fate determine your luck - at least until you trigger the Bonus Game.
The symbols on the grid are all diamonds in different shapes and colours, the purple, the blue, the green, the red, the orange, and the pure diamond. These are all worth differently depending on what combination you land. The lowest you can earn is for matching 3, which pays €4 – and the highest you can earn being €2000 for 10 or more matching.
There are 2 very special symbols you should keep a close lookout for – the gold coin with a lion´s head, which is the Bonus Symbol, as well as the multi-coloured diamond which is the Wild.
We will reveal all of these below!
Jewel Quest Free Spins and Bonuses
This is where it gets really interesting! The lion coin is your Bonus Symbol, and when landing 3 of these on reels 1, 3, and 5 – the Jewel Quest Bonus is triggered.
When this happens, 3 gold coins appear, and you have to pick one of them. Behind the coins are the number of moves you will have in the Bonus, before being transported to the overview of the worlds that you will be taken to. You can be awarded either 8, 10, or 12 moves – and a move is used when swapping adjacent jewels in the Bonus Games.
When taken to the new worlds, you will see the Match 3 grids, where your skills, your strategy, and luck is in play – as you now have to swap diamonds to make as many winning combinations as you can, exceeding 3. The Bonuses ends when you have no more moves left, and as the tiles turn to gold, the levels are completed. All throughout the Bonuses and the new worlds, you reach new progress and you can replay them after all 8 levels have been completed.
In the Bonuses, you can reveal hidden Bonus relics which will reveal Mystery Multipliers at the end, and these are then applied to the number of jewels matched – which in its turn determines the Bonus prize.
You might also see that there is something called a Bonus Jackpot in each Bonus world, which is a local prize that grows by 6x after every Bonus trigger. These are awarded when the world is completed.
This Bonus has 8 different world levels to complete and you always start on level 1. Each Bonus level (world) is then unlocked after the current Bonus is completed – as briefly mentioned. For every level, you receive stars, which is based on how many jewel symbols matched for that level – and the more, the merrier. The worlds you can explore are;
Mayan Mysteries, The Endless Isles, Sands of Pharaohs, Legends of Exiles, Legend of Ages, Riches of El Dorado, Avalon, and Fate of Atlantis – all taking on new sceneries and places representing the names of the worlds. Deserts, Mayan villages, tropical islands and more are at play.
The Bonus game of Jewel Quest Riches Video Slot is one unlike any other, where you get to explore new worlds, reach new levels, and play an all-time favourite game – all while winning Wilds, Cascading jewels with increasing Multipliers, Bonus Jackpots, and Mystery Multipliers.
Jewel Quest Riches Payout
The grid of Jewel Quest Riches is made up by 5x5, and wins are made by 3 or more matching symbols as long as they are touching, either horizontally or vertically. Winning symbols are always removed right after, making ways for new symbols to drop down and fill the gaps.
Jewel Quest Riches Graphics and Designs
When it comes to features and gameplay, Jewel Quest Riches is a creative masterpiece – but when it comes to the design and graphics, Old Skool Studios has truly exceeded itself. The main game is played out in the ancient Mayan village, with a remote village in the back, mountains lining up, and a dragons ' head with glowing gap and eyes to create a mythical feel. Grass, vegetation, exotic flowers, and a mysterious fog coming up from the dragons´ gap nicely surrounds the grid.
All 8 worlds have different designs, according to the names of the worlds – and you will get to explore things you couldn't even imagine.
It has all been made in excellent and clear 3D graphics, impressive details, vivid colours, stunning layouts, and a beautiful design. You simply have to see it to truly understand it.
About Old Skool Studios
Old Skool Studios is a game developer and provider, fairly young, that was founded back in 2010. It is a game provider focusing on everything – making them one of the providers out there that actually offers nothing but flawless, innovative, and unique games for all the best operators.
Old Skool Studios strives high, with a quest to take over the world with their love for games. What is most important to them is how the games are built – and for them, it starts with a strong narrative. To have a good base with a good story to tell within the game is for Old Skool the key to a successful and great game. Without a theme that truly allures, there wouldn't be anything luring enough. This narrative is clearly shown in all games brought by Old Skool Studios, as all of them offers themes that you can't see anywhere else, perfectly designed accordingly, and engaging with few others.
Currently, Videoslots.com also offers the Old Skool production; La Rouge.
We wish you the best of luck!