Battle of Slots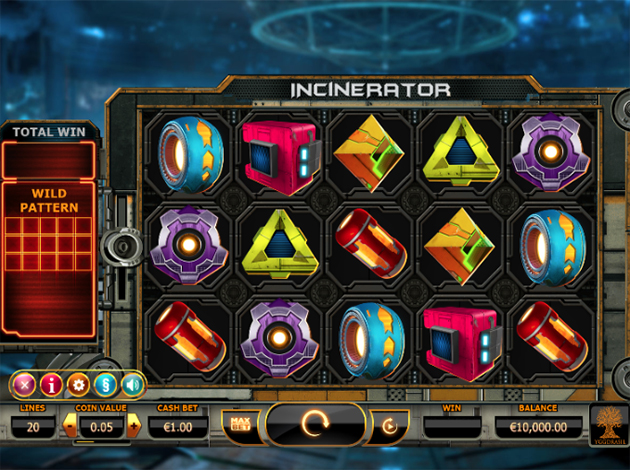 Play Incinerator online: Check out our slot review below
Welcome to Incinerator! Here all your cash problems will be incinerated! If you have ever been interested of how the incineration process of the future will work, this is surely interesting slot for you. So welcome to the world of junk and space debris, where you will control the biggest incinerator in the known universe. Incinerator will let you be ever close to your next super big win, thanks to the wild pattern feature that occurs after three consecutive drops. Incinerator is a little bit different video slot as it does not have any spinning reels, which makes it quite interesting.
Incinerator is a video slot with 5-reels and 20-paylines oriented from left to right. The game has six regular symbols that win if three or more are lined up in sequence on a pay line, beginning from the leftmost position. The wild symbol substitutes for all symbols. So because Incinerator does not have any spinning reels, the symbols are dropping down from the top in a random fashion. Winning symbols disappear from the game after the win is paid out, leaving room for new symbols dropping down. If you get three wins in a row, a group of symbols will turn into wild according to a pattern that you will see on the right side in the interface. If you get three more wins, this is repeated.
There are two kind of patterns: normal patterns and super patterns. You can find the possibilities of each kind in the pay table. The first wild pattern each round will most likely be a normal pattern, but has a change to be a super pattern. All subsequent wild patterns are always super patterns.
To calculate your total pay line coin win, calculate all pay line wins and add them together. To calculate a single pay line win, count the number of identical symbols lined up in sequence on the line. If the pay line pays from left, then start counting from the far left. If the pay line pays from right, then start counting from the far right.
Game panel shows the game controls in an easy way. There are lines display, balance display, bet display, cash/coin view, and you can also change your coin value, max bet, autoplay and lastly of we have of course the spin button. The reels have a fair and equal chance for each stop position by a certified random number generator. For more information, visit Yggdrasil gaming. All in all, this game is a fresh addition in the world of video slots. Graphics and sound effects are futuristic and so is the game. It's good play that I will recommend for everyone!
You can also first try this game with play money, in case you don't want to play with real money. This is recommended for players not that experienced in the casino world. If you are a new player, or if you have not yet played the game video slot in question, you might want to try the game for free. For video slot veterans and other experienced players we recommend real money. If you win – you win real, hard cash.
This games was developed by Yggdrasil Gaming. Yggdrasil Gaming is one of the leading supplier of online and mobile casino games. The majority of the company's offices are located in Malta, but it has operations also in Krakow, Poland. The main products of the studio include video slots, jackpots in different platforms. Some of Yggdrasil's most famous games include Chibeasties, Curys the Virus, Reef Run and Dark Joker Rizes.
Videoslots.com was born in the spring of 2011. Together with a strong brand and best games of the industry, Videoslots became in a few years a globally respected casino. Everything was put together when a team of Swedish casino enthusiasts decided to form a real casino, who would try to get to the top of the casino world, to be the best video slot casino ever online. First, we needed the best and most reliable game providers. We however felt that only a few game studios were not enough – so we brought all the best providers into our casino. Nowadays the Videoslots video slot range is the widest of all online casinos.
So gear up your technical stuff and get to a pod and man up your station at Incinerator! Some big wins are waiting just for you!