Battle of Slots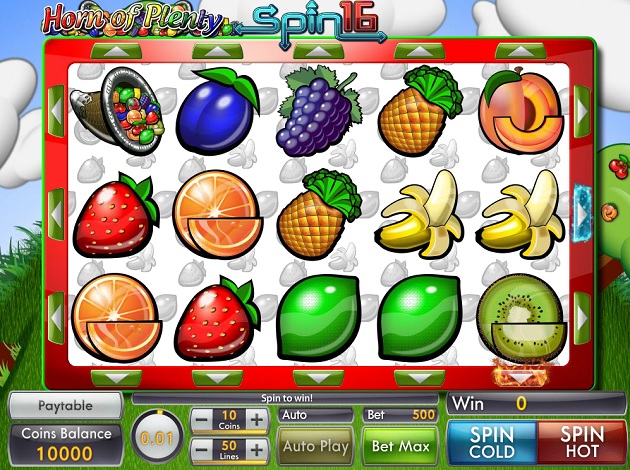 Play Horn Of Plenty Spin 16 online: Check out our slot review below
Ladies and gentlemen welcome to a solid fruit themed casino game from the game developer Genii. An incredibly fun and rewarding video slot offering up to astounding 50 paylines and plenty of ways to win – this is Horn of Plenty Spin16.
Genii is today one of the biggest suppliers and developers of games and gaming technology online. Their ambition is to build the next generation online gaming platform. The company is run by a team of eminent entrepreneurs with great experience and knowledge in technological innovation and business of gaming, since the 1990's.
Genii is carefully studying their customers' way of navigating and playing their different products, to frequently renew and improve the products to provide optimal performance, easy navigation, and the best gaming experience. Genii's primary key to success is the company's culture in innovation, something which is highly encouraged in the company. Genii's platform runs on a so-called real-time engine developed by Genii companied by Microsoft, Fusion-io, and the infrastructure giant Dell.
Today Genii has an impressive portfolio with more than 130 games, and they're also one of the world's leading supplier of mobile games for iOS, Android, and Windows Phone. Some of these great games provided by Genii are Mermaid Serenade, Piña Nevada, Nascash, and Aladdin´s Loot.
Horn of Plenty Spin16 main game
The first thing you see when entering Horn of Plenty is the vibrant and cheerful colours. The graphics and the design stretch to a whole new lever, offering you something you rarely see in fruit inspired slot games. It is a uniquely made game, and it is appealing for any player – especially when you realize just how rewarding the right fruit combinations are. Let´s get cracking!
The symbols you can come across on the reels are all made to suit the theme, and you have one red thread that follows the animations and the gameplay. All symbols are fruits of various types, in great colours. However, they are all worth differently. The lower paying symbol is the peach, the purple grapes, the strawberry, the kiwi, and the banana. They are all worth between 40 and 80 coins for a 5x symbol combination. The higher paying symbols are represented by the apple, the pineapple, the orange, the plum, and the cherries. The cherry is the top player and grants a win of 500 coins for a 5x symbol combination.
Apart from these, you also have a couple of extra special symbols to take pleasure in. The lemon and the melon are both the Scatter symbols, and the Horn of Plenty symbol – a horn filled with all fruits you can imagine –represents the Wild symbol of the game. We will get more into what these can grant you with shortly!
Horn of Plenty Spin16 theme, graphics, and music
Did you know that the cherry is a stone fruit? It has been around since prehistoric times and cherries have been available through most of Europe, the western parts of Asia, and parts of the northern African continent. The etymology of the English word "cherry" comes from the Greek word "κέρασος", which is based on the Latin word "cerasum". The Latin word derives from a place where the first cherry was most likely harvested, which could be found in a placed called Cerasus in ancient Greece which is now a city in northern Turkey called Giresun. That type of cherry is called sweet cherry and those are the ones most commonly cultivated so you have probably eaten a variation of them if you bought them from a store. Another kind is sour cherry whose primary use is in cooking. Both species originate from Europe but can't cross-pollinate. Turkey produces more cherries than any other country in the world, they are topping the charts for both sweet and sour cherries when looking at UN's food and agriculture reports from 2014. But hey, enough chitchat. Time to play the game instead of reading about cherries don't you think?
Horn of Plenty Spin16 payout
You will play Horn of Plenty on 5 reels and 3 rows, with an additional option of 50 paylines. Remember that the more you keep active, the more you can win. You can choose to play with up to 5 coins per line, and for high-rollers, you can bet up to €62.50.
Horn of Plenty Spin16 bonus game
Since Age of Spartans is a so-called Spin16 video slot, it offers a quite thrilling feature with the same name. On the sides of the reels, you have 16 arrows in different directions, up, down, left, or right. A yellow arrow will mark your pick, and a green arrow will then go around the reels after picking direction and reel. If the arrows match, you will get a 10x multiplier on any win. If you only match the reel, you will get a 5x multiplier, and when matching the direction, you will get either 2x or 3x multipliers.
In this feature, you also have the option to Spin Hot or Spin Cold. This is the Spin16 feature´s spin button. You can choose to Spin Hot, meaning that you spin in the direction which is hot, the direction of the last green arrow. Or, you can Spin Cold, where the arrow hasn´t landed in a while.
Horn of Plenty Spin16 free spins
As Horn of Plenty Spin16 is one of Genii´s special featured games with the so-called Spin16 way of playing – this game does not offer any free spin feature. But if you are into the fruity madness and a free spins bonus, then you simply have to check out Fruit Shop – a fun game offering you free spins with multipliers from NetEnt.
Horn of Plenty Spin16 special features
Wild symbol
The Wild symbol is the most rewarding symbol of this game – granting a win of 2000 coins for a symbol combination of 5x. Apart from this, the Wild will also step in to replace other symbols to create winning combinations for you.
Scatter symbol
We said that there are two different kinds available in this slot. We have the lemon and the one that looks like a watermelon which "only" wins you a set amount of cash. They will multiply all wins with the bet made.
Battle of Slots
Remember to try out a battle in the prestigious and exclusive social online casino experience at Videoslots.com – the Battle of Slots. You can play battles in all our video slots and slots from NetEnt, Thunderkick, and Play´n GO – meaning that Fruit Bonanza is available to play! Simply register to your favourite battle, get a buy-in, and compete to get the rewards!
See if you can navigate through the copious amounts of fruits and find the Horn of Plenty. Good luck!