Battle of Slots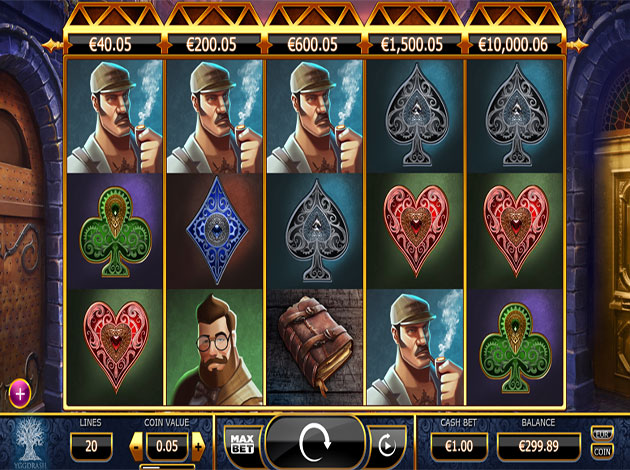 Play Holmes and the Stolen Stones online: Check out our slot review below
The people of London town woke up this grey and rainy morning to the news that the secret stones, the pride of the city has been stolen! This is a true disaster, London is nothing without these stones. There is only one thing to do, run and get Detective Sherlock Holmes to the crime place. Sherlock is ready to do his duty. Together with his assistant and good friend Dr Watson he throws on his rain coat and rush out. After some research the traces leads them to the old and abandoned ware house. They now need your help to search every corner of the building to find the stones, did we mention that there also might be a lot of valuable rewards hidden here?
The creator behind this game is one of the absolutely best providers that you can find on the market for online casino games. Time after time this provider keeps on bringing us amazing surprises! Just like you already might have guessed, we are of course talking about Yggdrasil! Maybe you are familiar with some of their previous masterpieces, in that case it will not come as a surprise for you that their newest video slot, Holmes and the stolen stones, are simply fantastic. The game has a graphic as sharp as razors, an exciting theme and the music and sound effects that you will discover gives you the feeling that you are one with the game!
In Holmes and the stolen stones, you get to play on 5 wheels, 4 rows and you can have as many as 20 active payline for each bet. The higher amount of paylines you have active, the higher is the chance that you receive winnings that are above everything that you have ever experienced in a video slot before! You are being faced with sparkling symbols from the traditional deck of cards, old dusty books, magnifying glasses and of course you will stand face to face with Sherlock and Watson themselves. You will also get two keys with you on this mission. If you keep your eyes open, you will also find the locks that these keys fits in. If you manage to find 3 of the golden locks, you will be rewarded with plenty of Free Spins and if you are extra lucky you might even also get rewarded with not less than 10.000 coins! This is a glory opportunity for you to make a lot of winnings without making a single bet!
There is also a lock that might not look as fancy as the golden one. But you should never judge the book by it´s cover, you will find a mystic bonus round when you open this door. Here you get to pick boxes to receive all of the winnings that are hidden in here. Make sure that you pick the right one, if you pick the one with bomb inside the bonus round will end.
And the goods in this game doesn't end there! There are also 5 local progressive Jackpots in this game that you win when you land on 5 diamonds of the same colour while your free spins!
It's now time to put on your clever glasses and begin to solve the mystery of the stolen stones! We are sure that you will find them with some help from Mr Sherlock Holmes and Dr Watson. We at Videoslots.com wishes you the best of luck!