Battle of Slots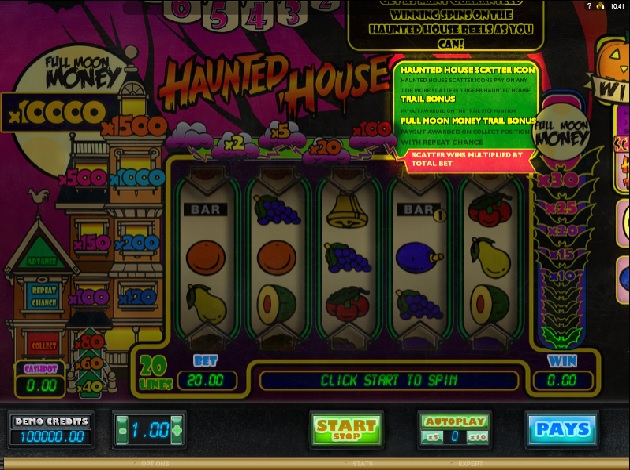 Play Haunted House online: Check out our slot review below
The fall has now arrived and what could be more perfect than a brand new video slot with a ghostly theme to spice up the dark and windy evenings with? If you are one of the brave ones, we here at Videoslot.com are more than happy to introduce this brand new video slot Haunted House to you.
In this video slot, you get to go on an adventure in the northern France. Here close to the border of Germany the rumours says that one of the most hunting houses in the history are located. Brave men from whole Europe have been making a pilgrim to reach this mythical place to collect the treasure that are said being hidden on the attic of this old and askew building. Many people have entered the doors just to come running back out with the fear painted in their faces. No one knows exactly what it is in this house that makes the bravest of men to shake of fear. No one has ever been able to talk about it.
The brilliant brains behind this game, Haunted house, the amazing game provider Microgaming! This is a provider that is very well known and highly appreciated by players all around the world. With years of experience they keep on creating high class games, one better than the other. The combination of sharp graphics, imaginative themes and awesome sound effects makes their games something extra ordinary. It doesn't matter if you are new in the online casino world, or full-fledged slot player, Microgaming will have the perfect games for you!
As soon as you enter Haunted House, you will feel the chilly breeze and get into the mood of the game. You will be playing on 5 wheels, 3 rows and 20 paylines. The high amount of paylines in this game makes it a video slot with extremely high chances for winnings. The symbols in the game might not look so harmful. You will see different kind of fruits as grapes, melons and oranges. But keep in mind that things are not always what they first seems to be. It is not impossible that the melons turn into a slimy old brain, the grapes turns out to actually be eyeballs and have you ever seen an orange that are acting house for a family of worms? Of course you also will realise that there are magical symbols hidden behind the wheels as wild symbols and scatter symbols! This means that you can be rewarded with more winnings than you ever thought was possible! Besides the special symbols, the symbols might not sound to inviting but we can promise you that if you have a strong stomach and a winner head, you are the perfect man for this challenge.
We recommend you to but on your stone face and make your way through the dark forest to find the Haunted House. We here at Videoslots.com believes in you and wishes you the best of luck!