Battle of Slots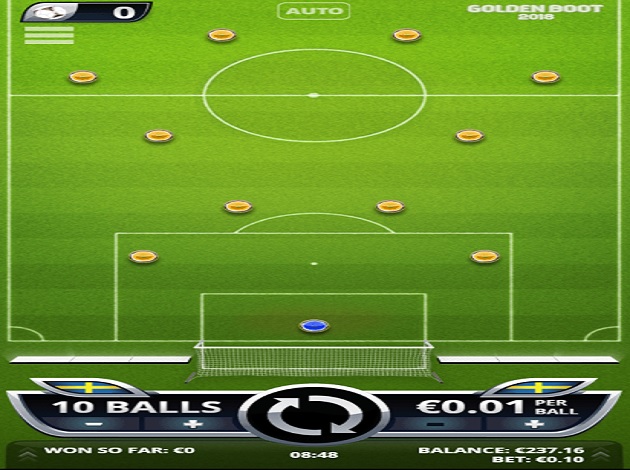 Play Golden Boot online: Check out our slot review below
Golden Boot Introduction
Put your football skills to the test with this football themed slot powered by Gamevy. This is a game where skill and chance combine to help you score big wins. It's not like any of the slots you're used to, but you'll find many similar features that Gamevy has turned into football-themed ones. This game comes with 15 fixed paylines and can be classified as a medium variance slot.
Golden Boot Game Features
Before you start playing, the first thing you get to do is to pick your team by flipping through 32 different flags. Your chosen flag will also be the uniform of the virtual football players on the field.
The match begins when you wager a minimum bet of € 0.01. Next, select the number of balls to play with and the bet per ball. The only symbols on this game are the footballs, the golden football, and the players wearing your chosen team's t-shirt. When you shoot a ball which is captured by a striker, a directional arrow will appear around the player and this will be the time to strike: wait for it to point towards the net and tap on the player to put it into the net! The good news is that even if you don't manage to score a goal, you can win extra bonus balls if the ball hits the LED panels on the left or right of the game panel.
Golden Boot Free Spins and bonuses
Instead of free spins, you'll get something more a bit more useful for this virtual football match: free balls. You can win 5, 10, or 20 bonus balls by lighting up all 3 LEDS at the top of the game panel. When a ball that doesn't score a goal passes through the panel, it will switch the LED on and the goal is to light up all 3.
Golden Boot Payouts
In order to earn prizes in Golden Boot, you simply need to get the ball into the net and a prize will be awarded! Each winning ball will have a different payout, which is selected at random from the game's paytable. The value will show up in front of the net if that ball is scored. If you score a goal with a golden ball, the payout will be higher. A normal ball will pay up to 5x your stake if you score. On the other hand, a goal scored with a golden ball can earn you anywhere from 10x up to a massive 500x your bet!
Golden Boot Graphics and Sound
The game is quite simple in design which suits the game perfectly as you'll see a lot of footballs darting across the screen and players popping up as well. So, Gamevy made a smart choice keeping the design simple with a bright green football field and a white net that moves when a ball goes in. At the bottom of the football field, you'll find the game panel, in the style of a football match scoreboard. Here, you can set your total bet. At the top of the field, you can view the game rules and, in the middle, you'll find the autospin options, or rather, the autoshoots option.
These work a bit differently than autospins would on a game with reels and rows. If you go for the autoshoot option, the football players popping up on the field will kick the balls automatically. It doesn't guarantee a goal, but it does work at an impressive 90% skill level, so if your aiming skills are weak, try giving the autoshoot option a try! Simply sit back and watch the players do the work for you while you reap the rewards. You can turn it off at any time you want during the game.
When you land a big win, the screen will fill up with celebratory animations: a silhouette of a cheering crowd will pop up and blue and white confetti will rain down on your screen, accompanied by loud cheers and shouts.
Golden Boot Conclusion
In Golden Boot, scoring a goal means scoring cash: that's it! Simple, bright graphics and a relaxing soundtrack with just a touch of suspense make for a great virtual football experience! Golden Boot is a mixture of chance and skill. Perfect skills won't guarantee a win, however, some prize balls do require a skill shot, so it's not only up to chance in this game!
About the Provider
Gamevy is a British company dedicated solely to delivering first-class casino games for all iGaming enthusiasts out there. The company was established back in 2013 by British business woman, Helen Walton. With her background as a writer and marketing manager, Walton pushed Gamevy to quick success.
Gamevy is a supplier that offers incredible games developed with love – something that reflects well in each of the releases. The company itself says that the games are specially designed to achieve a longer time of entertainment for players, as well as higher engagement and excellent profitability. They also say that the games are created to appeal to a wide, demographic composition of gamers with an eye for lottery and bingo games.
There is no doubt that this is a company focused on its players. Gamevy stands out in the crowd, and offers products filled with fun and dedication. Whether you want to cool down with a bubbly, cold drink in 7 UP!, or grab the fortune by the feet in Golden Boot – you will find a new favourite game by Gamevy in no time!
Play in our Battle Of Slots
Don't miss out on the opportunity to play a thrilling Battle with our special, unique and very first social online casino experience – Battle of Slots. Videoslots gives you the chance to play first time Battles against your friends and other players on videoslots.com with games from NetEnt, Thunderkick, Red Tiger Gaming, Play'n GO and many others. There is only one Battle of Slots – and you'll only find it on videoslots.com!