Battle of Slots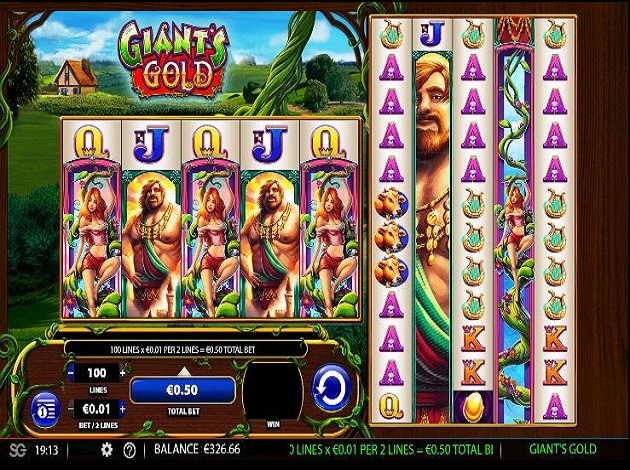 Play Giants Gold online: Check out our slot review below
Fee-fi-fo-fum! We here at Videoslots.com would like to warmly welcome you to play this fun and exciting slot game called Giants Gold Slot. We would also like to introduce you to our newest member of the big and loving Videoslots.com family. This game provider is one of the greatest and most respected game providers on the market. They strive to provide games that all players will enjoy while spending time playing. It is the one and only: WMS. So welcome to play this fabulous video slot game, Giants Gold Slot! So if you like money and you like the good old children's story, which involves a certain little boy, who receives magic beans from a stranger and all off the sudden there is a huge bean stalk on their yard. The boy suddenly finds himself in a bit of a tight situation way above the clouds. Yes, you guessed it the storyline behind this amazing video slot is based on the classic Jack and the Bean Stalk, with a small twist in it.

This awesome video slot is a true WMS game. It stands out from the everyday slots with the design that is quite common and one might say, a signature design for WMS, with its multiple reels. In Giants Gold Slot, you will get to play with an absolutely crazy amount of different reels, with just one press. Even though how unbelievable this might sound, you better believe it! With up to 100 different pay lines, the chances to hit winning combinations is almost limitless, combinations which only appear in fairy tales!

Giants Gold video slot game beautiful graphics along with Class A-symbols. In this wonderful slot game, you will however, not hear music. Instead you will be brought back closer to mother earth and will hear voices of all the wonderful farm animals living with Jack and his mother! Together with the beautiful symbols that appear on the reels, they form a combination that makes the WMS slot game a package so magnificent, that it will definitely take you way back to your childhood, to times when fairy tales were the best entertainment you had encountered. It is safe to say that WMS has managed to create a unique slot, which will blow you away once more.

From the bottom of the screen you will be able to adjust your bet. Make sure you adjust it to match your likings and to assure that your experience in Giants Gold Slot will be enjoyable and as fun as possible. This fascinating video slot is suitable for both players who wish to play in a settle manner with small bets, as well as the high rollers who seek for excitement and huge wins. With the bet range starting from € 0.1 to an outstanding € 100 , it is safe to say there is something for everyone.

Follow us on this adventures filled with treasures one can only dream about and do your best to get a piece of the awesome golden eggs! We here at Videoslots.com would like to wish you the very best of luck in exciting new video slot Giants Gold by the amazing game provider WMS!