Battle of Slots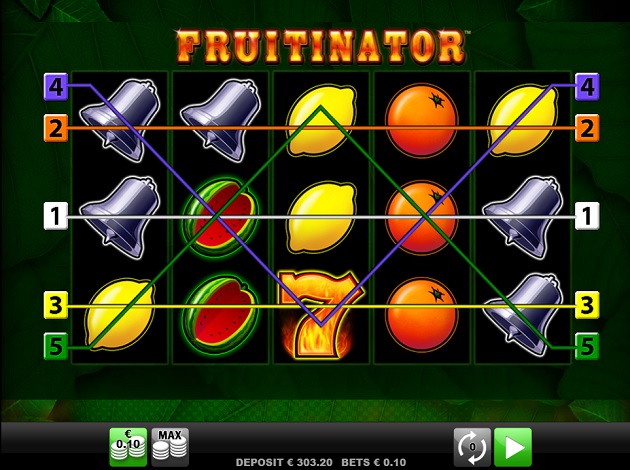 Play Fruitinator online: Check out our slot review below
Fruitinator Introduction
If the Terminator was a machine that terminates things, is the Fruitinator a machine that fruitinates them? Or does the Fruitinator simply terminate all other fruit machines? With big payouts and simple, but immersive gameplay, we think it's probably the latter.
Fruitinator is a classic fruit machine by Reel Time Gaming that plays with 5 reels and 3 rows. The game uses just 5 paylines and features all the fruits and flaming 7s you would expect from a classic slot.
Players can stake from as little as € 0.05 and as much as € 10.
Fruitinator Game Features
Fruitinator is light on features. After all, it's a low-frills, spin-it-to-win-it, kinda game. There are no free spins and complex bonus features. You just spin the reels, match symbols across paylines and win. Once you win you can gamble or collect your winnings.
The reels themselves are simple squares set across a green and leafy background. Fruitinator is written across the top of the screen in classic fruit machine style font, and that's about it. There's nothing else going on to provide unnecessary distractions from the gameplay.
Along the bottom of the screen you'll find buttons to set your bet amount, select maximum bet, set auto-play options and spin. There is a tab that displays your current balance and bet amount.
Fruitinator Free Spins and Bonuses
In this slot, bonuses take the form of a gamble feature, with no free spins, stickies or wilds in play during the game.
The gamble feature is only available from manual spinning, if you select 'Auto Start' you are not given the option to gamble following a win. If "speculate to accumulate" is your thing, then you're going to have take control of spinning the reels yourself.
Once you've got a winning line you'll be given two options for gambling your winnings. First up is the 'Card Gamble' feature represented by a green button with a playing card and a heart symbol and club symbol on it. By selecting this feature you'll be taken into a new screen where a row of playing cards will be shown. Your task is a simple one, select red or black and bet on the colour of the next card. If the colour of the card drawn matches your selection, you double your winnings.
The other gamble feature present in Fruitinator is the 'Ladder Gamble' feature. This feature is represented by a green button with three horizontal lines across it. When selected you'll be taken to another screen and shown a ladder with increasing amounts on it, from bottom to top. Two amounts will flash on the ladder - one higher and one lower than your initial win - and you will have to hit the green button with '1:1' on it to select a new amount. You can continue to do this until you lose it all, reach the maximum amount, or cash out at a time of your choosing.
Interestingly there's another aspect to the gamble feature, represented by a blue square with a fork in the road symbol on it. By selecting this feature you 'Collect Half', meaning that your stake for the gamble will be halved - or in the case of the ladder gamble, lowered by one step - and the collected stake will be booked as winnings, allowing you gamble just half of your winnings.
Fruitinator Payouts
Much like in other classic slots, players will find the familiar fruit icons used for creating winning lines in Fruitinator.
The cherries are at the bottom of the pile when it comes to winning value with 2 symbols paying 1x the stake, 3 symbols paying 4x stake, 4 symbols paying 10x stake and 5 symbols paying 40x stake.
Oranges and lemons are valued equally, with 3 symbols paying 4 stake, 4 symbols paying 20x stake and 5 symbols paying 50x stake.
For plums and watermelons you'll get 3 symbols paying 8x stake, 4 symbols paying 40x stake and 5 symbols paying 150x stake.
Moving away from fruit you'll find that the bells are set at 3 symbols paying 10x stake, 4 symbols paying 100x stake and 5 symbols paying 500x stake.
At the top of the pile are the flaming 7s which pay out double the value of the next highest symbols, the bells. So you'll get 3 symbols paying 20x stake, 4 symbols paying 200x stake and 5 symbols paying a huge 1,000x stake.
Fruitinator Graphics and Sound
Fruitinator is a wonderfully simple game that eschews fancy animations and over the top soundtracks in favour of a traditional look and feel. The symbols are simple but colourful, and pop nicely from the screen.
Wins are greeted by the symbols flashing and various combinations of jingling bells jaunty jingles. Go into the gamble feature and the sound will change again to something a little more suspenseful.
Fruitinator Conclusion
By sticking to tradition and focusing on classic fruit machine gameplay, Reel Time Gaming have created a straightforward but fun game. The graphics and sound are simple, but provide all the symbols you'd expect and everything fits the theme perfectly.
While there are no free spins within the base game, the gamble feature brings excitement to every spin because there's a chance for you to double your payout every time you win. In other words, Fruitinator is a classic slot that will appeal to all slots players.
About the Provider
Reel Time Gaming is a company that has been providing top class games for the gambling industry all over the world since their establishment in 2009. Their strong team is made up of around 50 talented software developers, artists, game designers, testers, and members who boast over 20 years of experience in this growing industry.
Reel Time Gaming's land-based beginnings
Their company is headquartered in Queensland and is a privately-owned company that started out as a developer of land-based gaming cabinets before moving on to create online slot machines years later. The cabinets manufactured by Reel Time Gaming support an array of high-end technology including 22-inch wide screens, HD graphics and user-friendly interfaces. Even better, they're programmed to work across multiple markets across the world and are available in a multitude of different languages.
Moving on with the fast-growing industry
Despite their success with land-based games, the iGaming industry was moving fast towards internet based online gaming and Reel Time Gaming was quick to adapt to this change and move towards success in the modern gambling world. That's why Reel Time Gaming, keen to keep up with the times, decided to partner up with GameAccount Network in 2013. GameAccount Network is one of the leading distributors of online slot machines in the European market, with some of their casino partners including big names. This partnership allowed them to transfer their slot machines to the ever-growing online markets in countries like the UK, Spain, Italy, and more.
Some of the games brought to you by Reel Time Gaming are Fruitinator, El Torero and Eye of Horus.