Battle of Slots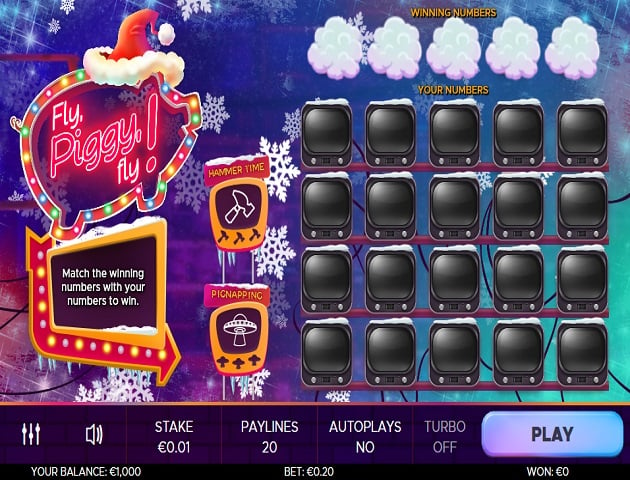 Play Frozen Piggies Fly Piggy Fly Christmas online: Check out our slot review below
Frozen Piggies – Fly Piggy Fly Christmas Introduction
Frozen Piggies is a fun, Christmas-themed scratch card game by Gamevy, who are known for producing much more than just slots. Frozen Piggies – Fly Piggy Fly Christmas is another brilliant scratch card game by this provider and as always, they've managed to take a simple game and turn it into a fun game with everyone's favourite theme – Christmas!
Instead of reels, you'll see 20 retro television screens displayed in a 4x5 game grid. All you have to do to is match the winning numbers displayed above the televisions with your numbers, which will be displayed on the televisions. Wherever there is a match, you win a prize! Frozen Piggies – Fly Piggy Fly Christmas might have a very complicated name, but the gameplay is simple, fun, and offers you the chance to earn quick and instant prizes!
Although scratch card games don't usually come with any bonus features, Gamevy has impressed us once again with two bonus features in this game! Look for the Hammer Time bonus and the Pignapping feature which can earn you some seriously good prizes in a single spin.
Frozen Piggies – Fly Piggy Fly Christmas Game Features
You can get scratching those TV sets by from just € 0.2 per line up to a maximum of € 200 when playing on all 20 paylines. You can choose to play on just 5, 10, or 15 paylines if you wish to. However, the more paylines you play on, the higher the chances of getting matching numbers!
Now all you have to do is press 'Play' and the winning numbers will be revealed, followed by all the numbers on the television
Frozen Piggies – Fly Piggy Fly Christmas Free Spins and bonuses
Frozen Piggies comes with two prize-packed bonus features which are described below.
Hammer-Time bonus
You need to collect three hammers to trigger the fun Hammer-Time bonus! Hammers can appear on any television set in addition to the number which is displayed. When the bonus is triggered, you have an amazing chance to win multiple prizes by smashing piggy banks to reveal instant cash prizes! If you can't decide what piggy banks to smash, you can choose the Auto Select option which will randomly select a number of piggies to be smashed.
Pignapping bonus
Collecting three UFO spaceship symbols will trigger the Pignapping bonus, where you'll be taken to a different screen this time. Piggy banks will start spinning around the spaceship; when the light beam from the spaceship lands on a piggy bank, the prize of that piggy is awarded! You will keep spinning piggies until the UFO light beam lands on a flying piggy, in which case you will collect the flying piggy's prize and the bonus ends there. There is only one flying piggy out of 12 spinning piggy banks, so the Pignapping bonus round could potentially go on for quite some time, with your total prize getting bigger and bigger with each spin!
Frozen Piggies – Fly Piggy Fly Christmas Payouts
You will win prizes in Frozen Piggies – Fly Piggy Fly Christmas simply by matching the numbers shown in the piggies at the top of the screen with the numbers shown on the television sets. Every matched number guarantees you a cash prize!
Frozen Piggies – Fly Piggy Fly Christmas Graphics and Sound
An upbeat Christmas jingle plays in the background, giving the game a fast-paced feel! As you're scratching to reveal the number, snowflakes are always falling down in the background, and the neon game logo is on the right. This has a really unique design and looks a bit like a motel sign, with flashing lights and a blimpy arrow pointing to the TV sets.
Next to the logo, you'll also see the Hammer Time television screen and the Pignapping television screen, with the number of hammers/spaceship symbols highlighted. This lets you if you have enough hammers/spaceships to trigger the bonus feature. The constant flashing lights, shimmering snowflakes and twinkling stars create the perfect Christmas atmosphere.
In keeping with the purple background, you'll also find the purple game panel beneath the television sets. Here, you can change your stake, paylines, and activate the Autoplay or Turbo options too. More information about the game is easily accessible through the game panel.
Frozen Piggies – Fly Piggy Fly Christmas Conclusion
Frozen Piggies – Fly Piggy Fly Christmas is an impressively unique game by Gamevy, especially considering it's based on a simple scratch card game. The lucrative bonus rounds are a great incentive for players here and definitely a nice surprise to find in this type of game! In short, this game has a stunning Christmas theme and is perfect if you're looking for quick wins and want to try something different than the usual slots.
Help the piggies fly today at Videoslots and win great prizes!
About the Provider
Gamevy is a London-based software company made up of an amazing team of entrepreneurs, game-making experts and people with a passion for gaming. Although they are a young company, they're making a name for themselves slowly but steadily in the business.
In 2015, Gamevy's potential was duly recognised when they won the Pitch ICE award at the 2014 ICE Totally Gaming convention, in recognition of the company's potential to succeed in the industry. In 2016, they really made a name for themselves when they won the "Game to Watch" award at the same convention just a year later.
Gamevy isn't really focused on slots, preferring to be creative in other ways. For example, The Heist is one of their most popular games and the world's first online gameshow. For the first time in the online gambling world, you get to be the star of your own gameshow and put your general knowledge to the test to take home the jackpot. The company is also famous for their online lotteries with games like "Boss the Lotto" and online versions of traditional scratch cards like 7UP!
These instant win games are really fun to play and definitely stand out from the crowd. Their games are designed to entertain the player and benefit the operator as well. With their games, you'll enjoy excellent profitability and longer gameplay thanks to the player being highly engaged.
Check out 7 UP!, Golden Boot and Crazy Chicken Extreme by Gamevy here at Videoslots.com!
Play in our Battle Of Slots
Videoslots.com is the World's Biggest Online Casino with the biggest portfolio of games in the industry! Don't miss out on our innovative Battle of Slots, a thrilling experience where you can compete against other players. Battle of Slots is the first social online casino tournament, giving you the chance to play against your friends or other players on games from NetEnt, Thunderkick and Play'n GO. Remember, there is only one Battle of Slots, and you can only find it on the World's Biggest Online Casino – Videoslots.com!