Battle of Slots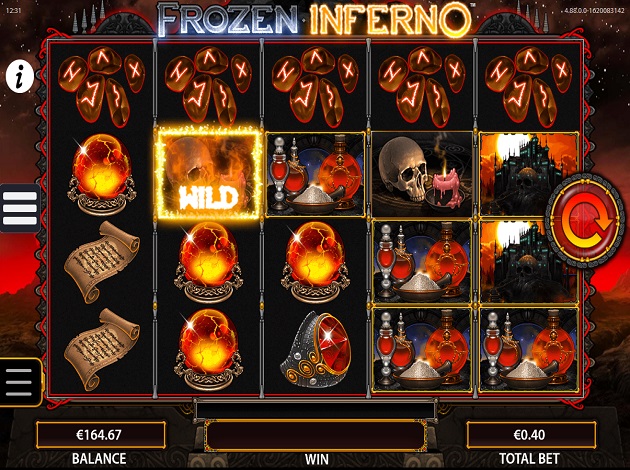 Play Frozen Inferno online: Check out our review below
Welcome to this magical video slot Frozen Inferno – a game where you will find mystical contrasts fulfilling each other. Here you will see a cold, frozen world and truly mysterious landscape with strange objects as symbols. In contrast also a hotter than hell side of this game is available, in a devilish landscape. The game starts with an option thrown at the player to select either Frozen or Inferno game. The game begins with a single wild placed in the third reel. With each game that is played it can freeze or move around the reel window.
Frozen Inferno is a 5-reel, 4-row and 40-payline video slot. The game has fantastic graphics and enigmatic symbols with a mood that is quite different from many other video slots. Gameplay is fun and rewarding. In this game there is a base game of both worlds.
Frozen Inferno Wild
Frozen game starts with a single frozen wild symbol placed on third reel. Ice symbol may appear anywhere on the reel and will freeze into frozen wild symbol. The frozen wilds will stay on your reels until you enter a bonus round. After collecting a maximum of 4 frozen wilds on reels, the game will continue until a bonus feature is triggered. In the Inferno wold game starts with an inferno wild symbol placed on third reel. Fire symbol may appear anywhere on the reel and will add a moving inferno wild symbol. Inferno wild can move or add only in four directions, up, down, left and right. After collecting a maximum of four inferno wilds on reel, the game will continue until a bonus feature is triggered.
Free spins feature
There is also a vivid free spins feature in the game, during the either of the base games after 4 frozen wild or inferno wild symbols have been added to the reels, the ice bonus symbol or fire bonus symbol landing within the reels will trigger the free spins bonus. The player is then awarded unlimited free spins until five wins are achieved. If a spin yields any winning combinations, the leftmost reel changed to other mode (Frozen to Inferno / Inferno to Frozen) and any winning combinations are then awarded to the player.
You can also first try this game with play money, in case you don't want to play with real money. This is recommended for players not that experienced in the casino world. If you are a new player, or if you have not yet played the game video slot in question, you might want to try the game for free. For video slot veterans and other experienced players we recommend real money. If you win – you win real, hard cash.
The game studio behind this great slot is Williams Interactive that is a wholly owned subsidiary of WMS Industries, which dates all the way back to 1943 when the founder Harry Williams invented the Tilt mechanism for Pinball machines. Williams Interactive is one of the world's biggest providers of online casino entertainment and one of the oldest in the business. During the years they have provided casino lovers with amazing titles like Zeus, the Wizard of Oz and Bruce Lee and they keep producing fantastic games year after year.
Do not wait anymore, come see if you can take Frozen Inferno! We wish you all the best of luck for this awesome and strikingly different video slot!