Battle of Slots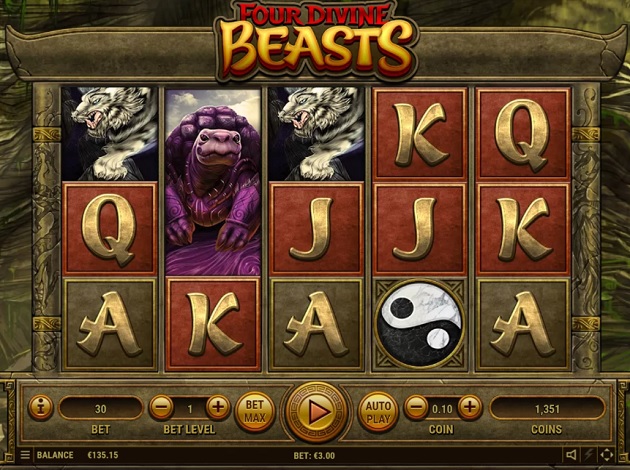 Play Four Divine Beasts online: Check out our slot review below
Introduction
Are you ready to come face to face with some truly divine Beasts? If so, then you have surely come to the right place. The excellent gaming developer, Habanero has blessed us with the game "Four Divine Beasts". We are pleased to introduce you to the amazing world of this game. Habanero is a great developer that you can read much more about later in this review. Let us get started straight away.
Game Features
This is a game that introduces you to the four symbols, which represent four mythological beings from Chinese astrology. In the case of this game, they are better known as the Four Divine Beasts. You will, of course, meet these as symbols on the reels of this game. The four are The Azure Dragon of the East, the Vermilion Bird of the South, the White Tiger of the West and the Black Turtle of the North. According to Chinese astrology, they each have their own qualities – and in this game, that is very much the case as well. The other symbols that you can come across in the main game are the Yin Yang symbol (the Scattersymbol), the Wildsymbol and the card symbols Jack, Queen, King, and Ace. They can each give you a number of great prizes.
Free Spins and bonuses
You can recognize the Wildsymbol by it being a symbol showing the word "Wild" – it really could not be any simpler. The Wildsymbol has the ability to substitute all other symbols in the game in order to create new or improved winning combinations of symbols. Please note, that the Wildsymbol can´t substitute the Scattersymbol. As previously mentioned, the Scattersymbol is the classic Yin Yang symbol. This symbol can help you earn Free Spins. When the dragon symbol appears in full on reel 1 and 3 or more Scattersymbols appear elsewhere on the reels, this will award you with 7 Free Spins. While playing your Free Spins a special symbol will occur – showing a tree. This is the special Wildsymbol that only applies to Free Spins. There are plenty of other possibilities of being awarded with Free Spins – but we don´t want to give it all away, and prefer to allow you to be surprised by the game!
Pay-outs
This game is played on 5 reels over 3 rows. This game does not have conventional pay-lines. Instead, you have an astonishing 243 different ways of creating winning combinations of symbols. You have the option to bet as little as €0,30 but if you are in the mood for a bit of extra excitement, you can also bet up to €150 per spin! Due to the large spread in the bet sizes, this is a game that manages to appeal to any possible type of player. In other words, you may expect quite a lot of prizes while you are playing this game. You will never end up waiting for long to see more winning action on the reels!
Graphics and Sound
Even if the environment is somewhat unhospitable this is still a game that we love from the very first moment. It is simply impossible not to love such a piece of art. The layout and the graphics of the game are nothing short of stunning. You will be listening to funny, up-tempo music while the reels are spinning and every time you manage to win you will not be in doubt, as both a jingle and a nice little animation will notify you. When Free Spins are activated you will be listening to a special kind of music that only appear while this feature is active.
Conclusion
This game beautifully portrays the Chinese Astrology and we are pleased with every little detail of the game, from the crystal-clear graphics to the ambient background music. We were simply blown away by this game. We are confident that you are going to love playing this game just as much as we did. As promised we will now give you the full store of the developer, Habanero.
About the provider
Habanero is a supplier of both Slots and Table games for the iGaming industry. These are made optimized for the various operators in cooperation, meaning that the games are offered in various languages and currencies, as well as always being offered in HTML5 to reach more player standards.
Habanero is a hard-working supplier, always making sure to strive to supply the most vast and high-quality mix of games possible. Today, Habanero offers a total of over 80 Slot games, 10 table games, and 10 Video Poker games.
The team behind the games works hard and tirelessly to release more and new games every month, which they always live up to. All games are made to suit all devices, weather you are using a tablet, mobile or playing via desktop – all games are made to be optimized for all mentioned. The specials include gameplay in portrait and landscape via mobile, you are able to play multiple games simultaneously as well as being able to view real-time game history in the games.
Check out Presto!, Jungle Rumble and Cake Valley – great examples of what Habanero offers.