Battle of Slots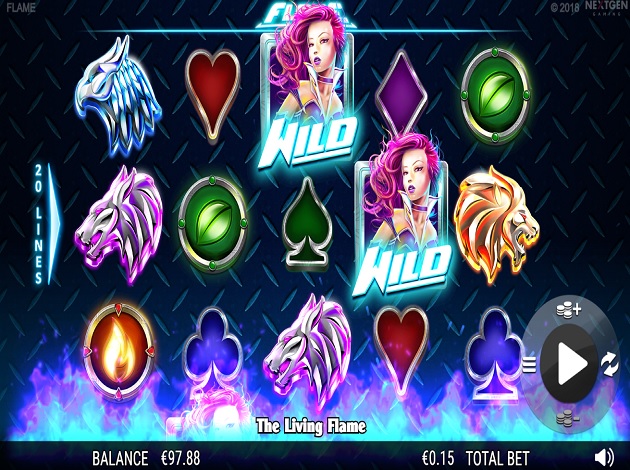 Play Flame online: Check out our slot review below
Flame Introduction
From legendary game provider, NextGen Gaming comes a modern, futuristic little gem of a game called Flame. When a game is announced with the name Flame, you could be forgiven for anticipating a fiery, high-energy inferno; what you don't expect is a calm, almost ethereal game dominated by various shades of blue because surely that would just be weird. Surprise: it works perfectly.
Our frameless gameboard is set against a cold yet beautiful background which might give you the feeling of being inside a club. The bottom of your screen is filled with fairly quiet flames that help set the tone of the game. Against this lovely background, you will find your playing symbols which here come in the form of card deck symbols, representations of the Earth`s elements, and various predatory animals.
Flame is a game that does a great job of creating a comfortable, relaxing atmosphere and is perfect for anyone who needs a little break from work and normality. This one should not be missed.
Flame Game Features
The tone of the game is set from the very beginning, mainly thanks to Flame's beautiful and detailed design. This is a game that aims to calm the player and introduce some R&R into our lives, and NextGen has succeeded perfectly.
As a video slot, Flame is definitely on the classic side as it comes with 5 reels, 3 rows and a total of 20 paylines, yet NextGen Gaming is providing more than enough features and little surprises to keep us firmly glued to our seats.
One of the big plusses with Flame is the intuitive, elegant and uncomplicated design and layout. NextGen has made it very easy to adjust your wager, control autoplay and check info such as the paytable and amount of paylines: in fact, all of these are collected in one neat little wheel down in the right-hand corner of the screen.
The autoplay function is always a nice feature for those of us who have a tendency of getting bored by constantly pushing a button, and although Flame's autoplay function does not allow the player to set a limit on loss/win amount, it lets us decide the number of auto spins we want and does the job effectively.
Flame Free Spins & Bonuses
Flame is a game relying on a well-made, flawless-looking main game, but NextGen has decided to throw in some nice features which are all activated from the base game, just to introduce some variation and excitement.
First out is the Cross Flare Mini-feature, a feature in which flames will rise at the very bottom of your screen, serving to activate the right-to-left pay direction, meaning you can win both ways. The second feature is the Flare Up Mini-feature which can reward you multiplier reaching as much as 10x. The Wild Inferno mini-feature is triggered by landing at least one Wild symbol on the reels and you are rewarded with the same amount of Free Spins as the amount of Wilds you have landed.
The total number of mini-features and Bonus-games available in Flame is 7, and they are all available to activate through the base game. All come in the form of intuitive and well designed mini features that can most certainly help you win some nice cash prizes.
Flame Payouts
A gander in the paytable reveals our high and low-value symbols and this is always a good thing to be aware of as it reveals what symbols we would hope to combine for maximum payouts. We can see that the low-value symbols come in the shape of pretty standard card deck symbols. The mid-level symbols are represented by four elements of nature, whilst our high-value symbols come in the form of a lion, a wolf, and an eagle.
Flame Graphics & Sound
The smooth background, elegant graphics and lack of complicated, time-consuming features combined with apt and classy music really manage to create a relaxed and otherworldly atmosphere and this is something NextGen should be proud of. All the elements tie in together perfectly to create a very solid game.
Flame Conclusion
There is little to nothing about this game that isn't simply fantastic. The base game is elegant, the graphics are solid and the bonus features are many, yet they are all intuitive and easy, meaning NextGen Gaming has managed to produce an all-in-all excellent game that will keep you occupied for hours.
About the Provider
NextGen Gaming, founded in 1999, is one of the world's leading independent supplier of innovative games to the gaming industry. NextGen has delivered hundreds of games to their international partners and gained a reputation for delivering the best player experience through fun and entertaining games.
The focus has since the beginning been to create a new way of seeing games, a better commitment, this to be able to create games in a whole new way, and better than anyone else can. NextGen focuses everything on the players craving and desire.
NextGen isn't the provider with the longest experience in the business, but they have in their time already released hundreds of brilliant games to all the best providers on the markets today. This is a big reason to why players keep coming back, keep playing their games, and still loves the new releases.
A fun fact about NextGen is that they back in 2014, won a grand award at the 2014 EGR B2B awards. Previously, back in 2012, NextGen also won the award of Social Gaming Supplier of the year, an award they won mostly because of the social media app named SlotsPoint that they launched at the beginning of 2012. SlotsPOint offers their operators a customizable front end including NextGen's catalogue games and a back office which displays all player activities.