Battle of Slots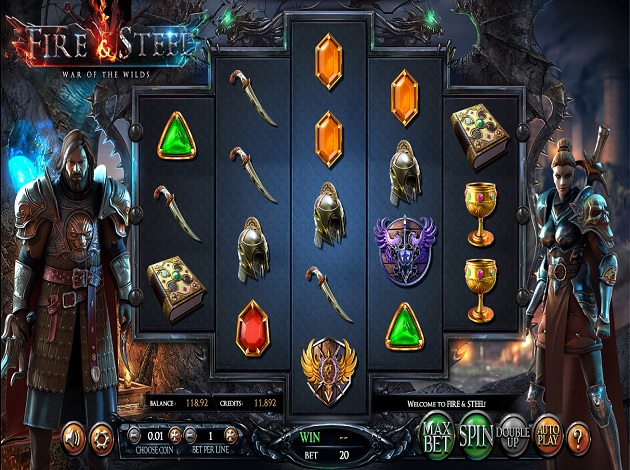 Play Fire and Steel online: Check out our slot review below
Fire and Steel Introduction
Once upon a time, in a fictive land of warriors, magical reigns, and battles, lands are fought for and honour is threatened. The battle between the Swordsman and the Shieldmaiden is all about fighting for the ruling, and it is a thrilling one – one that you have the possibility to see, feel, and play out. This Betsoft game is a stunning addition, offering you vivid and realistic 3D graphics, Bonus Features, extras, and big wins.
Are you ready to indulge in the fantasy battle of a lifetime?
We proudly present Fire and Steel, a Video Slot brought to you by Betsoft Gaming!
Fire and Steel Features
Fire and Steel Video Slot is unique in many ways, especially when it comes to layout, features, and graphics – all well executed and thoughtfully carried out. This is a game granting you a theme inspired by fantasy, with two warriors fighting for honour. The symbols and animations in this game are therefore well-fitted to suit this theme. The symbols range in values and objects, with different gems, daggers, helmets, a golden chalice, a magic book, and the 3 warrior symbols – such as the victory king crown in gold.
Apart from the basic symbols, there are 3 extra symbols to keep a lookout for while in the gameplay. The game logo is the Wild, and the two warriors can trigger some truly rewarding features. We will tell you all about these right below.
Fire and Steel Free Spins and Bonuses
The Swordsman; when landing this giant warrior, he will release a magical, vertical beam – either below or above him. When he does this, he will turn all symbols hit by his beam into Wild Symbols.
The Shieldmaiden; when landing this bad-ass warrior, she releases a magical and horizontal beam, either to her left or her right. This also turns the symbols in its path into Wild Symbols. When the beam passes over two symbols, only 1 symbol per reel will turn Wild.
War of The Wilds; if you land both the Swordsman and the Shieldmaiden symbols, and their beams then intersect with each other – 10 Free Spins are awarded. The symbol where the beams then intersect will hold in place as a Wild for the remainder of the Free Spins Feature.
You do have the possibility to retrigger the Free Spins, which then results in extra 10 Free Spins as well as an additional Sticky Wild.
The Wild Symbol is also a rewarding symbol, with the game logo representing it. All Wilds pay the same and substitutes all symbols, including each other. The Wild can be worth up to 500 when landing 5x.
Fire and Steel Payout
Fire and Steel Video Slot is a game offering you a different layout than most other games. The reels are built up with 5 reels, and different row counts on every reel. Reel 1 and 5 has 3 rows, reels 2 and 4 has 4 rows, and the middle reel has 5 rows. This also comes with 20 paylines.
The winnings are paid out from left to right and right to left, and all line wins are multiplied by the line bet.
Fire and Steel Graphics and Music
Something Betsoft continuously exceeds in, is 3D graphics, design, and overall layout. Fire and Steel are no exceptions when it comes to all of this. Offering you a setting that sets in a fantasy world far, far off – this is simply stunning. The backdrop is kept slightly mysterious, with hints of big pillars and cloudy skies, as if you are high up by a temple. Next to the reels, stands the Shieldmaiden and the Swordsman, ready to beam your wins – these in full warrior gears, weapons in hand, and attitude to take over the world. Around the reel frames, are clinging dragons with green, glowing eyes – and all adds to the mood of the game. It is very well executed and brilliant, and the 3D graphics make it feel like you are right there – feeling the thrill of the battle. It is rare to see a fantasy inspired game looking this realistic – you simply cannot miss it.
The music of the game is very dramatic, to make the mood even better felt and more vibrant. You can choose to keep the music on/off underneath the reels.
About the game provider, Betsoft
Betsoft is a company founded back in 1999 as an online casino developer. Their main focus was providing innovative games as well as reliable software products to their many operators. Betsoft quickly developed and grew into a company well-known for their creative and well-liked games.
Starting in 2012, Betsoft Gaming began a concentrated push into the mobile iGaming market with their specialised ToGo™ line of mobile video slots. Optimised for iOS devices, these portable games include an ever-expanding list of some of their most popular Slots3™ titles, such as The Slothfather, Safari Sam, and Three Wishes. Their ToGo™ collection retains all of the quality and detail of the original Slots3™ games. This was a big launch for Betsoft, and a great time for them. They had established a name for themselves as a respected and successful provider, and the success was inevitable.
Betsoft games are today renowned throughout the industry for their state-of-the-art, true 3D graphics, provocative audio and intuitive gameplay.
Presented in stunning, true 3D cinematic animation produced to the exacting standards found in today's animated feature films and console video games – makes Fire and Steel the perfect example of this.
Some of the other games brought to you by Betsoft are; Kawaii Kitty, 4 Seasons, Charms and Clovers, At the Copa, SugarPop, and A Night in Paris
Enter the battle and fight with your warrior – will you be the ruler of fantasy? Let´s find out.
We wish you the best of luck!