Battle of Slots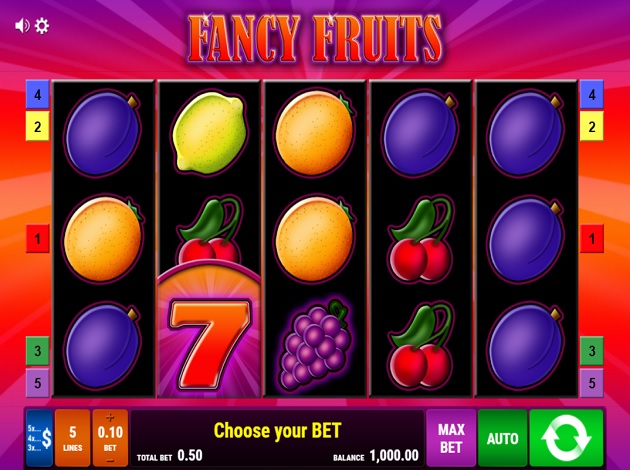 Play Fancy Fruits online: Check out our slot review below
Gamomat has made sure we would have more pleasure in the shape of fruits, classic symbols, and a great deal more that you will absolutely love. If you are a true gaming enthusiast, then you will surely enjoy this game as it is one that is inspired by the golden era of classic Slot machines and its standard fruit symbols.
We proudly present a Video Slot brought to you by Gamomat, this is Fancy Fruits!
Gamomat is a game developer offering players a vast gaming experience – no matter what they are looking for, they will find it with Gamomat. They focus mainly on developing Slots, Casinos, and Jackpot games for the international markets and the biggest operators out there. Today, they offer more than 250 unique titles.
The games are available across all devices, such as online and mobiles, but also as Slot machines in land based casinos. The games are all developed with top nosh technology, meaning that the games are all modern and up to date and successful. The operators are a mix of the biggest and the best in the business. All games are in HTML5 and Flash, meaning that they are optimal for all players to play.
The games are also available in multiple languages, and the games are all made in various themes, which is important for Gamomat. The themes are innovative, the features are rewarding, and the graphics and designs are well-made. Easily enjoyable games to say the least.
Some of the other games brought to you by Gamomat are Book of Romeo & Julia, Crystal Ball, Fruitmania, and Explodiac.
We are about to reveal just what makes these fruits so fancy!
Fancy Fruits main game
The moment you enter Fancy Fruits Video Slot, you will see and feel the theme of the game instantly. The bright colours of the game give it a vibrant and fun touch, and the fruit symbols spread out over the five reels are all popping out there just like they are supposed to. You are taken right back to the time when the Slot machines with fruit symbols and wins of gums, cigarettes, and candies were the main attraction of land based casinos.
The symbols you can come across on the reels are all made to suit the theme inspired by these classic games, all in vibrant and bright colours and clear designs. The lower valued symbols are of the cherries and the lemon, which is worth 2.00 when landing on five of a kind. The plum and the orange are the medium valued symbols and they are worth 2.50 when landing five of a kind. Then the higher valued symbols are the water melon, the grapes, and, of course, the red lucky seven. The melon and the grapes are worth 10.00 each, while the top player is the lucky seven worth a staggering 50.00 when landing five of a kind.
The game is quite rewarding, but as it is a classic game inspired solely by the old Slot machines, the game does not offer any special or extra symbols, and no features either. But we can assure you that there is a great deal of fun waiting for you anyhow!
Fancy Fruits theme, graphics, and music
About 100 years ago the Slot and fruit machines had their so-called golden era, one where they were immensely popular and growing in popularity rapidly. But what one might not know about is the way they were built and what they could grant its players. Today, playing these machines are all about winning the hard cash – but at that time – one would have won a big win of maybe 3 million packs of chewing gums, cigarettes, or candy. Which even determined the flavours of gums fruits you won with on the reels. Cherries and melons were the most common ones, always appearing on the reels. Later on, the liberty bell, lucky seven, and bars. Now this, all of it, is the inspiration behind Fancy Fruits Video Slot.
The graphics and designs of Fancy Fruits is made fairly easy, but at least in clear details and nice colours. The five reels are placed in front of a vibrant backdrop of shimmering pink, orange, purple, and red. The background behind the actual symbols is made in black, making the colourful symbols pop out even more. It is a game easy to enjoy from!
Fancy Fruits payout
Fancy Fruits Video Slot is a game offering you 5 reels over 3 rows, and additional 5 fixed paylines. Usually, classic games offer you a lot less than this, making the five reels stand out even more.
Fancy Fruits bonus game & free spins
As Fancy Fruits is such as classic game with no extra symbols, it does not offer a Bonus Game or a Free Spins Feature.
But if you, however, would like to enjoy all of it together - the classic theme with a Bonus or Free Spins, then we will guide you right. For a thrilling Bonus in a game offering you these classic symbols, with a modern twist, you can check out Arcader from Thunderkick. Here you get to enjoy the theme, with a Bonus of rewarding extras can be assigned.
For Free Spins in a classic game, you should check out Superflip – a game filled with fruit symbols and lycky symbols from the golden era, along with a Free Spins Feature that can grant you some high wins and opportunities to re-trigger all the way up to 90 Free Spins.
Fancy Fruits is a game that a true gaming enthusiast can take pleasure in – with or without Bonuses or Features. They are not offered and not needed for this vibrant, highly rewarding, and entertaining game.
We wish you the very best of luck in your gameplay!