Battle of Slots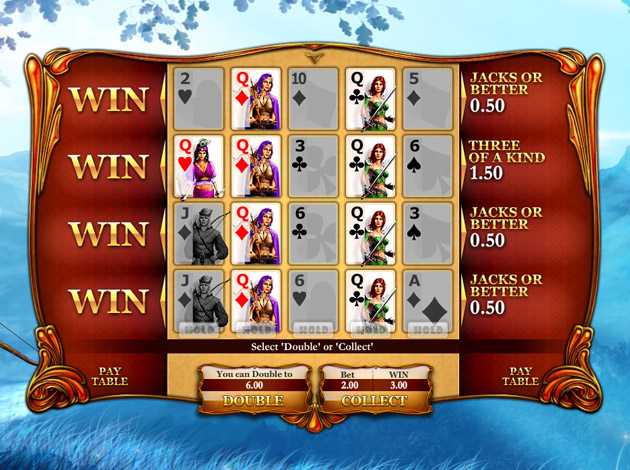 Play Face the Ace online: Check out our review below
Hello everybody, and welcome to this video poker machine named Face the Ace. If you are looking for fancy features and confusing bonus rounds, you came to the wrong place partner. This here is all about the simple joy of playing video poker.
When you start the game you will immediately feel at home with the way it looks, at least if you have ever tried playing video poker before, and who hasn't given the game a go down at the pub. The game runs very smooth and is quite quick, the sound effects chirpy and not intrusive, it is pretty much exactly what I am looking for when the urge for video poker strikes me.
The big feature in this release is in the name of the game, Face the Ace. It is not very complicated, what it means is that if you manage to score a four of a kind with Jacks, Queens, Kings or Aces there is a higher payout. This is a favourite version for some video poker enthusiast, and this version lets you play with 50 hands at the same time which raises the excitement quite a lot.
There is also a "Double" feature in this game, as it usually does in video poker machines, letting you bet your hands winnings up to five times, doubling the bets and wins with each go. The game plays out like this, when you get a winning hand you can decide to gamble it by pressing "Double". As the game starts the dealer is dealt one face-up card and you get to choose between 4 face-down cards. The goal is to get higher than the dealer, if you get equal cards you will receive your stake back and you can chose to give it another go-
This game, along with many of the recent additions, is geared towards bringing as much variety as possible to our casino and expanding the type of games we have with different rules and versions some people prefer. There has been a growing demand for the more classic games, prompting us to expand this part of our game catalogue, so please let us know if there is any game you would like us to add and we will try our best to give you what you deserve.
Videoslots.com has set out on a mission to provide every casino lover out there a place they can call home. When you are playing with us you can rely on that we are working day and night to provide you with all the entertainment you deserve, and our goal is to become the best online entertainment portal in the world
Games OS is one of the many developers helping us become the biggest portal for entertainment online. We are already offering more games than any other casino and with the help of developers like GamesOS we hope to offer every player their favourite way of playing their game of choice as well.