Battle of Slots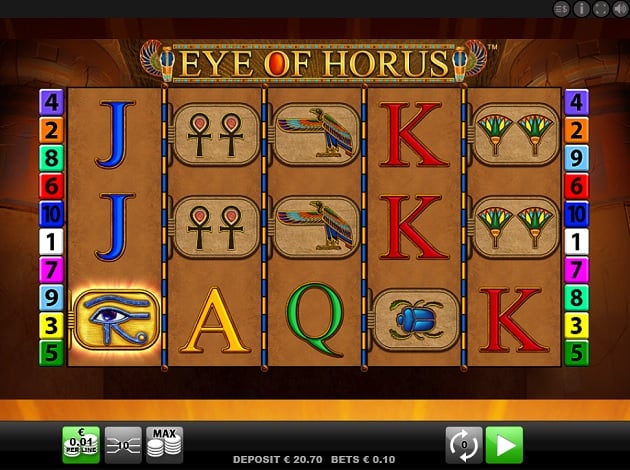 Play Eye of Horus online: Check out our slot review below
Eye of Horus Introduction
Horus is the ancient Egyptian god that is usually depicted as a falcon. The eye symbol for which he is famous represents the marking around the eye of the falcon, including the "teardrop" marking sometimes found below the eye.
In one myth, Horus was fighting for the throne after the death of his father, Osiris, when his eye was gouged out. When Horus' eye was recovered, he offered it to his father in hopes of restoring him to life. Hence, the eye of Horus has often been used to symbolise sacrifice, healing, restoration, and protection
Thankfully, in the Eye of Horus video slot from Reel Time Gaming, you won't need to make any sacrifices, as the eye symbolises protection on your path to winnings in this game.
Players can stake from as little as € 0.1 and as much as € 20 at minimum and maximum when all ten paylines are in play.
Eye of Horus Game Features
At first glance, Eye of Horus may seem light on features. It has three rows, five reels and ten paylines, with a layout and design that is low frills, and a base game that is fairly straightforward.
The reels are set across the entrance to a tomb and Eye of Horus is written across the top of the screen. Look out for the Horus symbol to appear because that is the games wild symbol which substitutes for all symbols except the pyramid, and expands to cover all 3 reels.
Along the bottom of the screen you'll find buttons to set your bet per line amount, select the amount of lines in play, select maximum bet, set auto start options and spin. There is of course a tab that displays your current balance and bet amount.
There's nothing else really going on. Which is just as well, because it means that there is nothing to distract from the gameplay.
Eye of Horus Free Spins and Bonuses
In this slot, bonuses take a couple of forms. First up are gamble features that come into play after every winning spin.
The gamble feature is only available from manual spinning, if you select 'Auto Start' you are not given the option to gamble following a win. Once you've got a winning line you'll be given two options for gambling your winnings.
First up is the 'Card Gamble' feature represented by a green button with a playing card, and both heart and club symbols on it. By selecting this feature you'll be taken into a new screen where a row of playing cards will be shown. Your task is a simple one, select red or black to bet on the colour of the next card. If the colour of the card drawn matches your selection, you double your winnings.
The other gamble feature present in Eye of Horus is the 'Ladder Gamble' feature. This feature is represented by a green button with three horizontal lines across it. When selected you'll be taken to another screen and shown a ladder with increasing amounts on it, from bottom to top. Two amounts will flash on the ladder - one higher and one lower than your initial win - and you will have to hit the green button with '1:1' on it to select a new amount. You can continue to do this until you lose it all, reach the maximum amount, or cash out at a time of your choosing.
Interestingly there's another aspect to the gamble feature, represented by a blue square with a fork in the road symbol on it. By selecting this feature you 'Collect Half', meaning that your stake for the gamble will be halved - or in the case of the ladder gamble, lowered by one step - and the collected stake will be booked as winnings, allowing you gamble just half of your winnings.
Finally, there's the game's Free Spins feature. Land three or more Pyramid - scatter - symbols across the reels and you'll be awarded 12 free games. During those 3 games, you'll be rewarded with further free games when Horus appears across the reels. On top of that, Horus will also upgrade the lowest value tablet symbol in play - shown in the top left hand corner of the screen - to a symbol of higher value.
Eye of Horus Payouts
As you'd probably expect, Eye of Horus features a mixture of classic playing card symbols and symbols inspired by Egyptian mythology such as Scarab beetles and the Eye of Horus.
Matching 5x of any of the playing card symbols, which are at the bottom of the scale will pay out 10x your stake. The fans will pay out 20x the stake for 5 symbols, whilst the beetles pay 25x the stake, the bird pays 30x the stake, and the Pharaoh dog 40x stake.
The Eye of Horus tablet pays out 10x stake for 3x symbols, 25x stake for 4x symbols and 50x stake for 5x symbols.
The scatter Pyramid symbol pays out 2x stake for 3x symbols, 20x stake for 4x symbols and 50x stake for 5x symbols.
Eye of Horus Graphics and Sound
Eye of Horus is very much a game that relies on gameplay over graphics and sound. The layout is nothing spectacular and the sounds are pretty stock for this type of game.
Wins are greeted by the symbols flashing and various combinations of jingling bells and jaunty jingles. Go into the gamble feature and the sound will change again to something a little more suspenseful.
Despite its simplicity, the animation that greets players who hit the top value on the ladder mini game is actually really enjoyable, with guitar shredding and exploding fireworks adding a surprising sense of excitement!
Eye of Horus Conclusion
Whilst the symbols are simple they complement the theme perfectly, and by focusing on gameplay - over elaborate animations and over the top sound - Reel Time Gaming have created a truly fun game.
The free spins feature, with its ever increasing table values gives you something to hope for. Whilst the variety offered by the gamble feature brings excitement to every spin, because you know that there's a chance for you to double your payout, every time you win.
Eye of Horus is a legendary game, that does justice to the ancient mythology upon which it is based. We highly recommend it.
About the Provider
Reel Time Gaming is a company that has been providing top class games for the gambling industry all over the world since their establishment in 2009. Their strong team is made up of around 50 talented software developers, artists, game designers, testers, and members who boast over 20 years of experience in this growing industry.
Reel Time Gaming's land-based beginnings
Their company is headquartered in Queensland and is a privately-owned company that started out as a developer of land-based gaming cabinets before moving on to create online slot machines years later. The cabinets manufactured by Reel Time Gaming support an array of high-end technology including 22-inch wide screens, HD graphics and user-friendly interfaces. Even better, they're programmed to work across multiple markets across the world and are available in a multitude of different languages.
Moving on with the fast-growing industry
Despite their success with land-based games, the iGaming industry was moving fast towards internet based online gaming and Reel Time Gaming was quick to adapt to this change and move towards success in the modern gambling world. That's why Reel Time Gaming, keen to keep up with the times, decided to partner up with GameAccount Network in 2013. GameAccount Network is one of the leading distributors of online slot machines in the European market, with some of their casino partners including big names. This partnership allowed them to transfer their slot machines to the ever-growing online markets in countries like the UK, Spain, Italy, and more.
Some of the games brought to you by Reel Time Gaming are Fruitinator, El Torero, Eye of Horus.