Battle of Slots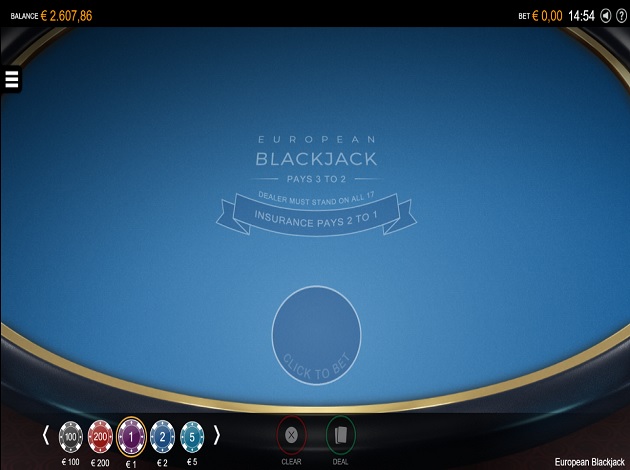 Play European Blackjack online: Check out our slot review below
European Blackjack Introduction
European Blackjack from Switch Studios is played with two standard decks of 52 playing cards, that are always shuffled right before the start of each game! In this version of Blackjack, the split feature is available on two cards that have the same denomination. Not only is split available, so is the double down feature, at least on your first two cards if they are a hard hand with a value if 9, 10 or 11.
The objective of European Blackjack is to beat the dealer's hand by either getting a higher value hand without exceeding 21 or if the dealer's hand goes bust!
European Blackjack Game Features
European Blackjack Splitting Rules
You can split (to divide a matched pair of cards and play each card as a separate hand) two cards that have the same denomination. The split bet placed on your second hand is equal to your regular bet amount.
If you split a pair of Aces and then draw a card with a value of 10, this is not Blackjack although it has a value of 21. This rule also applies to splitting pairs of cards with a value of 10 and then drawing an Ace. Also keep in mind that you can only split once per game, equalling two hands.
European Blackjack Double Down Rules
The double down (to place a bet that your hand will beat the dealer's hand) bet is equal to your regular bet amount. You can double down on your first two cards if they are a hard hand (a hand that doesn't contain an Ace or contains an Ace counted as having a value of 1 and not 11) with a value of 9,10, or 11 only.
Additionally, you can also take insurance in European Blackjack which will cover your original hand!
European Blackjack Rules
The dealer is dealt one card, face up.
Blackjack (a combination of an Ace and a card with a value of 10) is the strongest hand and automatically stands; it cannot be beaten, only matched.
All face cards have a value of ten and Aces can have a value of either one or eleven.
You and the dealer can draw up to nine additional cards to make a hand of eleven cards, if the value of the hand does not exceed twenty-one.
If a hand doesn't exceed 21 after receiving eleven cards, the hand automatically stands (to decide not to draw any more cards) which ends the play of your hand
The dealer stands on all 17.
European Blackjack Payouts
If the dealer is dealt a hand that exceeds the value of 21, and you are dealt a hand that has the value or 21 or less, the dealer's hand is a bust then, your hand will automatically win.
If the first two cards dealt to you are an Ace and a card with a value of 10, you have Blackjack and your hand will automatically stand.
If both the dealer's hand and your hand have Blackjack, the hands will push.
If both the dealer's hand and your hand have the same value, the hands will push and your regular bet amount will be returned to you.
European Blackjack Graphics and Sound
European Blackjack has a traditional Blackjack table featured with a view of it from above. You will see the card decks to the right-hand side in a gold container. There is also the spot where the various chips are set to the left of the card deck. Then you will see several phrases about the game and then the spots for the players cards to rest. There is no music playing in the background or any music so it's more of a silent game giving you the chance to think clearly about your next move!
If you want to find out more about the game rules, then all you need to do is click on the 'help' button.
European Blackjack Conclusion
European Blackjack from Switch Studios is played with two 52 card decks and the goal of obtaining a higher total then the dealer without going over 21! In case the hand between you and the dealer ends up being a push, then you will get your stake back. This game features a split feature as well as a double down feature.
Give European Blackjack a try here at Videoslots!
Gambling is a form of adult entertainment only. You must be over 18 to play. Play responsibly.
About the Provider
Switch Studios was founded back in 2017 by a close-knit group of talented individuals with extensive experience in the iGaming industry. In 2018, Microgaming introduced Switch Studios as their latest independent game studio who will be providing exclusive content for them at SiGMA.
Switch Studios has their main office in a market town called Ipswich, close to London. The team is made up of a group of talented individuals who all have one thing in common: a passion for games. All of the individuals at Switch Studios also have extensive knowledge as well as experience in both online gaming and the social gaming sector.
Switch Studios develops premium, high-quality table games for real money play, exclusively for Microgaming. They focus on the creation of table games only, aiming to pave the way for an all new way of playing table games. They are also targeting the growing mobile gaming market by designing games which work flawlessly on mobile and tablet devices, as well as desktop. With a strong background in the mobile, social, and iGaming sector, they are in the perfect position to bring something valuable to Microgaming's already vast portfolio, offering an array of revolutionary table games like Roulette and American Roulette.
Play in our Battle Of Slots
Don't miss out on the opportunity to play a thrilling Battle with our special, unique and very first social online casino experience – Battle of Slots. Videoslots gives you the chance to play first time Battles against your friends and other players on videoslots.com with games from NetEnt, Thunderkick and Play'n GO. There is only one Battle of Slots – and you'll only find it on Videoslots.com!