Battle of Slots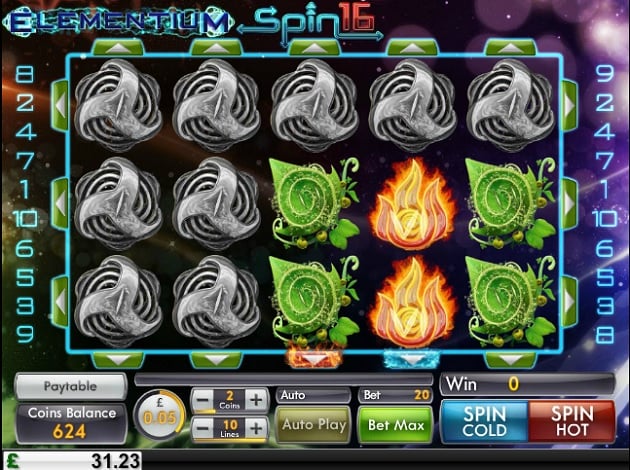 Play Elementium Spin 16 online: Check out our slot review below
Ladies and Gentlemen, welcome to another fabulous game here at Videoslots.com! This time we are going to look closer at the elements of the earth – we will do this in a unique video slot from Genii – this is Elementium Spin16.
Genii is a gaming technology provider focused on building and create next-generation online gaming platforms. The company is based on a team of entrepreneurs who have led the field, both in the business of gambling and technological innovation, since the 1990´s. The company has since that year continued to strive and grow steadily, creating online games and mobile games. They are today one of the world´s largest provider of mobile games for iOS, Android, and Windows phones. All of their titles comes with graphics that are sharp as razors, symbols that match the theme of each game to 100% and the music and sound effects is something that is far beyond what you are used to!
They have a portfolio of more than 130 games, and a few of these are Aladdin´s Loot, Frontside Spins, Mermaid Serenade, and Wild Wizards.
Elementium Spin16 main game
The first and general feeling you get when entering this game is very powerful and star-striking. The graphics, the design, and the animations are all very thought through and well-made, and all combined they make up for a great and vivid gaming experience. Even the backdrop is quite fantastic as it shimmers in various bright and sparkling colours, as the looks from outer space. This is only a few of the reasons to why you will love Elementium Spin16!
While playing, you will come across seven symbols, representing the various elements of earth. These shows in the shapes of the composite, the pink crystal, the yellow-white Yin & Yang, the flame, water, ice, the earth, the planet, and air. These are the ordinary symbols and all with different payouts – the highest of them all is the Yin & Yang which is worth 100 for a 5 symbol combination.
But Genii has, of course, made sure that you will have a few extra special symbols as well. These are the pink crystal which is the Scatter symbol, and the Elemental Star with all elements in one, which is the Wild symbol. They can both grant you with some big wins and special features. We will get more into this soon!
Elementium Spin16 theme, graphics, and music
Elements affect a lot of thing in this world. Personalities for example. While I first started to play this game I started to think about a few people that I have closest to my heart. This might sound weird but if you look a bit closer into it, it is not as strange as it sounds. Maybe fire is the element that is easiest to match up with people. Fire is something that is very hot, hard to control, kind of aggressive and if it gets out of hand, it can be hard to stop it. This is pretty much how I could describe my best friend, she is hot full of temperament but her heart is just as warm as her temperament.
The other elements that exist are water, the sound of the waves or the feeling of a lukewarm spring rain. Then we have earth. The element where we all come from. Isn't mother earth just the most amazing lady ever? Thanks to her, we have food, amazing forests to visit and mountains to climb! Last but not least, wind. This is maybe the most magical of all the elements. The wind can be unpredictable but that does not have to be something negative. The winds are full of changes and here in Elementium the wind is filled with winnings!
The graphics and the design of the game is really great with sparkling colour and an impressive backdrop. It is similar to outer space with colours of green, orange, purple, and blue, circling a black middle. The colours all fade into each other, and stripes of light and shimmering stars and bubbles fill the atmosphere up, making it warmer. The game is very easy on the eyes and it is very likable.
Elementium Spin16 Payout
This game is a classic video slot where you will be playing on 5 wheels, 3 rows and 10 great paylines that you can have active for each and single bet that you make. Remember that every payline increases the chances for you to make a lot of high winnings so keep all of them active!
Elementium Spin16 bonus game
Elementium Spin16 is a so-called Spin16 video slot, meaning that it offers a quite thrilling feature. On the sides of the reels, you have 16 arrows in all directions - up, down, left, or right. You choose where to mark arrows, and the yellow arrow will mark your pick, a green arrow will then go around the reels after you picking direction and reel. If the arrows match your pick, you will get a 10x multiplier on any win. If you only match the reel, you will get a 5x multiplier, and when matching the direction, you will get either 2x or 3x multipliers.
In this feature, you also have the option to Spin Hot or to Spin Cold. This is the Spin16 feature´s spin button. You can choose to Spin Hot, meaning that you spin in the direction which is hot, the direction of the last green arrow. Or, you can Spin Cold, where the arrow hasn´t landed in a while.
Elementium Spin16 free spins
Since Elementium Spin16 offers the extensive feature, Spin16, there is really no special need for a free spins feature. But if you prefer free spins, then you can always check out Magic Portals from NetEnt, it offers the outer space graphics and designs, as well as the elements and mysteries of earth. Apart from this you can win up to 10 free spins in it grand feature.
Elementium Spin16 special features
Scatter symbol
The purple shining crystal is the Scatter symbol and this has the ability to multiply all wins with the Scatter by the total credit wagered. These wins are then added to the payline wins. This is an opportunity for you to really win big, especially if you bet big!
Wild symbol
The Wild is as mentioned the Elemental Star and this can step in to replace any other symbol to then create a winning combination for you. If the Wild appears on reels 2, 3, or 4, then it will expand to cover the remaining positions on the specific reel to complete the wins.
So there is no reason to wait! This is your chance to experience all the amazement that comes from all the elements and the winnings that will fly in to your account with the speed of the wind! We wish you the best of luck!