Battle of Slots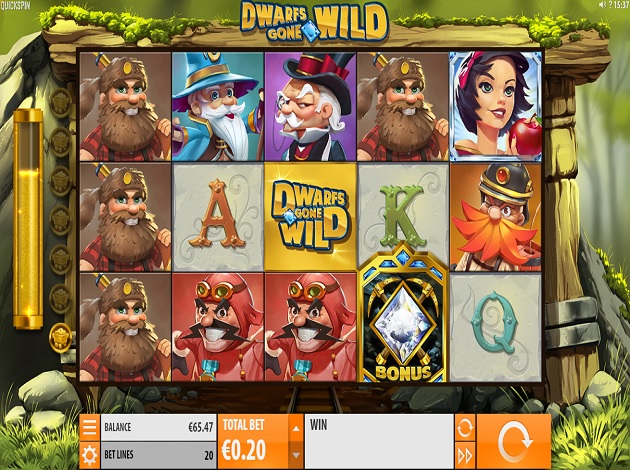 Play Dwarfs Gone Wild online: Check out our slot review below
Dwarfs Gone Wild introduction
Quickspin calls it "our most ambitious game to date", and with the brilliant portfolio already offered – we can barely imagine what is awaiting us now. But this is an edition you do not want to miss, with a theme of Snow White and the Seven Dwarfs, mixed in with a mission to find the hidden riches in the underground. How wild and lucky can these dwarfs really get? It is time to find out!
The popular Walt Disney production, Snow White and the Seven Dwarfs was first released in 1937 as a musical fantasy film – and has been renewed and adapted in many versions after that. This Brothers Grimm inspired story was later made into the well-know feature film, and was the first of its kind by Disney. Snow White is the lonely princess living with her evil stepmom, the Queen. She is an old, jealous woman, and when she hears that Snow White now is the fairest of them all – she sends a huntsman to kill her. But he saves her, sends her to the woods, and while there – she find the little cottage where Doc, Grumpy, Happy, Sleepy, Bashful, Sneezy, and Dopey lives. They all work in a nearby mine, and this is where the story of the Video Slot takes a twist.
You are about to join various characters from the film (looking more fierce than ever) and Snow White as they go deep down in the mines to find the treasures. Along the way there will be blasts of Wilds, Free Spins, Bonuses and a whole lot more.
We are proud to present; Dwarfs Gone Wild by the brilliant, Quickspin!
Dwarfs Gone Wild features
The symbols of this game all match the theme it has been inspired by. It starts with the lower valued symbols being represented by the card deck symbols – Jacks, Queen, King and Ace. The higher valued symbols are then represented by the dwarfs and Snow White. These are quite valuable in simple wins – but the dwarfs can also help generate some features and extra special wins.
Besides these, you also have the sparkling diamond, which is the Bonus Symbol, the game logo which is the Wild, the magic mirror which is a Scatter Bonus, as well as a great deal more. We will tell you all about it below!
Dwarfs Gone Wild free spins and bonuses
The Strongman, Bomber, Racer, Blacksmith, Huntsman, Wizard and Banker are all the main characters of this game – along with Snow White, which will become evident in the hunt for features. these characters all have special abilities, which we will especially rewarding during your Free Spins.
As you can see, there is a golden meter next to the reels. This is called a Golden Minecraft Bonus meter and each time you make a winning combination with a dwarf involved, the meter will start to fill up. Each time you fill up, you unlock one dwarf feature that will be active in the Free Spins Feature when triggered (explained below).
When landing 3 Scatter Symbols (the diamond), you will trigger these rewarding Free Spins. Here, you will go deep down in the mine to dig for gold. The number of Free Spins you are awarded depends on the number of dwarf features you unlock – but, 7 dwarfs will follow you to help you with the chase. While playing your spins, these dwarfs will enter the reels one by one and add their special abilities on the reels. These are as followed;
The bomber: he comes and placed his explosive Wilds on the reels, and these can blast to add 2-4 extra Wilds.
The banker: he adds up to 5x Multipliers on all your winning spins
The magician: adds up to 5 Extra Free Spins.
The Huntsman: uses his gun to shoot up another Wild for the best possible win
The blacksmith: will melt down all Wilds and pour them out to award you with up to 2 Wild Reels.
The racer: will generate 2-5 Wilds and then puts them in a random position, so-called Throwback Wilds.
The strongman: adds Wilds to reels 2, 4, and 5. With each Re-spins, the Wild will move one position to the left.
But that's not all! The Magic Mirror Feature is triggered when you land on these mirrors, on only reel 3. Here, you will be awarded 2 extra spins with 300 added Snow White symbols for even better payouts!
Dwarfs Gone Wild payouts
Dwarfs Gone Wild is a Video Slot played with 5 reels over 3 rows and additional 20 fixed paylines. the highest valued symbols are the game logo and Snow White, offering 60 times the bet for five of a kind.
Dwarfs Gone Wild graphics and music
Quoting Quickspins´ statement that this is the most ambitious game to date, is surely true. The suppliers has almost outdone itself with the brilliance of this game – offering a cool theme with a twist, a fun gameplay, film-like animations, a smooth graphics, and overall impressive details and graphics. It is mostly like watching a film while playing this game, which is big part of the fascination of it. The game is incredibly well-made, and players will most definitely have a new Quickspin favourite – surely we do!
About Quickspin
Quickspin is a Swedish game studio developing innovative video slots for the free to play social and the online gambling market. Their headquarters are in Stockholm, Sweden. Quickspin's team has years of experience, a burning passion for gaming and a love for gambling, but most importantly, they care about and respect their players.
Quickspins´ goal and wants is to deliver games with high quality and innovative themes – the kind of games all kinds of players could love and enjoy from. Quickspin creates video slots that are worth playing, worth finding out more about, and definitely worth all of your time.
Quickspin is a company with a team that simply loves what they do. A team of experienced designers, developers, testers, etc all makes for a perfect team. The team is behind the incredibly made slots, and slots are what Quickspin loves.
One of the most important parts of them is that their slots are fun and entertaining. They are well aware of what players want, and apart from winning money, players crave a good, relaxing time. Therefore, this is what they focus mostly on. Starting with the mathematics behind the game leads their way into a theme, a story, and finally a finished product.