Battle of Slots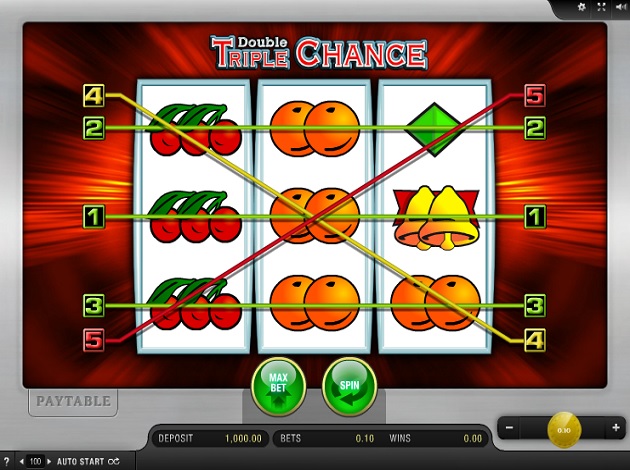 Play Double Triple Chance online: Check out our slot review below
Fruits and the magic number 7 can make you the winner here! Depending on the match you get from the three reels, affects your gain. Double Triple Chance has a total of three reels, which must either display a match diagonally or side by side if you're hoping for a big win!
This slot is brought to us by Merkur Gaming.
Merkur Gaming is part of the German-based Gauselmann Group – the biggest gaming company in Germany with over 8000 employees.
All games developed and created by Merkur Gaming are made in Full HD quality, increasing the gaming experience to a splendid adventure. All various themes are offered, its grand graphics and designs, with the rewarding and innovative free spins and bonus features, impressive paying concepts, and unique mathematics.
The games are all state-of-the-art, modern games, offering the latest technology, most advanced systems and technologies, with a Jackpot system available.
Making every player a winner is one of the things that Merkur Gaming wants to focus on, and they are surely doing a well job, offering the high stakes, the Jackpot features, and impressive payouts.
One of the games provided by Merkur Gaming, also available on Videoslots.com, is 221B Baker Street. It is a game inspired by the famous Sherlock Holmes and his quest to solve all mysteries that comes his way. This is the perfect game to showcase as an example of what exactly Merkur offers. The game is fully packed to the top with features, offering four of them, including a bonus game with a shotgun duel. It is an action-packed game with attributes that you simply won´t forget!
Double Triple Chance main game
Double Triple Chance is a classic 3 reel, 5 line slot with a special re-win feature that allows a full screen to be won if the same symbol appears 9 times on the screen, unless the running light stops on a red field.
Just start the game directly in your browser and try to put the right symbols into a line. If you are able to get the 77 three times in the same row - diagonally or horizontally - you get not only the normal payout, but additionally you get an exciting special bonus and thus a particularly high profit.
And the one-armed bandit for the living room makes its name worth every bit, because you can use a triple profit chance in each game: the game has not only three reels, but at the same time every fruit symbol can be found on every roll among themselves. This means you can clear all the winning lines at once. Who else can be that lucky?
Symbols with the lowest amount of payment are represented in this game by appetizing fruits (plums, cherries, lemons, oranges), with the higher paying symbols being represented by green melons, diamonds, the lucky number 7, and some playful golden bells. If you want to find out more of which symbol combinations can bring you a nice payday, then we advise you to check the Options tab in the main menu.
Double Triple Chance theme, graphics and music
Merkur Gaming did an excellent job when it comes to the graphics and design of this classic slot. The colors are very pleasing to look at, and they give you a feeling of warmth, nostalgia, as if you had transposed into childhood during art classes.
The background is red with some yellow details, representing fire or as if you feel somewhere in space, in another world, but everybody has its' own imagination, that's right!
Double Triple Chance payout
Double Triple Chance is a 3-reel 3-row game with 5 fixed line. The player can adjust the bet per spin at any time with a betting range in between €0.05-€10.00 per spin
Double Triple Chance Slot features
There are no Wild or Scatter symbol in place in Double Triple Chance but if you are lucky enough you can hit the big jackpot!
But we have another surprise for you. In this game there is a special feature called ReWin Feature but also another special feature called Risk Possibilities.
ReWin Feature
If the same symbol appears 9 times on the screen the Rewin feature will be started. A Fullscreen can be won again within the feature. If the running light stops on a red field then the feature is ended. If it stops on a green field then the Fullscreen win is won again. The Rewin feature can take place a maximum of six times.
For the Risk Possibilities, there are two versions to choose from. Both versions can be randomly activated after a winning spin. Two buttons, "Gamble Ladder" and "Gamble Card" will appear on the screen.
Card Gamble
With the card gamble you bet on the color of the next card. You can bet on red or black with the corresponding buttons. The displayed winning is given if the color of the card drawn matches your choice
Ladder Gamble
With the risk ladder gamble you click on the GAMBLE button (with ladder symbol), and either step up the ladder or land on a lower valued step. The corresponding steps are flashing.
In conclusion, Double Triple Chance is a slot machine worth checking out, as it can bring big and unexpected wins, and a constant possibility to win even bigger. So if you enjoy colourful fruits, high wins and a little gamble on the side, then you will definitely enjoy playing this slot.