Battle of Slots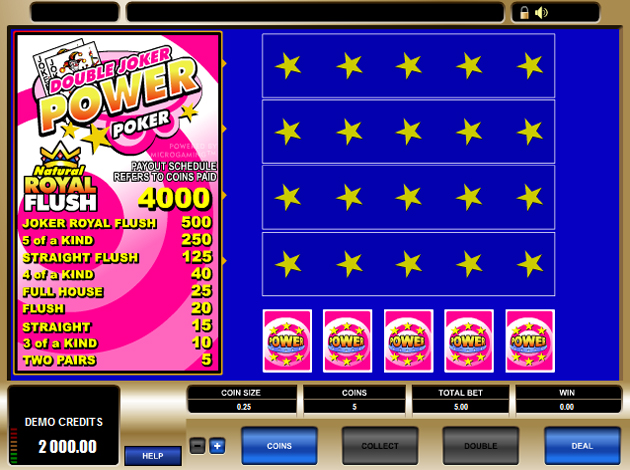 Play Double Joker Power online: Check out our review below
Double Joker 4 Play Power Poker is a development of Double Joker Poker. Instead of playing one hand at the same time, you will play 4 hands simultaneously. Its very simple game to play, and it brings a lot of action.

Double Joker 4 Play Power Poker is played with 54 cards in a standard deck with 52 regular cards and two jokers. The deck is shuffled before each round. At videoslots.com we see that this version of the game is more popular than the original version where you only play one hand at a time.

You start a game by selecting your bet size. In order to give you as a player optimum freedom to decide stake levels to meet your preferences, you can set both coin size and the number of coins to play each round. Note that since you play four hands simultaneously, if you select coin size and number of coins both being 1, the total bet will be 4.

After hitting the Deal button, you are dealt 5 cards. Now you check or un-check these five cards in order to decide which cards to keep and which to discard. It happens from time to time that all five cards are marked hold from the beginning, for instance if you have a straight, flush or a full house, which of course is really nice. Anyway, after deciding which cards to play you press the Draw button. What happens next is that you will receive 4 new hands based on the cards you kept. Let's for instance say you kept two tens. Then you might stay on pair on two of the boards, and on the two other boards you get three of a kind and a full house.

After each winning you will have two choices, either to collect or to try to double it. If you choose double, you will have the chance to double your winning as many times you like, by trying to beat the dealer's card with a card of a higher denomination. At videoslots.com we have seen people win up to 10 times in a row, but of course, we have seen players loose their attempt to double their winning at both their first, second and third attempt. So, how far are you prepared to go?

Double Joker 4 Play Power Poker is a really action based game, and we now many videoslots.com players appreciate it. We hope you will also appreciate it.