Battle of Slots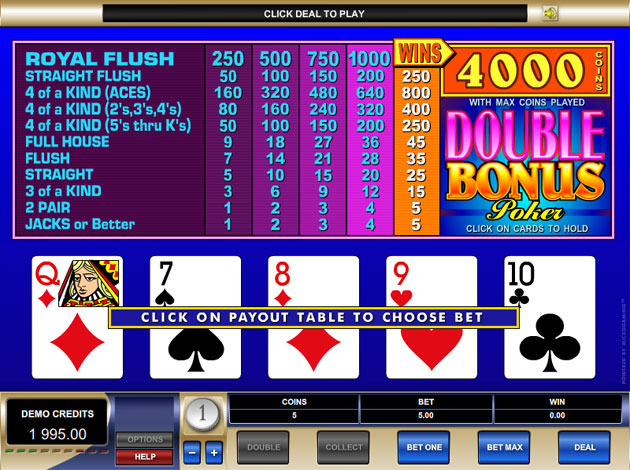 Play Double Bonus Poker online: Check out our review below
At videoslots.com we think this is the video poker games with the best graphics, but that's of course a matter of taste.

Double Bonus Poker is a standard video poker game in the sense that we use a 52 card deck which is shuffled before each game, and there are common cards that are used, no jokers.

You get extra bonus when you hit low quads, in which the Aces gives the best payout, by as much as 160 times the bet. The only hand combination that pays better than quad aces in this videoslots.com video poker game is Royal Flush, which can yield a profit of up to 4000 coins.

Like every video poker games worthy of the name, you can choose to double your profits. Just choose Double after a winning hand. Then the casino draws a card from the top of the deck, face up, and an additional four cards to the right. Select any of the face down four cards. If you choose a lower card than the casino, you will lose profits, if you draw an equally high card as the casino's hand its a tie, and you will keep the amount you had before choosing your card. If you draw a higher card than the casino your profit amount doubles. If you have played other video poker games here at videoslots.com you will see it's the same procedure in every video poker game. You should hope the casino draws a low card, increasing your possibility to draw a higher card than the casino. You can continue to double your earnings until you either have bad luck and lose your bet, or until you click Collect. Then you cash out the winning.