Battle of Slots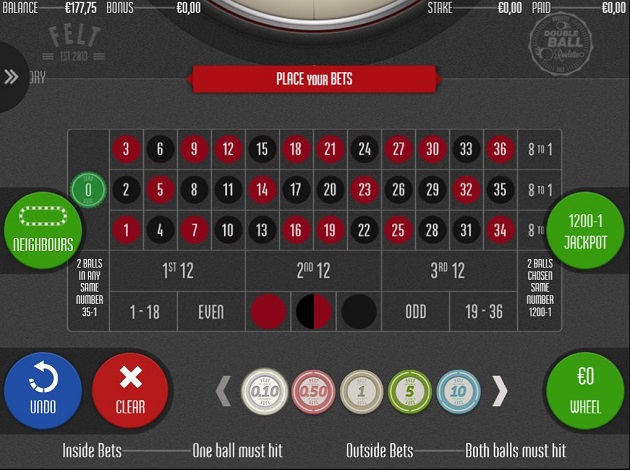 Play Double Ball Roulette online: Check out our review below
Double Ball Roulette is a roulette game that fist saw the light of day in 2014, not long ago at all. It was first introduced on the Las Vegas Strip, and it went on a fast track to popularity, and the unique Roulette game is now appearing on both online casinos and online live dealer platforms all over the world. But as if that wasn't enough, this is a game provided by Felt LTD – meaning that there is an extra special twist to the game. This one of a grand payout at special occasions, which we will reveal soon! This is Double Ball Roulette!
Felt LTD is, as mentioned, one of the world´s most exclusive, dedicated, and leading providers of online table games in most genres. The main focus at Felt is to create authentic and realistic looking games that can take players on a gaming experience like no other – an experience similar to the one when playing in a real-life land-based casino. These qualities mixed with intuitive interfaces, while using only high-tech and cutting-edge technology makes their games stand out in the crowd with games that can entertain for hours ends.
Felt creates a connection between the real casinos and a modern, and straight forward design of games. They are all made to look as real as possible, with high-end graphics and sound effects. And what might be one of the best things – Felt games are available for play via desktop, tablet, and mobile – also in both single and multi-player formats, meaning you can play these games with others.
If this sounds thrilling to you – then you should check out some of their other games such as Buster Blackjack, 3 Card Holdém, Double Ball Roulette, Perfect Pairs Blackjack and more.
But let us now find out what this special twist of Double Ball Roulette, Felt-style, is all about!
What is Double Ball Roulette?
Double Ball Roulette is, as mentioned, a fairly new Roulette game that was first introduced and launched in The Tropicana in Las Vegas in 2014. It was an immediate and huge success, and the game is highly rewarding as it works with two roulette balls instead of one. Double the balls, twice the fun! Making it even better is that you can choose when to shoot the second ball out, all to make the game as optimal as possible with better winning opportunities.
The game gives a better chance of winning than the original Roulette games, since you as a player can choose when to release the second ball, and you now have new betting opportunities. This is mostly due to the second ball. But with Felt, this comes with a whole new twist of its own!
How do you play?
As with all games, you need to start off with placing your bet. You can select chips from the chip selector at the bottom of the screen, and you can use whichever you wish. But immediately as you start the game, you are presented with the Roulette betting table. You simply place your Double Ball Roulette bets on the table by choosing a chip from the selector and then choose a bet position on the table. Doing this means that you have placed your desired bet on your desired bet position.
For example, if you choose the €5 chip and then press number 5 square on the table, then you will bet €5 that the ball will land on number 5 – pretty simple.
You can play as many bets as you wish on every bet position, up to the limit bet. You can also change the bets for different numbers, you simply go back to the bet positions and choose whichever you want to bet on.
This is how you start the game and step two takes you to the real thrills. Now it is time to place a Double Ball Roulette Bet. On the main bet table, you can see a zero and 36 number squares. You can place a number of different bets, and these can be placed on the main table.
Here are the bets you can place;
Inside Bets – 2 balls, 2 Outcomes
The inside bets are the ones made on the inner part of the table, and in Double Ball Roulette only one ball needs to land on your inside bet for it to win. You can bet on 1 single number, two numbers, a line, corner of four, and two vertical lines of three numbers.
Outside Bets – 2 Balls, 1 Outcome
The outside bets are the boxes that surround the individual numbers on the table, and in this game, both balls need to land on an outside bet for it to win. Here you can bet on Any Same Number, Same Dozen, Same Column, and more. You can see all in the "Help" section.
Neighbour Bets
To bet a Neighbour bet, you need to press the Neighbours button – which then takes you to the neighbours' racetrack.
A neighbour bet means that you are betting on five numbers, the numbers you have chosen and the two numbers that are the side of the chosen number on the Roulette wheel.
You can read more about the various bets possible in this game under "Help".
Double Ball Roulette Jackpot Bet
The thing that makes Double Ball Roulette extra unique and high rewarding is the fact that Felt made sure that there would be a Jackpot in store for the hi-rollers. This with the 1200-1 Jackpot Bet.
To place this bet, you need to go the special Jackpot Bet racetrack table, and you get there simply by pressing the button with the same name.
The Jackpot is won if you manage to land both balls on the number that you have placed your bet on and you bet on all numbers from 0-36. If both balls land on the number chosen, it will grant you a win of 1200 times your bet made.
When all bets are made, and you are ready to spin the balls, you press the Spin button. The wheel will start to spin immediately, and the first ball is automatically released. After that happens you have around 5 seconds to manually shoot the second ball out – whenever you feel is best. Simply press the green Shoot button, and you are well on your way.
When the balls are finally settling on their segments in the wheel, the game results will show. Either the balls land on one segment each, or if you are lucky enough – they land on the same one.
Now that you know the basics, you are ready to go! Double Ball Roulette, with the extra feature of the Jackpot, is a fun and thrilling game for anyone trying it.
We wish you the best of luck!