Battle of Slots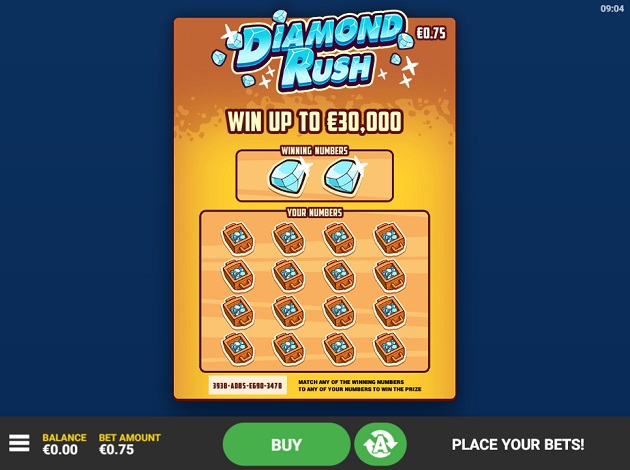 Play Diamond Rush online: Check out our review below
Diamond Rush Introduction
Diamond Rush, a match one scratch card game from Hacksaw Gaming, takes you to a scene which is full of glistening diamonds. You'll get a surge of energy as you scratch the card anticipating what symbols will be arranged underneath. The objective of Diamond Rush is simple; all you have to do is match one of the numbers from the 'winning numbers' box to one of the numbers from the 'your numbers' box.
As most of the games from Hacksaw Gaming, Diamond Rush was elaborately designed to give you a virtual game experience which will feel quite realistic, especially with the sound effects that are made when the card is being scratched.
Want to go for a Dimond Rush kind of ride?
Diamond Rush Game Features
To start playing Diamond Rush, all you need to do is click on the 'buy' button that's at the bottom of the screen. The bet amount will be shown at the bottom left-hand corner of the play screen. Please bear in mind that the bet amount is fixed for each scratch card, which cannot be changed.
Instead of a virtual coin, you'll be using a dollar sign eraser to scratch off the symbols in order to reveal the numbers. There's a total of 16 numbers in the 'your numbers' box, with each one representing a different potential prizes underneath, just waiting to be discovered!
In Diamond Rush, you'll have the option to either scratch the card manually at your own pace or to use the 'scratch all' button which will clear the entire card space immediately. This is a great game in case you don't feel like taking the time to scratch the card yourself; you can easily just skip over that step! If you match one symbol, you'll win the prize that's shown under the numbered symbol.
Diamond Rush Free Spins and bonuses
Just like the traditional scratch cards you can buy at your closest convenience shop or gas station; Diamond Rush doesn't feature a free spins round or other bonus feature games. Instead, it gives you a special virtual scratch card game experience you won't forget.
Diamond Rush Payouts
Winning a prize in Diamond Rush is straightforward! All you have to do is match one of the two numbers at the top in the 'winning numbers' box to the 16 numbers in the 'your numbers' box at the bottom, and you'll get the corresponding prize.
There are 11 prizes that are available to be won in Diamond Rush, and they are stated below:
•0.6x your bet
•1.3x your bet
•2.6x your bet
•13x your bet
•26x your bet
•33x your bet
•333x your bet
•666x your bet
•3,333x your bet
•10,000x your bet
•40,000x your bet
Diamond Rush Graphics and Sound
Diamond Rush's scratch card is set against a solid deep blue backdrop, giving a lot of space for the scratch card itself to pop out in all its bright, yellow glory. The title of Diamond Rush is made up diamond blocks with several diamonds placed around it accompanied with sparkling twinkles around it. Even though the design of Diamond Rush is minimal, the graphics are well-designed and sharp with a charming edge to it.
The backdrop on the actual scratch card has an ombre pattern to it, ranging from a dark orange colour to a honey mustard yellow colour at the bottom. You will see that the values in the 'your numbers' box are covered with wooden chests full of shiny, transparent diamonds! We'd also like to mention, that when you scratch the card with the dollar sign eraser, you'll even hear scratching sounds as if you were scratching the card physically. This gives an added engaging edge to the overall game experience.
Diamond Rush does come with an autoplay option which can be easily found to the right of the 'buy' button at the bottom of the screen. The number of rounds available in the autoplay option are 10 to 1,000 with the chance to also set a loss limit as well as a single win limit. Like most autoplay options, the card will be automatically scratched for you which can make the game quicker for you if you don't feel like waiting for the results.
Diamond Rush Conclusion
Embark on a journey where you'll be surrounded by glossy, gleaming diamonds in this match one scratch card game, Diamond Rush from Hacksaw Gaming! What's so great about the scratch card games created by Hacksaw Gaming is that they give you the experience as if you were scraping this scratch card game on a table right in front of you, and not virtually. With that being said, as you scratch this card, the goal is to match one number from the 'winning numbers' section to the 'your numbers' section. Once you succeed in this, you'll be awarded with the prize that's buried underneath! The prizes that are available in Diamond Rush range from 0.6x and go up to 40,000x your total bet.
Gambling is a form of adult entertainment only. You must be over 18 to play. Play responsibly.
About the Provider
Hacksaw Gaming is an innovative, privately held games provider that was founded in 2017. Hacksaw Gaming has always been established with a large focus on rethinking classic products by using technology and design, keeping the end user in mind during the entire process.
When creating and building the products at Hacksaw Gaming, they focus primarily on a mobile-first approach meaning that they design from the smallest screen and work their way up from there! In addition, with their data insights, knowledge and creative thinking, Hacksaw Gaming helps their clients to retain their old customer base while also finding new ones all at the same time.
The Hacksaw Gaming team is a close-knit team full of experienced game designers, developers along with entrepreneurs. The headquarters and operations are in St. Julians, Malta while their technology development team is conducted in Sweden.
We are excited to see what is to come in the near and far future from Hacksaw Gaming and will be proud to feature their top-notch creations here at Videoslots.
Check out Lucky Number x8, Happy Scratch and Scratch! Silver here on Videoslots!
Play in our Battle Of Slots
Don't miss out on the opportunity to play a thrilling Battle with our special, unique and very first social online casino experience – Battle of Slots. Videoslots gives you the chance to play first time Battles against your friends and other players on videoslots.com with games from NetEnt, Thunderkick and Play'n GO. There is only one Battle of Slots – and you'll only find it on Videoslots.com!