Battle of Slots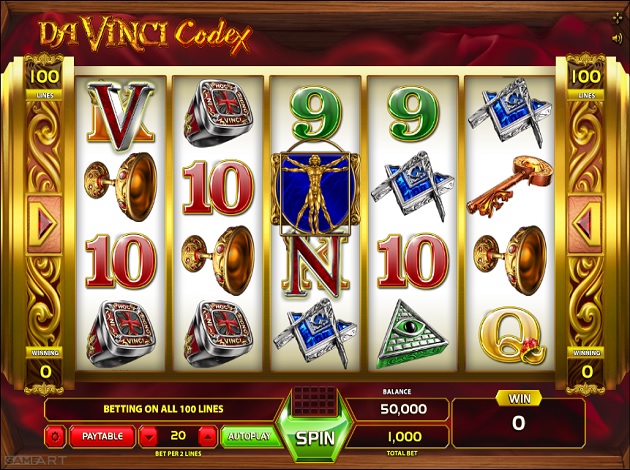 Play DaVinci Codex online: Check out our slot review below
We are welcoming you to this artsy and fancy video slot game, based on famous and world wide known art. I am talking DaVinci, of course. This is DaVinci Codex from the one and only GameArt.
GameArt is an independent online casino software provider and developer of cutting-edge games which they in its turn deliver to the biggest operators in the markets. GameArt was founded in 2013 by a group of entrepreneurs with over 20 years experience in both the online and land-based industry. They created GameArt and turned it into a B2B provider with offices across Europe. Their employees work tirelessly to provide high-quality slot games with innovative and creative themes based on the client's request and desires.
GameArt has yet again proven why they are the bright and shining star, a rising success on the skies of game providers. They are showing you with great graphics, a cool theme, and nice features in DaVinci Codex.
DaVinci Codex main game
The general feeling you get the moment you enter the game is fancy, and a bit mysterious with its Illuminati signs and well-known art. You can see gold and wealthy artefacts, and it quickly takes over the feel of the game. You will for the first time play a game like DaVinci Codex, a unique and very special crafted video slot with offers like no others.
The symbols of the game are all made to fit in with perfection, to create a red thread that sticks all throughout the gameplay. You can come across the higher paying symbols such as the golden key, the pyramid – all seeing eye, the silver and blue triangle, the DaVinci ring, the golden goblet, and the Mona Lisa painting. These are, as said the higher paying symbols, with the lowest one granting a win of 75.000 coins, and Mona Lisa who is the highest paying ordinary symbol granting a win of 500.000 coins – this is when playing on the max bet. Apart from these symbols, you can also come across the standard card deck symbols, ranging from 9 to King – which are the lower paying symbols.
Then you have two extra special symbols, one of them being the letter stamp in red, which is the Wild symbol. The Vitruvian Man (art by DaVinci) is the Scatter symbol of the game, and these can both grant you with big wins and features. We will get more into these soon!
The deck card symbols do, however, hide a riddle. They can turn into letters, to spell Vinci. We will tell you what exactly this means soon.
DaVinci Codex theme, graphics, and music
The moment you open the game, you become familiar with the theme. It revolves around Mona Lisa, and of course DaVinci. He has certainly reached success with this mysterious painting. It is said to be the most talked about, best known, most visited, viewed, and talked about the artwork in history. Mona Lisa is a painting made in oil paint, on a wood panel, made by DaVinci at some point in 1500. When is still fairly unknown. It is still to this day being speculated on who the woman in the painting is, and it is unlikely that we will ever find out for sure. Some even say that this painting was made as a riddle.
To this day, the painting of Mona Lisas Smile is the start of an art revolution of portrait painting. And finally, it has made its way online to a video slot – giving DaVinci the justice he oh so deserves. It is time to finally solve the big riddle!
Mona Lisas´ Smile is the first thing you see. It hangs on the brick wall, above the wooden floor. The reels are set in an old room, from the time of the Italian Renaissance – where the art was discovered and came to flower. It looks somewhat like DaVincis work room, with sketches hanging on the walls, and lit candles standing on the floor, shedding light on the art. The reels are covered in animations suiting to this, and in wonderfully made graphics.
The details of the game are magnificent, Mona Lisa looks very much like the real painting, and the frame and the paint are all very attractive. It stands out in a crowd of slots, mostly due to this. You can see that a lot of effort and time has been put into DaVinci Codex through its design och graphics, and this is something that can appeal any player.
DaVinci Codex payout
In DaVinci Codex you´ll be playing on 5 reels and 100 fixed paylines, meaning that you will play on all paylines with every bet.
You have the opportunity to choose coin values between 1 and 500 for every bet, which makes a max bet of €25.
DaVinci Codex bonus game
DaVinci Codex offers some great features, but it does not offer any specific bonus rounds.
But if you are a fan of Mona Lisa and the great artist behind it, then you should check out Mona Lisa Jewels from iSoftbet. It offers a similar theme, with the same inspiration, as well as a Progressive Jackpot bonus round. In this feature, you have the possibility to win the huge jackpot win simply by placing the max bet.
DaVinci Codex free spins
This is where the letters come in. Spelling V I N C I anywhere on the reels 1, 2, 3, 4, and 5, awards you with 6 free spins. All symbols that helped you spell Vinci will in its turn transform into Wild symbols. The letters to spell Vinci with can only appear on the K, Q, and J.
DaVinci Codex features
Wild symbol
The Wild symbol is the red letter stamp, and it has some real high values. With the max bet, it is worth 1.000.000 coins for a 5 symbol combination. Apart from this, it can replace all symbols, apart from the Scatter, to create winning combinations for you.
Scatter symbol
The Scatter symbol is the Vitruvian Man and it is there to grant you with some tremendous wins. You do not want to miss out on this; the wins come when you manage to land between 3 and 5 of these rewarding symbols.
Are you ready to step back in time to try and solve the mysterious riddle of Leonardo DaVinci and his art? Mona Lisa is there, waiting for you! We wish you the best of luck in your gameplay!