Battle of Slots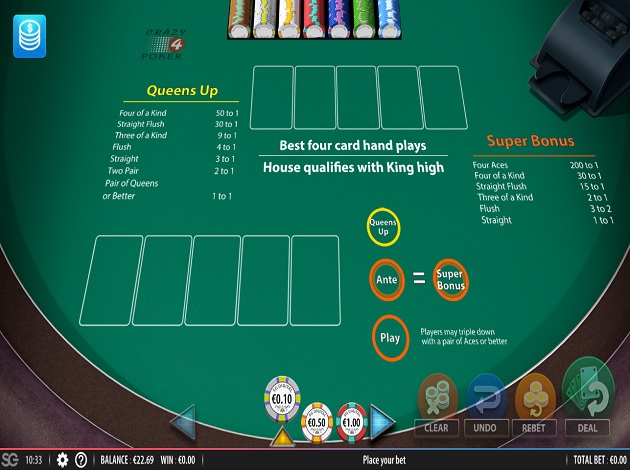 Play Crazy4Poker online: Check out our review below
Crazy 4 Poker Introduction
Similar to the traditional three-card poker, Crazy 4 Poker is a Shuffle Master table game that, just as the title suggests, makes use of four cards in order to achieve a winning hand. The aim is to beat the dealer with a hand of four cards displaying similar suits, values, or in sequence.
How to Play Crazy 4 Poker Game
Getting started is simple! First, you'll be asked to make an Ante-Bet and any additional side bets including a Super Bonus wager and a Queens Up. These bets may be of any value, however if more than one is placed, then they must all be of the same value. The dealer then deals five cards to every participating player including themselves. Players are then given some time to evaluate their hand and decide whether they'd rather raise their bet or fold.
The amount players are allowed to raise mainly depends on their current hand. Should the player hold at least a pair of Aces, then he/she is able to raise their bet by 1x, 2x, or 3x the value of their Ante-Bet wagered at the beginning of the game. If this isn't the case, then the player is only able to raise his/her bet by 1x.
After this round ends and each player will remove one card from their hand, leaving them with four cards each for the final round. These are then compared to the dealer's cards and the most valuable hand is rewarded.
Hand rankings are pretty similar to the ones found in traditional poker and include four of a kind, straight flush, three of a kind, flush, straight, two pairs, single pair and no pairs.
In order for the dealer to participate, he/she must have a King high at least. This implies that if the dealer doesn't receive a King card in their deck, they are unable to play. On the other hand, if the dealer has any other combination (e.g. three of a kind) then his/her hand qualifies to play against the other players' four best cards.
Should the dealer be initially disqualified, then Ante-Bets are pushed. Should a player beat the dealer, provided that the dealer has qualified for that particular round, then he/she will automatically win even money on both their Ante-Bet and any other raise bets that followed. If the dealer's hand is better however, then the player will lose both bets.
Crazy 4 Poker Side Bets and Payouts
Shuffle Master's Crazy 4 Poker also allows a number of side bets for those wishing to vary the game. First of which is the Super Bonus wager mentioned earlier on. This bet wins whenever a player is dealt a 'straight' or better. Interestingly, to win this side bet beating the dealer isn't necessary. Should the player receive a hand that's lesser than a 'straight' however, his/her hand will lose and the wager will also be lost.
Super Bonus Wager payouts as follows:
Straight – 1:1
Flush – 1.5:1
Three of a kind – 2:1
Straight flush – 15:1
Four of a kind – 30:1
Four aces – 200: 1
Another side bet available to players is Queens Up, which will offer a payout every time a player receives two Queens or higher as follows:
Two Queens or higher – 1:1
Two pairs – 2:1
Straight – 3:1
Flush – 4:1
Three of a kind – 7:1
Straight flush – 40:1
Four of a kind – 50:1
As for Ante Bets, payouts are as follows:
Dealer doesn't open - Ante-Bet is pushed
Dealer opens and wins- Ante-Bet wins 1:1
Dealer opens and ties - Ante-Bet is pushed
Dealer opens and wins – Ante-Bet is lost
And finally, we've got Raise Bets which pay out as follows:
Both dealer and raise bets win - wins 1:1
Dealer and player tie – Raise bet is pushed
Dealer wins – Raise bet is lost
Crazy 4 Poker Conclusion
If you've enjoyed a game of poker before, Crazy 4 Poker might be something new to check out. It lays down all the basic foundations of traditional poker and shakes things up with the inclusion of side bets and other features. If you'd like to see it for yourself, feel free to drop by Videoslots.com and play Crazy 4 Poker on all devices including desktop, tablet and mobile.
About the Provider
SHFL Entertainment, previously named Shuffle Master, was founded way back in 1983 in Minneapolis. This is a company with extensive experience in shuffling machines, table games, and slot machines.
Shuffle Master founder, John Breeding, has the idea to create a continuous shuffler, which would make sure every hand would be dealt from a virtually completely fresh shoe to eliminate card counting. When it was put on the market in 1992, it was an instant hit among land-based casinos who saw that it was a great way to stop advantage players.
Later the company also expanded to slot machines, creating games like The Honeymooners, Press your Luck, and Let´s Make a Deal. To distribute their games worldwide, they partnered up with IGT and Bally Technologies. In 2013, Shuffle Master was acquired by Bally Technologies and today, both Shuffle Master and Bally Technologies form part of Scientific Games, one of the largest companies in the industry.
Their main focus, however, has always been on the land-based gaming market and online gamblers might be complete strangers to this name. However, many of the company's popular games like Three Card Poker and Let It Ride are now available to play in many online casinos, with more making their way to the online gaming world.
Some of Shuffle Master's games include 88 Fortunes, Dancing Drums and Blazing 7s Blackjack.
Play in our Battle Of Slots
Don't miss out on the opportunity to play a thrilling Battle with our special, unique and very first social online casino experience – Battle of Slots. Videoslots gives you the chance to play first time Battles against your friends and other players on Videoslots.com with games from NetEnt, Thunderkick, Play'n GO, and Pragmatic Play. There is only one Battle of Slots – and you'll only find it on Videoslots.com!