Battle of Slots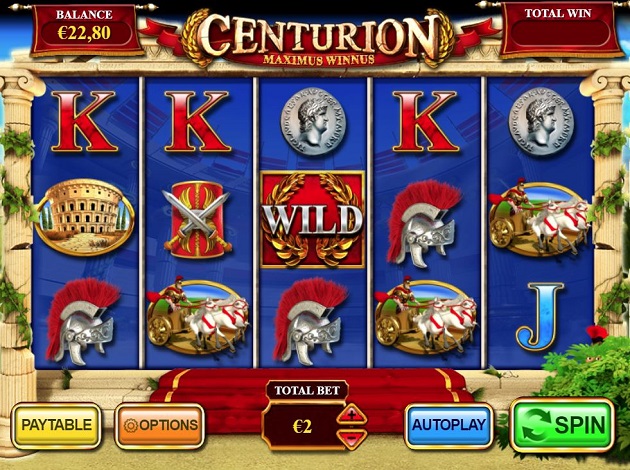 Play Centurion online: Check out our slot review below
Centurion Introduction
All hail the Emperor, and all hail the mighty commander of the Roman legions – the Centurion! The centurions were elite commanders of the Roman armies, who commanded groups of around 80 men, although senior centurions would later take charge of whole cohorts or even higher ranks within their legions.
The Centurion, apart from being literate and able to read orders in writing also had to be a connected person (with letters of recommendation), be older than 30 years of age and a previous experience of a few years in the military. The Centurion had to be a man of physical stature, strong and capable of throwing his weapons, as well as being a good swordsman who could use a shield well; an all-rounder. Besides his physical prowess, the Centurion was also required to be disciplined and strict, vigilant and more of a doer than a talker.
Let's find out if this video slot by Inspired Gaming can do more than just the talking and live up to the responsibility of being in the World's Largest Online Casino!
Centurion Game Features
Attempt the conquest of big prizes on Centurion's twenty paylines, with a minimum bet of just € 0.2 up to the maximum of € 100 per spin. This online slot features quite a number of bonus features – it's got more weapons up its sleeve than the Roman army!
Centurion Free Spins and bonuses
Three or more Bonus symbols will take you to the Bonus Feature Wheel which will spin and stop on one of its bonuses to award you one of them.
If you land the Prizes on Parade bonus, you will be taken to a screen with four soldiers standing in front of you, three of which holding a shield. The shield is divided into multipliers or an arrow, and each section of the shield flashes until you stop it. If you stop the flash on a multiplier, you will collect a multiplied win of your bet per line, and if you hit the arrow you will go on to the next shield which offers even higher multipliers. The big prize here is the 50x multiplier, but even if you don't hit the big one you can get an accumulation of these multipliers.
In Road to Rome, you move your centurion across the board to get to Rome by rolling the dice, picking up multipliers as you go along – if you make it to the heart of the Empire, you stand to earn a huge payout. In the Wild Power Spins, you get three spins with wilds present on each round, changing positions at random to grant you more winning combinations. In Caesar's Free Spins, you get to spin a wheel to get free spins and a multiplier, with both amounts determined by the wheel.
That's not all, however because if you don't land the Bonus symbols you can still get bonuses that pop up at random. The trumpet will sound one of four modes: the Five of a Kind where you get a guaranteed five of a kind win in the next spin; Reelus Maximus, where a giant symbol will land on the reels increasing the possibility of a win; the Big Win, where you get a large payout including a bonus icon, and the Super Bonus Reels where you will have more bonus symbols than usual for a single spin.
Centurion Payouts
There are just three card symbols – the J, Q and K in this online slot, offering maximum payouts of 200x your line bet for five of a kind, and then further up you will find the Roman helmet, Caesar's coin, the Colosseum, the Shield and Swords, the Chariot and the Centurion logo at the very top.
The Wild symbol and the bonuses offer no payout but give you the possibility to trigger winning combinations or bonus modes.
Centurion Graphics and Sound
All the glory of the Roman Empire can be found in this video slot, designed with graphics of a high standard with quirky animations that are never too explosive or loud. Centurion not only offers great bonus modes, but it is very pleasant on the eye as it uses elements of its Roman theme.
Centurion Conclusion
Hop onto the Roman Chariot to seek the great treasures once possessed by Caesar. With its various bonus modes, Centurion is a game that is bound to keep you entertained for hours on end, with prizes worthy of an Emperor lying in wait!
About the Provider
Inspired Gaming is a global games technology company supplying virtual sports, mobile gaming, and server-based gaming systems with associated terminals and digital content which is supplied to the regulated lottery, betting, and gaming operators all around the world.
The number of employees, all working to create and supply its clients with high-end products, has risen to over 800 people in the UK and other offices where the games and networks are being developed and digitally operated.
The online games at Inspired Gaming are delivered through Virgo Gaming Server, where they deliver leading HTML5 games and technology for regulated markets. Virgo offers an easy integration with online and mobile platforms and has been designed with goals to ease operations. The games are all available in multiple languages and all currencies are supported.
Virgo is integrated with the so-called Open SBG Core ™ platform to grant a real and optimal omnichannel experience.
The work put into the games delivered by Inspired are all impressively made, proven by the award-winning graphics they all come in. It is easy to see the strong dedication behind it all, with the goal to only launch flawless products which guarantee to be a smash hit on both mobile and desktop, over and over.