Battle of Slots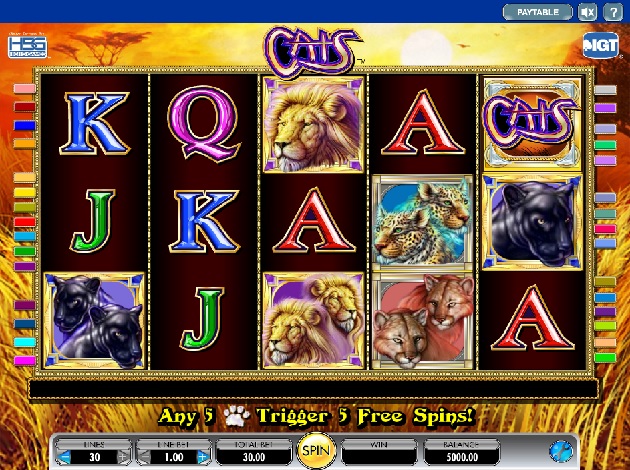 Play Cats online: Check out our slot review below
We are now welcoming you to a grand and entertaining video slot game from one of the best providers out there – IGT. A mysterious game with many great animations, and features that will blow you off your feet! We are introducing Cats video slot!
Cats Base Game
Cats video slot has 5 reels, 3 rows, and 30 paylines you can keep active while you play. You can see all the paylines in the edges of reel 1 and 5. All the reels has golden frames and you will notice the dark reels against to the beautiful savanna landscape. As the name suggest, you will get to see loads of huge cat animals on the reels. A few birds are flying further away in the sky and the players can almost hear the brush wood crisp in the background. And when the lions are roaring the wheels will start to spin. Simply amazing.
The symbol selection consists mostly of different cats. So you will see tigers, lions, cheetahs, as well as cougars. The Royal Black Panther will bring you the highest win in this game. Other cats will give you the same level winnings. You will get to see paw prints of these cute kitties in the reels as well in this Cats video slot and what does these paw print-symbols mean? Well, bonus of course! This game also has wild-symbol, and you will recognize this symbol that it is this games´ logo. The wild-symbol will replace any other symbol except the paw print bonus-symbol. And let's not forget the symbols that give you a little bit lower winnings which are represented as familiar card deck symbols J, Q, K, and A.
Cats video slot does honour to its physical slot version that has already quite a huge fan base in front of its screen. And to be honest, no wonder. In simple words: this game is entertaining, and the majestic cats are not making this game worse. Not at all, quite the opposite if I must say. The sounds and graphics are excellent in Cats video slot which is very usual when it comes to games that IGT has created.
Cats Video Slots Theme, Graphics, and Sounds
The theme of Cats video slot is, of course, cats. To be more specific the theme is large cat animals which you can encounter for example in savannahs in Africa. Tigers, cougars, and panthers, among other cats, are wandering in these reels even though when these cats are in wild they have their territory. But do not let this calmness bluff you because this video slot is filled with excitement and adrenaline just like in normal lives of wild cats when they are lurk in tall grass or a bush for their prey.
The graphics in Cats video slot has been executed very skilfully which is very normal when it comes to IGTs games. The Cats have been presented in the symbols very realistically even though they are clearly drawn. Counterbalance for the cats this game has some traditional card deck symbols. When it comes to the graphic design is fun and entertaining because it combines two different kinds of worlds! Nature's wild cats and colourful symbols with fun animations.
Cats Video Slot Bets and Wins
Cats video slots offer players the possibility to bet all the available 30 paylines. You can choose how many paylines you want to keep active. The more you have active paylines, the more you have chances to hit on some very good winnings.
Cats video slots volatility is medium, so winnings will not drop to your lap in every spin. But on the other hand, this game offers a great deal of excitement!
Cats Video Slot Bonus Game
Cats video slot doesn't have separate bonus game but it doesn't matter really because this game has few interesting special features. If you are still missing bonus games, then you can try another video slot called Plenty O'Fortune! This video slot will take you to Ireland and get you to know the Irish folklores. Your guide in this tour will be green leprechaun and he will show you that there is lots of fun features in this video slot. But the best part would the bonus game because it will allow player to travel to six level path towards end of the rainbow. You do know what is at the end of the rainbow? Treasure of course.
Cats Video Slot Free Spins
Exotic cat animals have hidden bonus-symbols on the reels, and these bonus-symbols will take you to purchase all-time favourite bonus round there is which is, of course, free spins. You will recognize the bonus-symbol that there is a cute pawn. You will activate free spins when you get 5 or 6 paws to the reels. When you get 5 paws, you will activate 5 free spins. When you get 6 paws, you will activate 6 free spins.
Cats Video Slot Special Features
When you click the wheels on in Cats video slot, you will notice quickly that you will see two different kinds of symbols. Other symbols have one cat when in the others has two cats. What does this then mean when it comes to the player? Bigger chances to win because the symbols that have two cats are counted as two symbols. Basically, two two cat-symbols will be counted as four symbols. Wild-symbol can also replace two cat-symbol because the wild-symbol replaces the symbol that has the highest payout.
The sun is going down, colouring the sky to yellow and orange. Like flames hitting the sky. Big cats are ready start to hunt so we recommend you to go with them and experience an adventure what you have never experienced before. Instead of eatable prey you can go for the treasures which Cats video slot hides inside. Cats video slot is filled with cats and where cats are: there is paw prints as well. Whichever you see, cats or their paw prints, this will mean good for you! Follow the paw prints to free spins or two huge cats will take you to bigger wins. We here from Videoslots.com will keep our thumbs up so that you will get to experience these both!